News
Bryson DeChambeau says he'll putt with the pin in next year (most of the time) because . . . science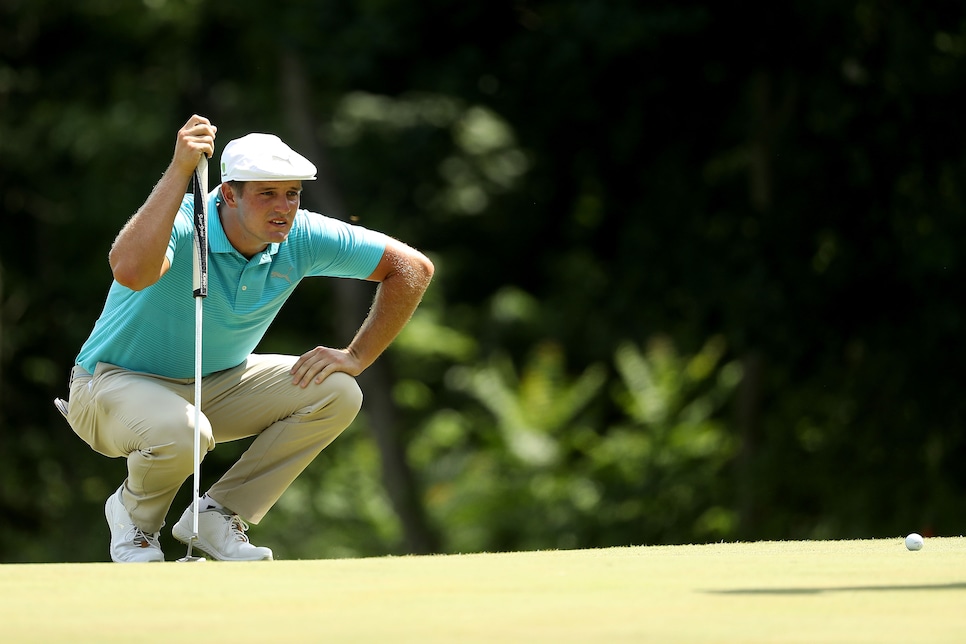 Under the new rules of golf that will go into effect on Jan. 1, 2019, players will have the option of leaving the pin in when they putt on the green. The change was mainly made to help speed up pace of play, but Bryson DeChambeau thinks it can help him make more putts. Why? Because, well, we'll let the former physics major at SMU explain.
"It depends on the COR, the coefficient of restitution of the flagstick," DeChambeau told Golf.com recently. "In U.S. Opens, I'll take it out, and every other Tour event, when it's fiberglass, I'll leave it in and bounce that ball against the flagstick if I need to."
In other words, it's science.
The most amazing part is that he's already strategizing over which pins he'll leave in and which he'll take out. Does he have a portable COR-testing machine? Is there such a thing as a portable COR-testing machine? Would he even be allowed to test the COR of flagsticks at different events? Is Bryson just pulling everyone's leg by saying he won't be pulling the pin or is he actually serious?
"Oh, absolutely," he added to Golf.com. "The USGA's gonna have to go back on that one. Like, 'No! We made the hole bigger!'"
After that last ruling, USGA senior managing director of championships and governance John Bodenhamer said this about the enterprising young star:
"I've got to be honest with you, Bryson is amazing. We had a great discussion. We applaud his innovation. He always is on the cutting edge. And I think we need to be talking with him more often to get a sense of how technology can be used by players. I think we'll see him continue to push things to make himself better and we applaud that."
Get ready to keep clapping then.