The Masters
Masters 2022: Bryson DeChambeau, against doctor's orders, will try to battle Augusta National and himself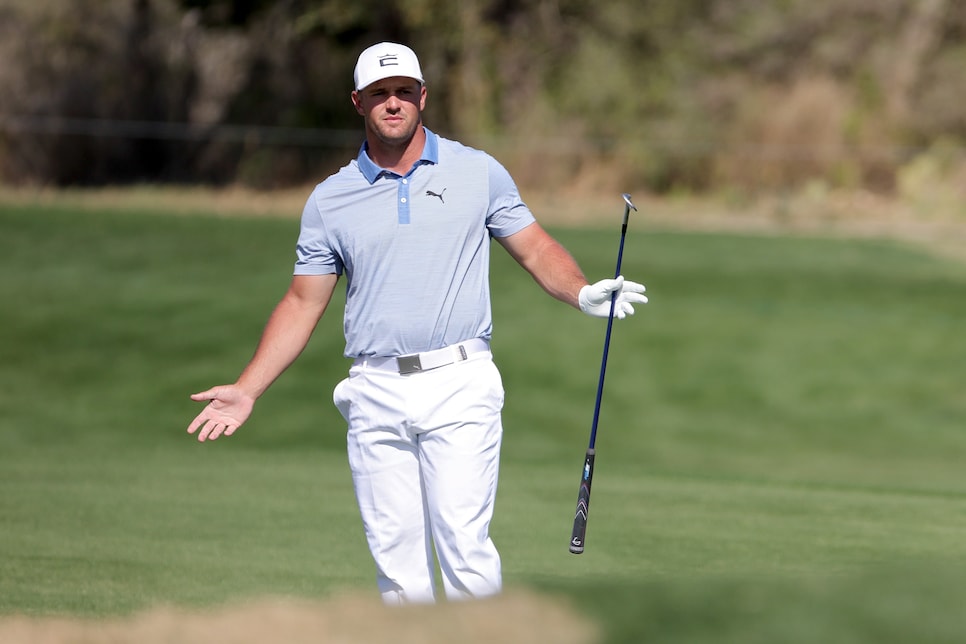 AUGUSTA, Ga. — He says his practice has been thwarted and to him practice is everything, yet few were on the range longer Monday than Bryson DeChambeau. Forget his Hogan-cap silhouette; this is the man's calling card, arguably his ideology, spending hour after hour striking ball after ball with a single-minded focus that many aspire to but few achieve. Sixteen months ago, this was indicative of his pursuit to bend the game to his will.
Now … well, now is different. He is no longer chasing an idea but what he was not long ago.
"It's one of those things that everybody has a tough stretch in their career," DeChambeau said Monday afternoon. "Every time, like I've always said, your worst failures are your best teachers."
It was November 2020 that DeChambeau came to Augusta on a question that doubled as an existential crisis to this course and tournament and to an extent the game: Could Bryson DeChambeau—fresh off conquering Winged Foot through a manner only he believed to be true—"break" Augusta National? It was asked again last spring, marked as a tournament favorite after a win at Bay Hill and a T-3 at TPC Sawgrass. A lot has happened since that question was raised and though "Bryson" and "break" remained intertwined, the connotation and context have changed. Literally speaking, DeChambeau has a break in his hand, a fracture so bad that he's playing the 2022 Masters against doctor's recommendation. Figuratively, he needs to break from the form that has seen him go from paradigm shifter to somewhat of an afterthought.
"Afterthought" may seem callous. Conversely, for all the conversation that has surrounded the beefy man the past two years in his physical transformation and the distances that metamorphosis produced, the severity of his slump has been largely ignored. Make no mistake, he is struggling something fierce. Missed the cut at last week's Valero Texas Open by six shots. Was the first eliminated from his round-robin group at the WGC-Match Play. Withdrew mid-tournament from the Saudi International and failed to make the weekend at Torrey Pines. Technically DeChambeau hasn't made a cut since August. He is 214th in the FedEx Cup, and though this is the year's first major, the tour season is more than halfway complete.
"The past few weeks have been very, very difficult on me, not playing well and not hitting it anywhere near where I know should be hitting it in regards to straight," DeChambeau said. "Yelling 'Fore' off the tee every time is just not fun. It's very difficult on your mental psyche as well."
RELATED: Bryson DeChambeau has a headache

It is a performance that is undoubtedly correlated to DeChambeau's health. Injuries forced the dropout at the Saudi International and led to pre-tournament WD at the Sony Open, kept him from defending his title at the Arnold Palmer Invitational and made him skip the Players Championship. For months DeChambeau was reluctant to specify the nature of his injuries and how they came to pass, but on Monday he cleared the air on both fronts.

The ailments: a torn left hip labrum and a hairline fracture in his left hand. According to DeChambeau the hip injury originally happened when he began his distance odyssey two years ago after slipping on concrete while he felt something "pop" in his hand last fall. Both injuries were aggravated at the Saudi International during a ping-pong match against Sergio Garcia and Joaquin Niemann.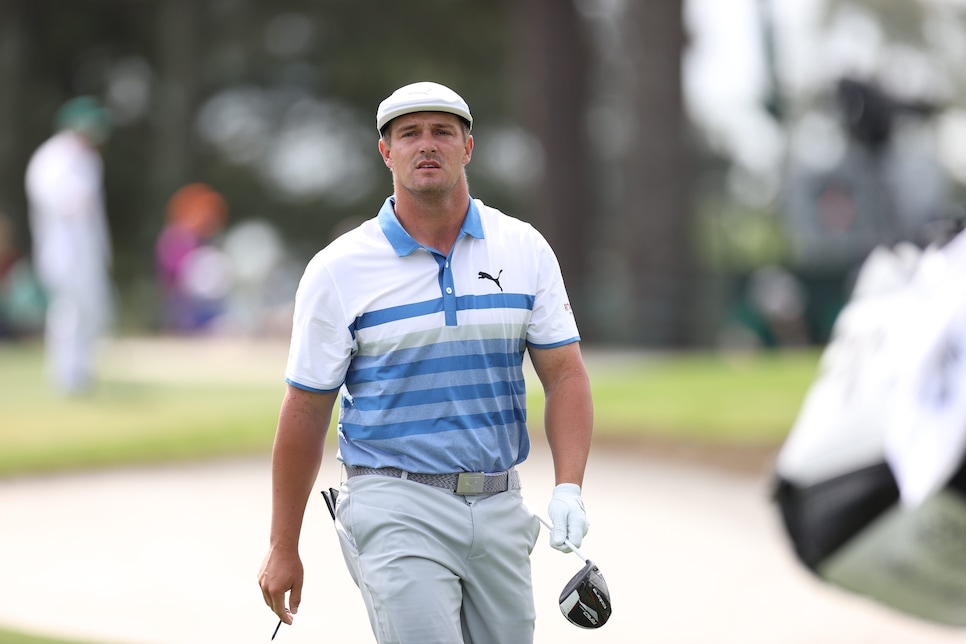 "We were on some marble floors, and they just wiped it," DeChambeau explained. "And me not paying attention, I 'Charlie Brown'd' myself and went horizontal and then hit my left hip and my hand at the same time, and that really just took me out. That's really when it just got to the point where I couldn't even grip the golf club. I tried to play that week, and it was impossible. I was not even gripping with my left hand that week. I was like, this is dumb, I have to go take care of my body first and get it right."
DeChambeau's doctors advised him to sit out for four months. Instead DeChambeau was back in less than two. He decided to give it a go because he wanted to give this tournament a run.

About this tournament. On paper, DeChambeau has not fared well. His best finish was a T-21 as an amateur in 2016. In four other appearances he's done no better than T-29 and last year he shot 75 or higher in three of four rounds. Which, as many golf fans pointed out, are scores markedly higher than the par 67 DeChambeau claimed he viewed Augusta National as in 2020. Still, he was a co-leader after Day 1 in 2019 and turned in a 67 on Friday in 2021. He hasn't been far off; according to stats guru Justin Ray, out of 60 players with 12-plus rounds since the 2016 Masters, DeChambeau is sixth in ball-striking (off-the-tee and approach). Putting? He's 57th.

But on Monday DeChambeau asserted his inconsistency here lies not with the short game but his swing.

"Yeah, I've had more distance. I've had maybe a good wedge day; I've had a good putting day; I've had maybe good iron play day, a good driving day one day," DeChambeau said. "But never consecutive every single day where I get up here and feel super comfortable and ready to hit every shot and go out and play my best golf like I know I can, like I've done at the U.S. Open in 2020 or Arnold Palmer or numerous other events or even Caves Valley last year. If I have my game like that, I feel like I have a very good chance to do well out here. Just haven't done it yet."

He will attempt to do so this week with less than a full tank. DeChambeau said the injuries prevent him from going "all out." That he can't speed train or log the excessive hours he desires on the range. He's had to recalibrate his methods and noted he's no longer "21," which is true but somewhat concerning given he's only 28.
Yet in spite of his body, in spite of his form, in spite of his past at this hallowed property, DeChambeau's goal is still the same. He claimed the time away from the sport "made me a better person" and bestowed an outlook he says he lacked.
"From my perspective, no, I think I can win every time I tee it up," he said. "It's just about, do I have my game, do I have my golf swing, do I have my chipping, do I have my putting all in the right place to set myself up to have a chance to win. I know I've talked to Tiger about all that matters is that back nine. You have to get yourself to that back nine, close to the lead. That's all that matters."
The pursuit is different. The focus is the same. The Masters begins in three days, and no one is asking if Bryson will break Augusta National. He remains more than capable of conquering it.