News
Bryson DeChambeau just pulled off something no one has ever done before in the ShotLink era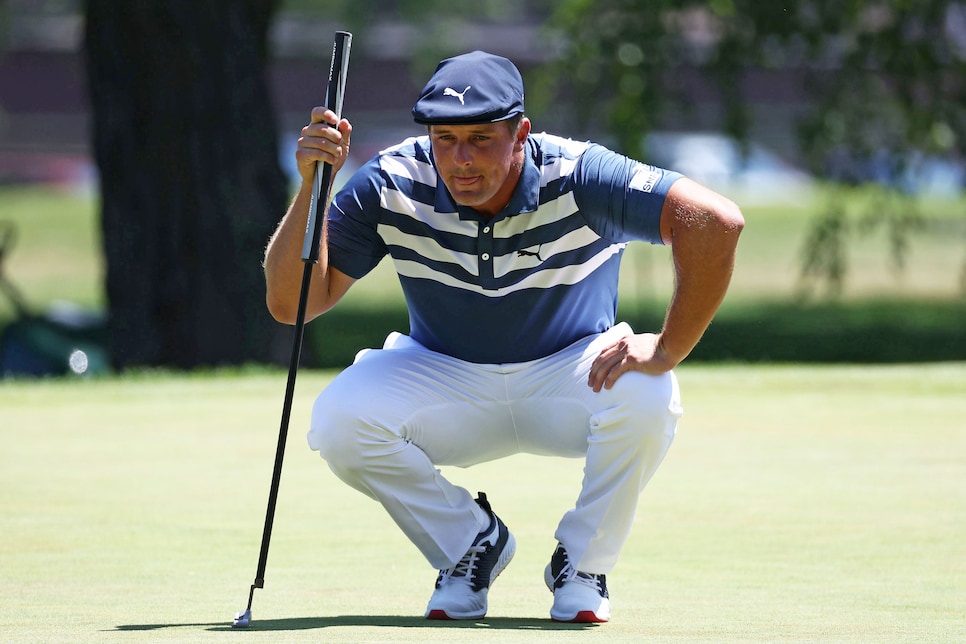 Bryson DeChambeau lines up a putt on the third hole during the final round of the 2020 Rocket Mortgage Classic.
Gregory Shamus
It's a given now—or at least until he runs out of protein shakes—that Bryson DeChambeau is going to be among those near the top, if not the runaway leader, in driving distance every time he plays on the PGA Tour. The difference, then, between weeks like the one he just had at the Rocket Mortgage Classic, in which he cruised to a three-stroke victory after shooting a final-round 65, and the "ho-hum" top-10 performances he'd otherwise been posting, will be how the rest of his game is holding up.
At Detroit Golf Club, it turned out his driver wasn't DeChambeau's most valuable club—which should be a cringeworthy thought for every other golfer on the PGA Tour. Yes, Brawny Bryson led the field in strokes gained/off the tee (6.672 cumulative) with a driving distance average of 350.6 yards. But arguably more impressive was the fact he picked up 7.831 strokes gained with his putter over 72 holes, including 2.62 on Sunday. DeChambeau wound up leading the field in that category, too, which led to this gem of a stat from the PGA Tour.
For the 2019-'20 season, DeChambeau ranks second in SG/off the tee and 12th in SG/putting. This are significant improvements from previous seasons. Consider:
YEAR, SG/OTT (RANK), SG/PUTTING (RANK)
2019-'20: 1.113 (2), .690 (12)
2018-'19: .421 (24), .372 (28)
2017-'18: .586 (12), 346 (T-32)
2016-'17: .420 (35), -.193 (145)
2015-'16*: .248 (55), -.302 (157)
2014-'15*: .365 (31), -.309 (155)
*Didn't play the minimum number of rounds to be officially ranked
Long story short, if the guy is hitting the ball a mile off the tee and rolling it smooth and steady on the greens, you better get used to seeing DeChambeau contending on tour.