The Loop
Bryson DeChambeau is holding off on wearing knickers because he doesn't want to look "arrogant"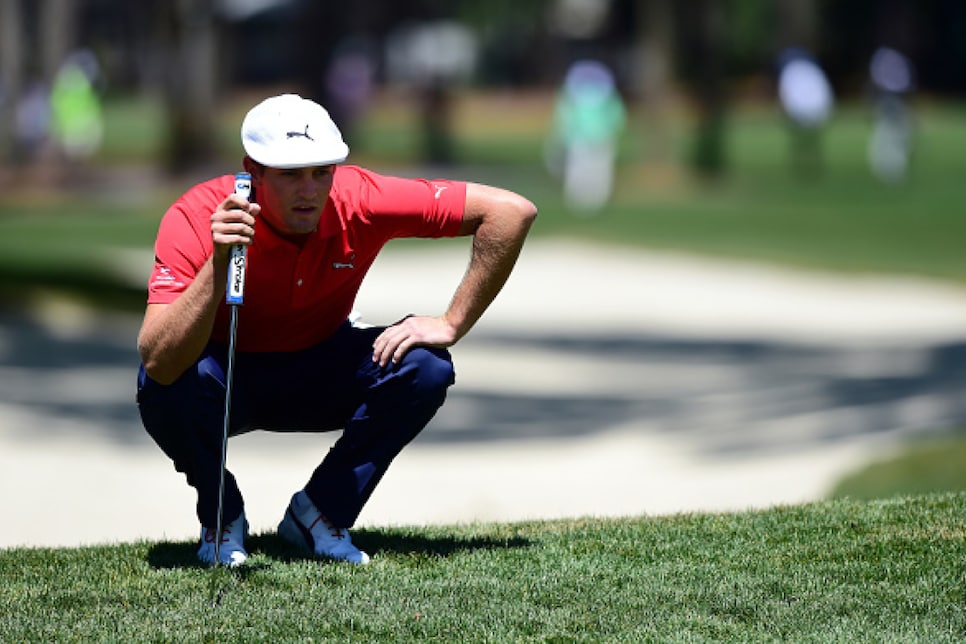 With his Hogan cap and his perfectly one-planed swing, Bryson DeChambeau already stands out on a golf course. But on Wednesday, the 22-year-old star hinted that he plans on making a bigger fashion statement.
During his pre-tournament press conference at the Valero Texas Open, DeChambeau was asked about wearing "knickers a la Payne Stewart." He responded with what has to be the longest and most thoughtful answer about wardrobe ever given by a PGA Tour pro.
*"I think I have to make my card before I pull that one out. I don't think I'm ready for that. We've definitely thought about it, we almost did it at the Masters and we almost did it last week, but it just wasn't the right time. It would have looked arrogant to the other players out there. I have to be respectful of them, because, again, I'm not trying to come out here and say, 'Hey, look I'm this new star.' That's not what I'm trying to do. I'm just trying to pay my respect to the guys who have made golf what it is today and I think there's a right time for it, and you will see it, but I just don't know about it being right now. We're definitely thinking about it and trying to make it happen, though."
DeChambeau has struck a few people as being a bit arrogant in his short time in the spotlight. At the Masters, he talked about "growing the game" like Jack Nicklaus and Arnold Palmer after reportedly telling Jim Nantz that he would turn pro after winning the tournament. Then on the eve of his pro debut last week at the RBC Heritage, DeChambeau referred to himself as "an artist." Of course, he backed that statement up pretty well with a T-4.
But drawing more attention to himself by wearing knickers? That's where he's drawing the line. At least, for now.