News
Bryson DeChambeau gets his revenge and four other takeaways from Sunday at the Rocket Mortgage Classic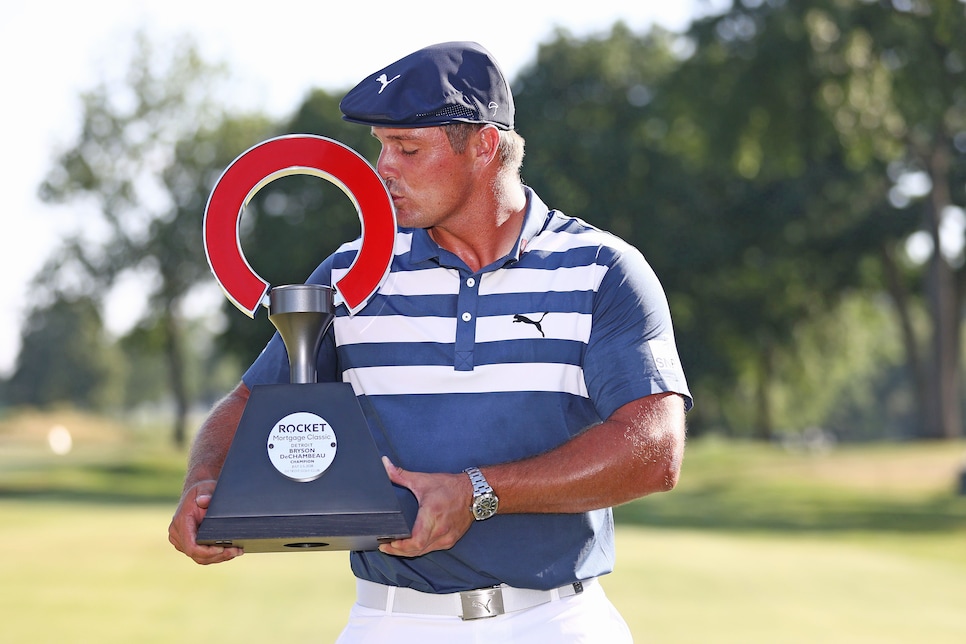 You guys hear about this Bryson guy? Decent player.
But seriously, this man has made himself impossible to ignore. For the "enough with all the Bryson coverage!" people, you better strap in. It's going to be a long decade (and maybe longer) for you.
Speaking of too much Bryson coverage, here are our five takeaways from Day 4 of the Rocket Mortgage Classic, three of which are Bryson-related. Sorry, not sorry.
Bryson gets sweet revenge
This time, DeChambeau stunned Wolff, shooting a seven-under 65 to win by three on Sunday. Revenge is a dish best served cold, but also with three protein shakes accompanying it. I think that's how the saying goes.
This is the latest victory that's also acted as a confirmation of DeChambeau's process, which seems to be what fuels him. Others play for money or pride or a place in history. DeChambeau plays to reaffirm to himself that what he's doing is working. That's why this win wasn't just revenge on Wolff, it was revenge on everyone. It's revenge on the "is what he's doing sustainable?" crowd. It's revenge on the "let's see him win this way, first" crowd. Soon, it will be revenge on the "he's never finished better than T-15 in a major" crowd. Make no mistake, that is changing very soon.
Bryson your wedge game WOOF
This has now been tweeted no less than 500 times this week alone, but my goodness if Bryson locks in his wedge game/distance control, it's a wrap. Of course, this is provided his swing-out-of-your-shoes strategy on the tee is sustainable. That remains to be seen, but so far, so good. As for the approach game (98th in the field in SG/approach), it could use some work. Pretty hilarious to make such a statement after he's gone T-3/T-8/T-6/Win in his last four starts. Get back in the lab Bryson!
Bryson used the rules to his advantage BIG time on 15
After making his first bogey of the day at the par-5 14th, DeChambeau was clearly shook, nuking his next tee shot over the green on the par-3 15th. His ball came to rest in some thick rough, leaving him with a testy up and down and a potential momentum-killing bogey-bogey two-hole stretch, which could have been disastrous with Wolff charging.
Instead, DeChambeau called over a rules official, pointing out that he might get relief from a sprinkler head in his stance. The rules official obliged, giving him a free drop, which is 100 percent within the rules. He used them to his advantage, just like he should have.
However, and yes I'm typing this with a mountain of salt in my mouth as I bet on Wolff to win, the advantage was SUBSTANTIAL. DeChambeau's ball went from buried in the rough to the fringe after two drops, the second of which he received because the first went closer to the hole. He changed grass types, which doesn't feel right in your high school football team's alumni charity scramble let alone a PGA Tour event. Yet instead of facing a wicked lie, DeChambeau got to put from the fringe and easily save par. What a world.
Matthew Wolff decided he wanted to win too late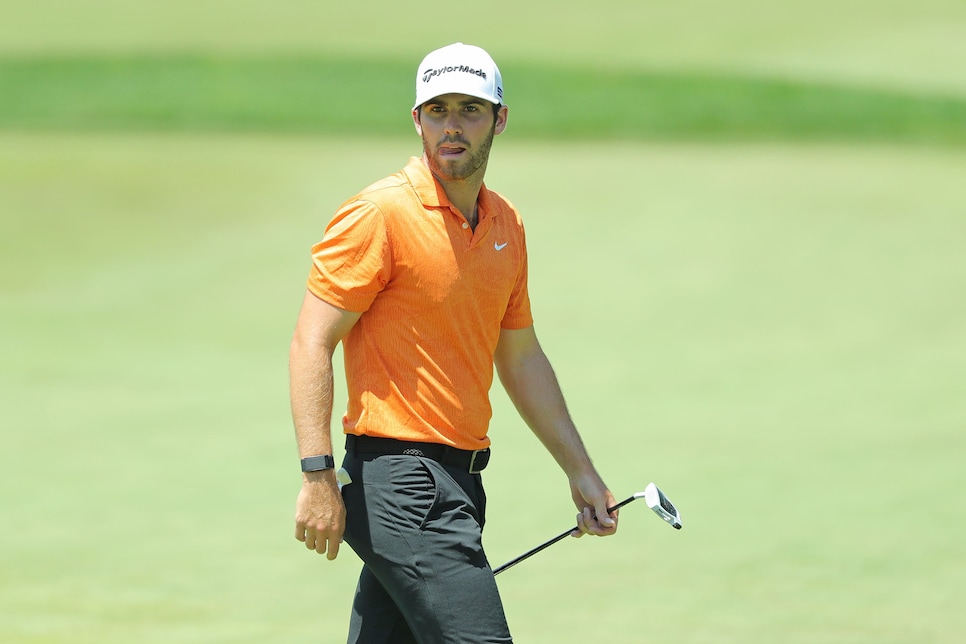 Early on, Wolff went the conservative route. Irons and 3-woods off tees, playing for pars. It's a fine strategy when you're up by three strokes at a course where three strokes are hard to make up. It's a dangerous strategy at Detroit Golf Club, where someone lurking is absolutely going to shoot a 65.
Wolff completely changed his tune on the back nine, letting it rip off the tee and gunning for flags. He wound up shooting a back-nine 33, but coupled with a front-nine 38 it added up to 71, which put him three behind DeChambeau. Wolff decided to try and win the tournament when it was too late. No doubt it will be a learning experience for the 21-year-old, who was playing just his 22nd PGA Tour event. He already has a PGA Tour victory and no doubt will have many more in his future, especially if he steps on necks in the final round instead of playing safe.
Kevin Kisner with the quote of the season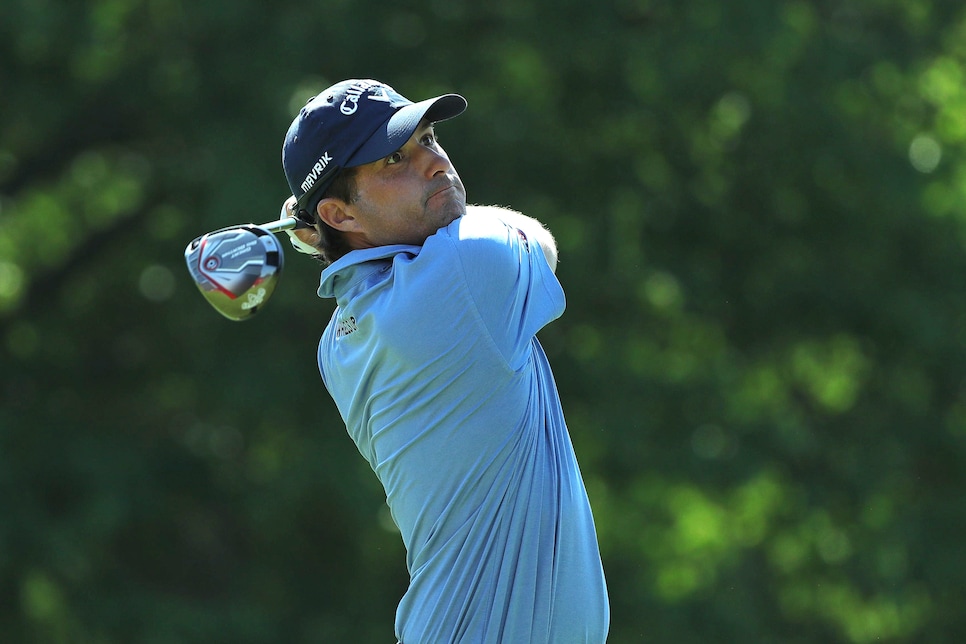 Following a stellar final round of six-under 66, Kevin Kisner was interviewed by CBS' Amanda Balionis. If you haven't noticed these past few weeks, each guy who gets the TV interview has to answer one question after answering the usual ones: "What do you think about what Bryson is doing?" This isn't a knock on Balionis. People are intrigued by DeChambeau and what his peers have to say about him right now. She should continue asking the question.
But normally it yields pretty vanilla answers. "It's impressive," "he's changing the game," "he's doing it his way." Yada, yada, yada. Not surprisingly, Kisner had a much better answer.
So good. Unfortunately for Kiz and the rest of the PGA Tour, having kids seems to be the very last thing on DeChambeau's mind right now.