News
After costly brain cramp, Bryson DeChambeau makes return to Wells Fargo worth it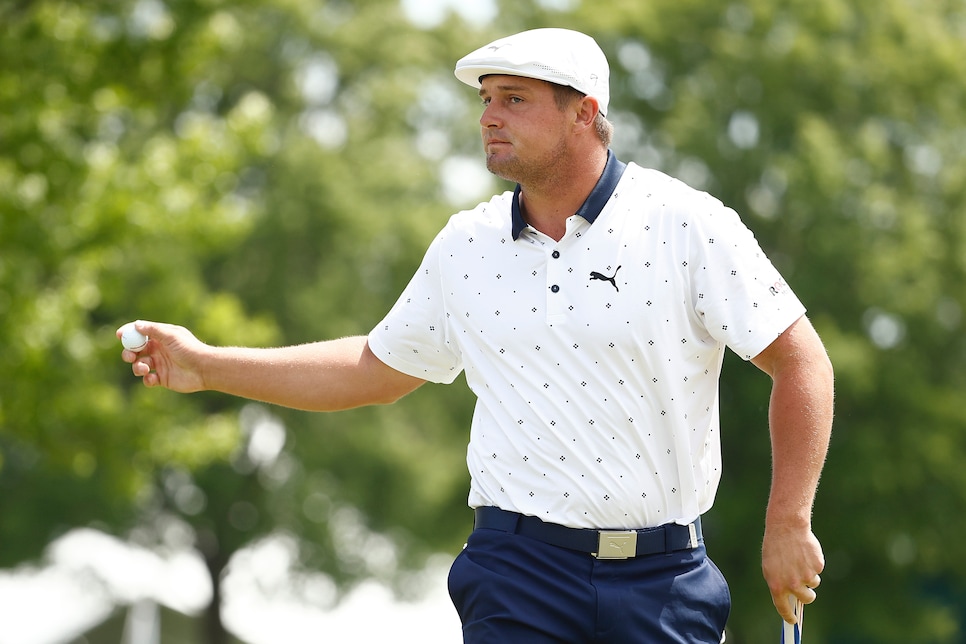 Bryson DeChambeau waves on the second green during the final round of the 2021 Wells Fargo Championship.
Maddie Meyer
CHARLOTTE — The pitch-black wakeup, the five-figure screwup—turns out, it was all worth it.
Bryson DeChambeau made a very expensive mistake on Friday afternoon, when he headed home for Dallas under the assumption he'd miss the Wells Fargo Championship. He did not miss the cut, which forced him to scramble back to Charlotte to make his 8:10 a.m. tee time Saturday. DeChambeau briefly thought about withdrawing before he came to his senses: There was money to be made, World Ranking and FedEx Cup points to bank, and sponsors to please. So he arranged for a 2:45 a.m. flight, landed shortly after 6 in the morning and headed for Quail Hollow.
If you're going to wake up at 2 in the morning, you might as well play well.
He did exactly that. A delirious DeChambeau shot three-under 68 despite a closing double bogey on Saturday. He then slumbered for 11 hours, woke up a little groggy Sunday—"When you do that, you can get a little tired"—and pieced together yet another 68 in breezy conditions at Quail Hollow. His four-under total will likely result in a top-10 finish, and he will leapfrog Justin Thomas and reclaim No. 1 in the FedEx Cup standings.
"It was worth it," DeChambeau said Sunday. "It no doubt was worth it. That's what I was hoping to do this weekend when I was on that plane at 2:45 a.m. Yeah, I wanted to make it worth it. I didn't want to come out here and finish 60-whatever."
He'll make somewhere around $150,000 for his efforts, more than enough to cover the additional cost of the unexpected trip.
"It definitely will, for sure," he said. "But again, it was more for me. The cost wasn't really anything I was worried about. I really didn't want to disappoint Wells Fargo and Quail Hollow and the guys who put up this tournament and give so much to charity. I mean, that's one of the things I want to support. And fans out here, didn't want to disappoint them."
DeChambeau will now head back to Dallas, this time for a home game at the AT&T Byron Nelson, which will be played at TPC Craig Ranch for the first time. Then it's the PGA Championship at Kiawah, a place DeChambeau has never been.
"And that's a good thing for me," he said. "I like going into courses blind. For whatever reason, it lets you have a fresh look and fresh opinion on it without anyone's input … it worked beautifully at Winged Foot."
Perhaps he should bypass the practice round business and just fly to Kiawah at 2:45 on Thursday morning. We're kidding, of course. Kind of.