Ever since news surfaced that Bryson DeChambeau's contract with Cobra had expired at the end of 2022, there's been a guessing game ongoing as to what company the former U.S. Open champ might join moving forward. Last week, DeChambeau put in play a TaylorMade Stealth 2 Plus driver while competing at the Saudi International in his first start of the new year (he wound up missing the cut). According to a Golfweek report, DeChambeau, who begins his season with the LIV Golf League later this month, was out at Ping headquarters in Phoenix this week testing clubs. There's also a chance he could return to Cobra.
The reality, though, for any company considering adding DeChambeau to its roster of tour pros is that the 29-year-old brings with him a host of quirks that would cause you to proceed with caution. Signing DeChambeau is a very different proposition than most any other tour pro, for a variety of reasons, some of which might be enough for a club company to say thanks but no thanks. Consider the following:
He is constantly fiddling with the driver
Any company committing to DeChambeau needs to know they're going to be making him a lot of drivers—and few, if any, will be production models.
As just one example during his time with Cobra, ahead of the 2021 Masters DeChambeau requested a new Cobra Radspeed. To achieve the club Bryson wanted, Cobra's engineers took out the removable weights to save some overall head weight and used a thicker face for added durability. They also removed the Infinity Face to make face radii changes easier, and the club had a flatter toe radius to help with toe mis-hits.
At the time, Ben Schomin, PGA Tour rep for Cobra, noted he had been working with DeChambeau on the driver for several months.
"Hitting a 5-degree driver at 200 mile-per-hour ball speed presents some very different ball/club dynamics than our engineering team is typically designing for," Schomin said. "We've had to rethink our approach in some aspects of design/testing and continue to do so. This head is our latest iteration to find something that works best for Bryson at these tremendously high speeds."
You'll need to be committed to making one-length irons
DeChambeau has shown little inclination that he is seeking to move away from playing single-length irons, clubs he's had in the bag since before turning pro in 2016. But producing them is not as easy as simply stuffing 7-iron shafts in all the clubheads. Over the course of working with DeChambeau, Cobra learned some things over time in regards to them, such as creating wider soles in the 4- through 6-irons. This aims to drive the center of gravity lower to help get shots in the air—something made more difficult by the shorter-than-normal shafts in those clubs.
Also to dial in the proper trajectory required a novel approach to shafts. While the length is consistent, the weights are likely to vary. Consider that Cobra's most recent Aerojet One Length irons feature KBS Tour 80 shafts in the 4- through 6-irons; KBS Tour 90 in the 7- through 9-iron, and a heavier KBS Tour 120 in the pitching wedge and sand wedge.
In short, whether just for Bryson or as an in-line product, this is a commitment of time and resources a company might not wish to make.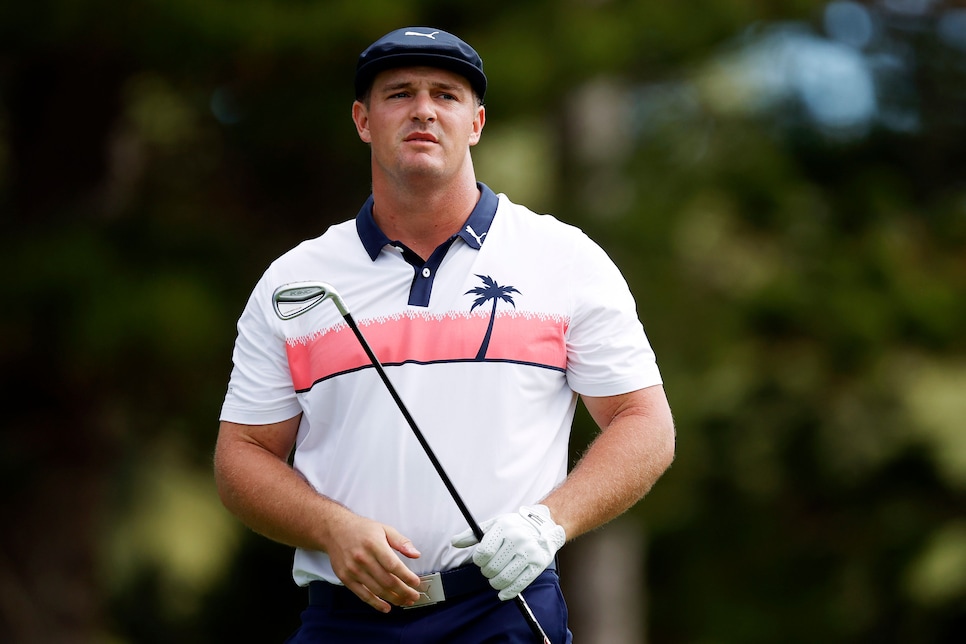 He wants things that might not be possible
In talking about where he wants to go with the design of his driver, DeChambeau recently told LIV Golf's Mike McAllister, "We're still on a pursuit to who can make a driver that can work it at 200 [m.p.h. ball speed] anywhere and everywhere on the face and [the ball] still goes in the fairway. When that day comes, that's going to be eye-opening for a lot of individuals because they will be optimizing ball speeds at 195, which can fly 360 yards. And that's going to change the game forever. But we're not there yet."
Schomin, however, contends that such a club can't be built. "It was such an asinine statement," Schomin told Golfweek, "especially for a guy who is perceived to be all-knowing when it comes to science and physics, that he said he needs a driver that can be hit anywhere and everywhere across the face and find the fairway. With increased speed, demands increased precision. It's just like a race car. You've got to be a better driver when you're running at 200 miles per hour than you do at 75 [mph] going down I-95. He doesn't believe that. He thinks there is a magic bullet out there. He's looking for a unicorn."
The time commitment is immense
The search for a unicorn takes time. Schomin was known for his willingness to meet with DeChambeau pretty much anywhere, anytime. Such as a 14-hour session prior to the 2020 Masters to dial in some shafts. Working with the "Golfing Scientist" can wear a company or tour rep out because the demands are so great and the ask difficult to achieve. Whether it's working on a low-lofted, longer driver, One Length irons, or figuring out the right shaft to go with the jumbo grips, there is little "stock" to DeChambeau's equipment and it all takes time. With a limited staff in terms of numbers, Cobra can spend that time. A company with a larger stable might opt it's not worth it.
He's not always a company man
When you're paying someone millions of dollars a year to endorse products, it's helpful if that person doesn't trash those products in front of a worldwide audience. But that has not stopped DeChambeau from blaming his bats for poor play.
Case in point the infamous incident at the 2021 Open Championship where after a one-over-par 71 in which he only hit four fairways, DeChambeau said, "I said it yesterday or a couple days ago. If I can hit it down the middle of the fairway, that's great," he said. "But with the driver right now, the driver sucks" before expanding on his comment with "It's literally the physics and the way that they build heads now. It's not the right design, unfortunately, and we've been trying to fix it, just haven't had the results yet."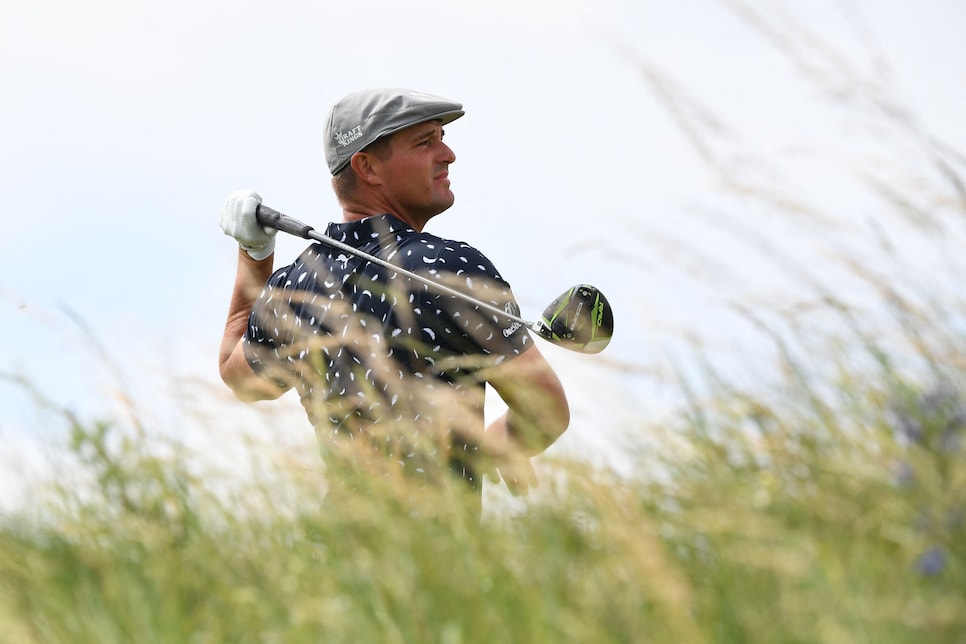 What's the return on investment?
Despite having one of the most talked about players in golf, up to and including his jump to LIV, on staff, Cobra's equipment sales haven't exactly soared since he's been with the company. So how much is he moving the needle when it comes to clubs? While DeChambeau is certainly compelling to watch, he's not exactly beloved.
Add in his involvement with LIV and it becomes more difficult to ascertain the value. Whether it be the association concerns that the tour is backed by Saudi's Public Investment Fund, its limited schedule of events and the possibility that club companies won't be able to outfit golfers with its logos, it's tough to see where a big-dollar investment is rewarded.
Although DeChambeau is a big name with a major championship to his credit, there's a lot to unpack and consider when thinking about entering a long-term (and pricy) deal with him. Given that, it's not a lock that he'll end up—or even want—an equipment deal going forward.