The Loop
Bryson DeChambeau confident about making history despite disastrous 18th hole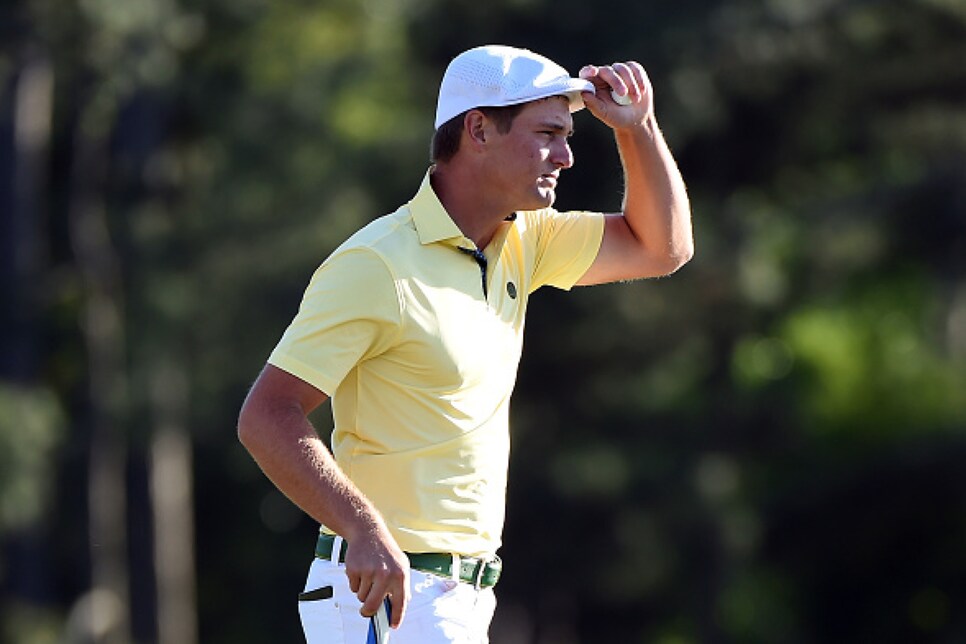 AUGUSTA, Ga. -- For 17 holes on a wind-whipped Friday afternoon at Augusta National G.C., Bryson DeChambeau hardly looked like an amateur golfer. But the last hole was another story.
If not for a remarkably ugly triple-bogey 7 on the 18th hole that was in stark contrast to his play the rest of the day, DeChambeau would be breathing down the neck of defending champion Jordan Spieth in the 80th Masters. As it stands, though, his second even-par 72 still gives him a realistic chance of becoming the first amateur winner in Masters history.
"There are still 36 holes to go, and anything can happen," the 22-year-old Californian said bravely after his inexplicable hiccup on the home hole. "People think, 'Oh, my gosh, he was nervous.' No, I wasn't nervous. I pulled two shots. It's a disappointing factor. But again, that's golf. You've got to learn from that and play your best tomorrow."
Though DeChambeau insists he didn't play his best in the second round, it was still rather splendid. Thanks to six birdies, DeChambeau, the reigning U.S. Amateur champion, stood four under par and alone in second place, one behind Spieth, through 15 holes. He looked completely in control and comfortable.
When asked what was going through his head as he saw his name on the leaderboard, DeChambeau offered a simple reply: "I belong."
And the pats on the back from Dustin Johnson and Justin Thomas outside the clubhouse at Augusta National afterwards were yet further testament.
He was still three under par when he arrived on the 18th tee. He was still nipping at the heels of Spieth, who like just about everyone else was struggling to hold it together in the gusting winds. Not since Ricky Barnes in 2003 had an amateur parked so close to the lead through 36 holes.
"Well, it was pretty special," he said. "To come out here and play as good of golf as I have, it's definitely one that I've been not only dreaming of but sort of knew that I could do it, as well. I knew that I was hitting it really well the past couple days coming in, and even the week before, coming into this week. I was really prepared with the golf course, comfortable out there."
Maybe he got too comfortable. That changed quickly on the 18th tee. DeChambeau pulled his first drive, had to take an unplayable lie and go back to the tee, and pulled another drive left. He layed up for his fourth shot, knocked his fifth on and eventually took a disappointing seven.
Even with that disaster, DeChambeau sits T-8 and just four off Spieth's pace.
"I had a great day. It was a nice walk in the park," DeChambeau insisted. "Unfortunately it was sour at the end, but I can't look at that. It's just an anomaly, and it won't happen tomorrow."
He did not make that proclamation with an egotistical air. He understood what had happened. Perhaps the most analytical mind in the game today, DeChambeau was ready to move on and look ahead. He still has a chance to make history before turning pro next week. He still has confidence and a game plan and a solid all-around game.
"Look, I don't want to be prideful in any situation. That's not good. I don't like that statement," he responded when asked about the personal pride he felt in his performance, the ending aside. "I would prefer more of a calm and understanding type of mentality. Again, if I can do that and be calm, understanding, I'll have plenty of opportunities out there. And I think that I'm only four back, and, look, if I don't play well over the weekend, I don't play well. And if I do, I do. And if I do that, which I know I can, it will be a cool journey."