News
Brooks Koepka's inner circle basks in his breakthrough win
As a parent, Bob Koepka did the right thing in turning over his son to a PGA professional at an early age. "Bob came to me when Brooks was 11 years old and said, 'Hey, this is all I can do with him. Time to take him to the next level," said Warren Bottke, who was teaching at Abacoa Golf Club at the time. "Seven years later, he's at Florida State." And 16 years later, he gave his father the best Father's Day present imaginable—the sight of his son raising the U.S. Open Trophy over Erin Hills. Claude Harmon and Joey Diovisalvi are Koepka's coaches now, but nobody was prouder that Bottke back home in Palm Beach County. Brooks went off to college with a 180-mph ball speed, but now he's Big Brooks, able to reach par 5s in two and carry the weight of winning a major on his broad back, as he did in Wisconsin. Brooks hasn't forgotten. "We just texted the other day," Bottke said on Sunday. "I saw him at the Masters a couple days. At the Ryder Cup, I was with him and he was so gracious. After he made the final putt, he said to me, 'If it wasn't for you, I wouldn't be here,'" Bottke said. With that big week in Minnesota (3-1-0), came an invitation to the intimate after party in the victorious U.S. team room.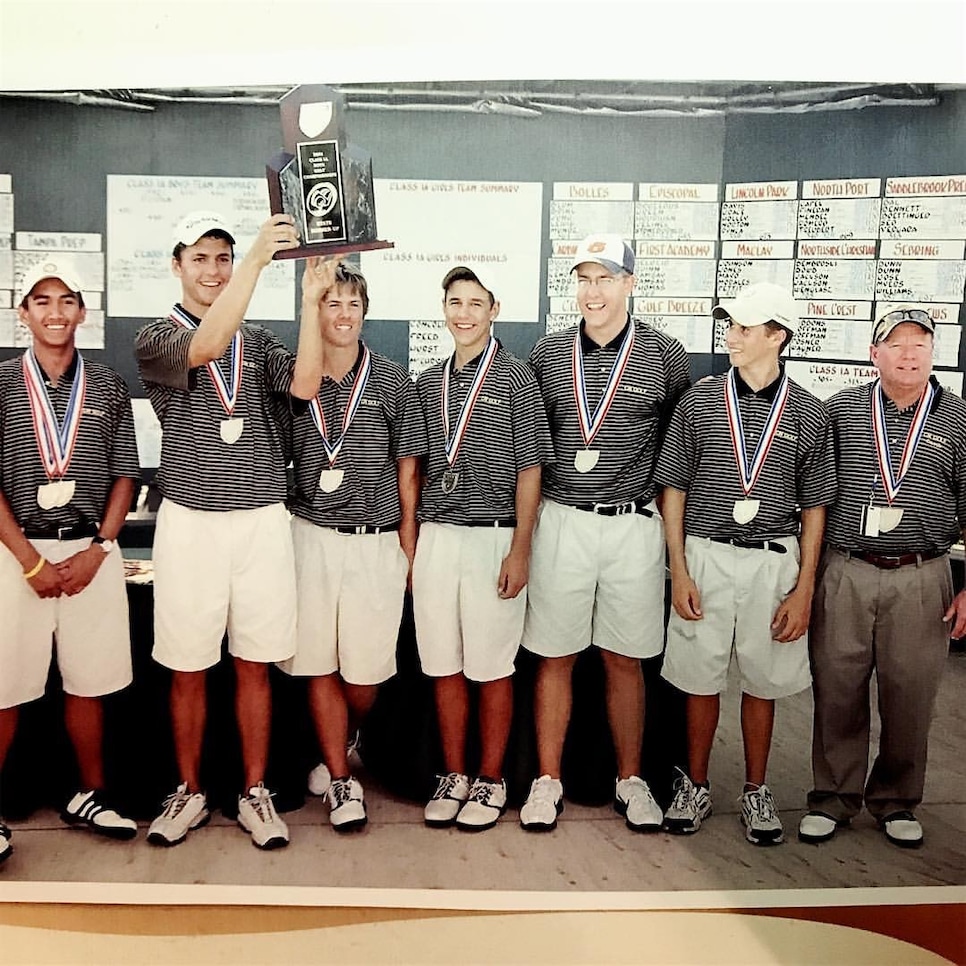 Between Bottke, Bob Koepka, and the Koepka's younger son Chase, who turned pro after a distinguished career at the University of South Florida, the Brooks Koepka inner circle going back to his childhood were in there hanging out with the likes of Dustin Johnson and Tiger Woods. "He looked the same as he does today, very stoic, very quiet, very direct," Bottke said. "Once in a while he'd say, 'I'm going to win the U.S. Open someday. I could see this is what he wanted to do."
Marshall "Chick" Jacobs, 94, loved playing golf with his wife, Lucille, loved the 117th U.S. Open being played 20 miles from the public course they played in Pewaukee, loved working as a marshal at the Greater Milwaukee Open for more than 30 years and loved the pride of Wisconsin golf, Steve Stricker. On June 13, Lucille died at age 88, leaving Marshall heartbroken without his bride of 68 years and golf partner. As a Father's Day present, Marshall's children gave their dad tickets to the Open. Wearing his Wisconsin Badgers baseball cap, Marshall was transported on Friday to the sixth green at Erin Hills to watch Stricker get up and down from a bunker to save par. His life now complete, Marshall squeezed the arms of his son, Bill, and passed away.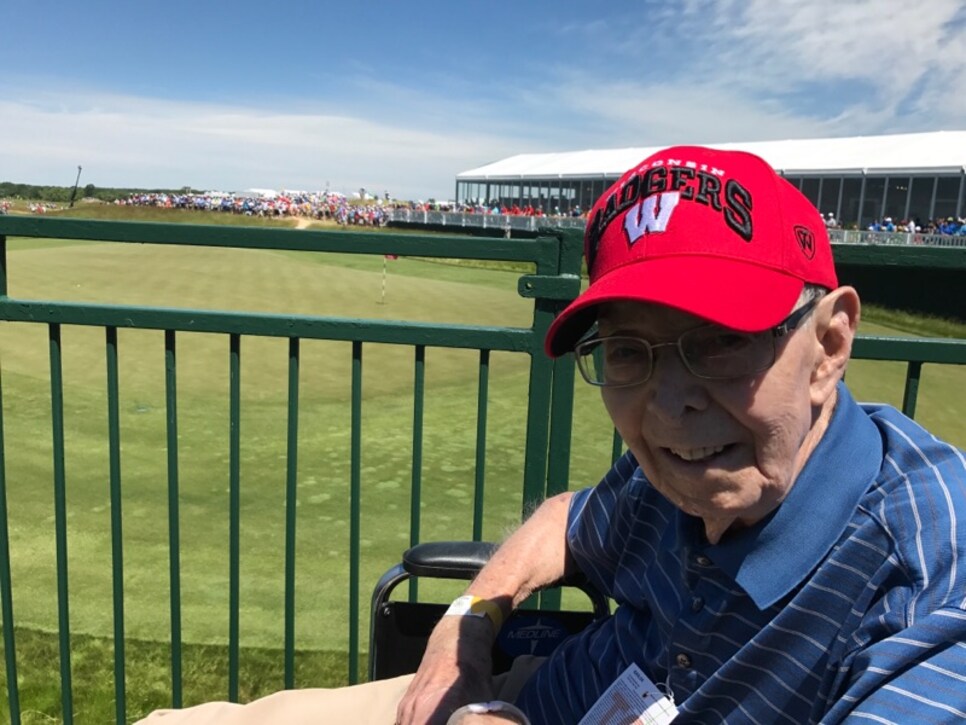 The way the family looks at it, he's in golfing heaven, playing with Lucille the way they did at Western Lakes Golf Cclub, 20 miles away. USGA officials gave Bill a signed player badge autographed by Stricker. Bill was saying on Sunday it will go in Marshall's casket, when he's laid to rest. What a way to go. "My dad's all-time favorite golfer," Bill said of Stricker from the clubhouse at Erin Hills on Sunday. "Wherever he played, whatever the tournament, all he wanted to know was, 'Where's Stricker?' "
Scottie Scheffler won low amateur honors but more buzz was generated at Erin Hills by the driving exhibition put on by mythically named Cameron Champ of Texas A&M. Athletically built more like Alex Noren than Dustin Johnson, Champ led the 50 players averaging more than 300 yards at Erin Hills, with an average measured drive of 337.30 yards for the week—some 15 yards longer than Open winner, Brooks Koepka. "He's always hit it hard," said Scheffler, who played against Champ in junior golf and college golf at Texas. "I'm not sure how he does it. He's been a freak since he was 14." Now 22, Champ is being looked at as the next generation of long-ballers headed for professional golf.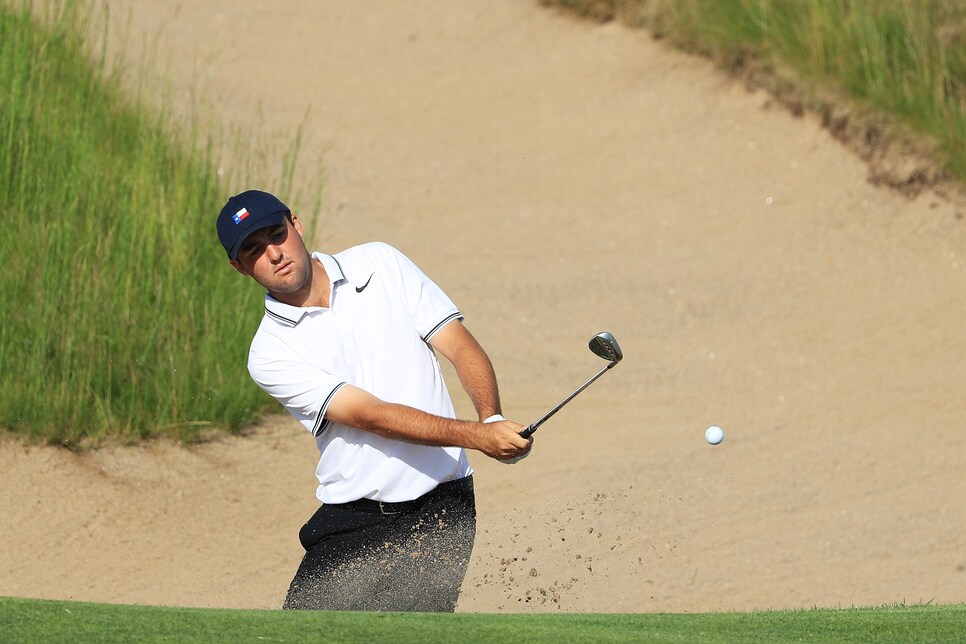 "I was so intrigued," said Sean Foley, who has coached Champ since he was 15. "I'd never seen speed like this." With ball speed of 198 mph (14 mph faster than Rory McIlroy), Foley made the comparison to Usain Bolt. But Champ has overall game too, as proven by the scores he posted over the first two rounds (70-69). "Champ has the fire power and touch to be a fantastic player," Foley said. "That said, he is already a wonderful kid who is classy, elegant and skilled. He has evolved into the player that I thought he needed to be." As McIlroy pointed out after their practice round, it's score not length that matters, and Champ was more excited about his four under total after three rounds than the lore he was creating. Champ, who will stay amateur through the first semester of his senior year, gets it. In the end of this breakout week by Champ, Scheffler ended up beating him by a stroke. As far as the class that Foley referenced, Champ showed that too by praising Scheffler. "Like I said, me and Scottie are buddies," Champ said. "I'm happy for him."