The Loop
Brooks Koepka's 63 gains on Jordan Spieth...barely
KAPALUA, Hawaii – After a 10-under-par 63 Saturday at the Hyundai Tournament of Champions, one off the Plantation Course record, one fashioned with new clubs that hadn't undergone the requisite break-in period (whatever that is), Brooks Koepka smiled and offered an unsurprising assessment of the day's proceedings.
"I didn't miss a shot all day," he said.
"Well, there was the near-shank on 18," he backtracked. "But that was about it."
Hey, give the guy a break. Golfers are supposed to have short memories.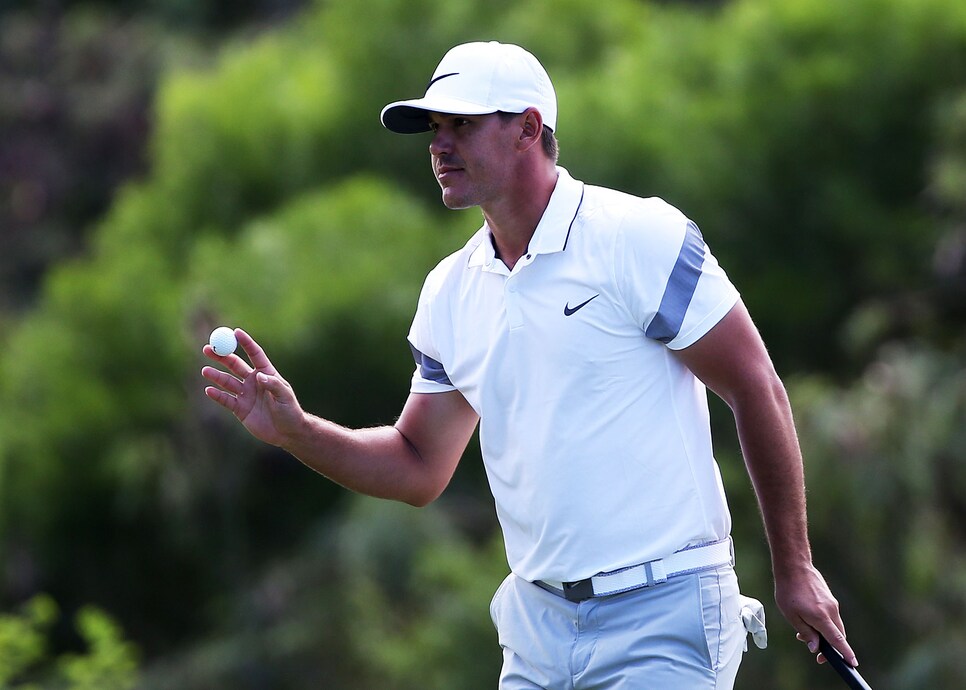 Koepka, 25, who switched equipment from Titleist to Nike in that blink of an eye known as an off-season, shot himself into contention in this $5.9 million winner's only tournament with the lowest round of the week. The bogey-free salvo on a picturesque day in Maui – are there any other kind here? – cut appreciably into the lead of world No. 1 Jordan Spieth.
Well, for a while anyway.
The Florida native inched within a stroke of the pacesetter. Then Spieth, the Masters and U.S. Open champion, decided to be Spieth and played his last five holes in 4 under par, including an eagle at 18, to spurt ahead by five strokes. Koepka's net gain was two shots. At least he gained.
"I know what it feels like to be Jordan Spieth now, I guess," said Koepka, who shouldn't mind being Brooks Koepka. He's young, strong, millions richer courtesy of the Swoosh group, and, obviously, a really good golfer.
"I'll tell you what, with an equipment change, it's really impressive, first tournament week, that Brooks is doing what he's doing. It shows the caliber of player he is," Spieth said.
Ranked 16th in the world, Koepka qualified for his first appearance at Kapalua by winning last year's Waste Management Phoenix Open thanks to a closing 5-under 66 at TPC Scottsdale. His career-high eight top-10 finishes in 2015 also included a T-5 at the PGA Championship.
Players who go low typically cite the strokes they let get away. Inevitably, there have to be some if a player is zoning. Koepka, who reeled off six birdies in a row on the front nine, had a few in mind. Oddly, they were not the pars he settled for on the ninth or 18th holes, par-5s which, with his ludicrous clubhead speed, should be easy as picking pineapple off the side of a mountain. But, golf.
And, golf. "It was actually quite funny," Koepka said about his expectations when the day began. "On the first tee my caddie Ricky [Elliott said], 'You gotta get stuck in today. This is going to be a hard day. It's blowing, tough pins, blah blah blah. And then that happens."
Koepka figures that a 65, at the least, has to happen Sunday to have a chance to stick an elbow in Spieth's ribs and break his rhythm. But it might take more.
"Just got to do it again tomorrow," he said with a shrug.
Just do it. Hmmm. Requisite break-in period over.