News
Brooks Koepka says he was 'in shock' Tiger Woods stayed to congratulate him at Bellerive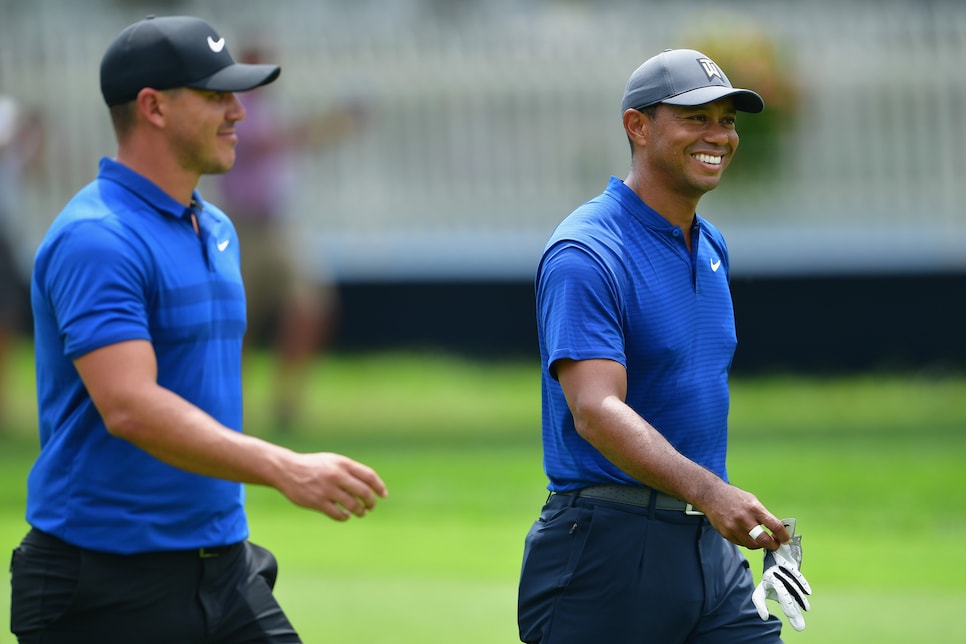 PARAMUS, N.J. — Tiger Woods has been incredibly impressive with a club in his hand during his latest comeback, especially this summer, when he threatened to win the season's final two majors. But the most pleasantly surprising thing to watch has been the 14-time major champ revealing that he does, in fact, have a softer side. Whether he's saying things like "I'm just happy to be around the guys," playing a practice round with Phil Mickelson or signing a few extra autographs, it's clear that this is a changed man, one who is thoroughly enjoying a new lease on life.
The most jarring of these "new Tiger" instances came two weeks ago at Bellerive, when, after Woods had carded a final-round 64 to nearly pull out a miraculous victory, cameras captured him congratulating Brooks Koepka on his PGA Championship victory as he made his way to the clubhouse. This was the same Tiger who only entered tournaments to win them? The same guy who told his now ex-wife not to celebrate his victories because he was "supposed to win"? The same guy who wouldn't so much as look at competitor as he walked on the range on Sunday at a major?
It was a shocking image for those who have watched him throughout his career, including Koepka himself. During his Wednesday press conference at the Northern Trust, the three-time major winner spoke about how much that interaction meant to him, and how surprising it was that Woods was there waiting:
"Obviously I wasn't expecting it," said Koepka. "And I made the turn around that corner and I saw him and I was, like, I was kind of in shock a little bit to think he waited around for 30 minutes just to watch me finish.
"And he said congrats. And I think I told (Tiger), 'I heard you.' I think that's what I said to him. And it's nice. Anytime you can get some congratulatory, anything said or the guys waiting around the green, that's always nice.
"You're out here so many weeks a year, and sometimes away from your family, and the tour kind of becomes your family. So when you have these guys hanging around, it's special. And especially coming from him."
Here's the heartwarming video, for those who missed it:
For Woods to not only wait around, but appear genuinely happy for a guy who made two late birdies to beat him was a sight to see. An even better sight for Woods' fans will be if these roles are reversed in the near future, and it's Koepka or another young pro congratulating Woods on his 80th victory. Patrick Reed putting the green jacket on Woods in 2019 sounds like a good place for this to happen, no?
The 2018 PGA Tour Season in 90 Seconds