The Loop
Brooks Koepka, one of the PGA Championship leaders, was *this* close to not even playing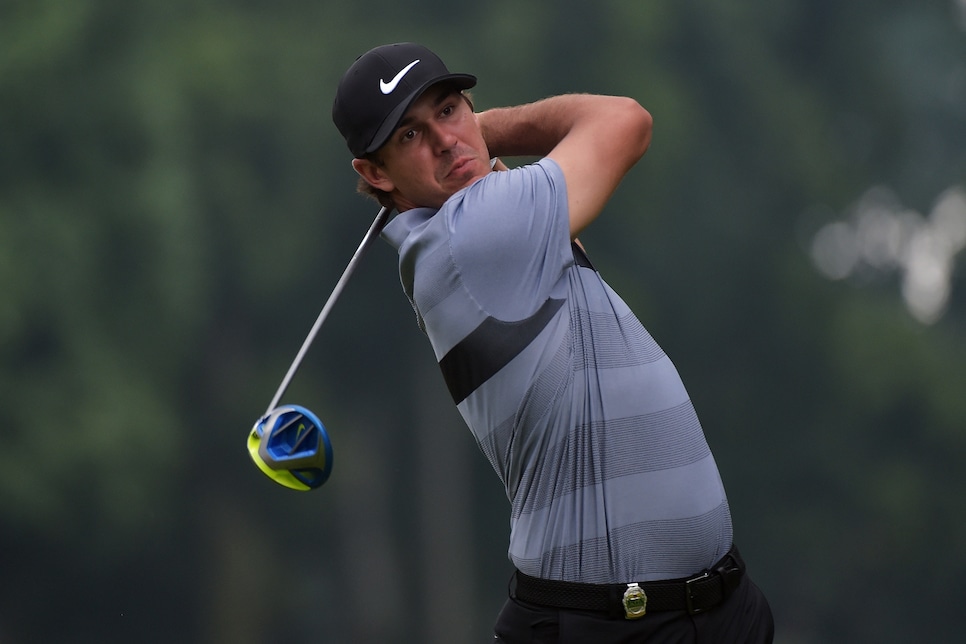 SPRINGFIELD, N.J. — That Brooks Koepka finds himself near the 2016 PGA Championship lead after three rounds is surprising. Not because Koepka lacks the game to compete at a major; far from it. Rather, the 26-year-old's standing is a wonder because, as of Tuesday, Koepka wasn't even sure he was going to play this week.
The Florida State product has been battling a right ankle injury, missing the past month to tend to torn ligaments. He hasn't played competitively since the U.S. Open, and his practice has been limited as well. When he played in the first round Thursday at Baltusrol Golf Club, he said it was his first time walking 18 holes since June at the U.S. Open.
"I wouldn't have played this week if it weren't a major," said Koepka, after posting an opening 68. Adding to this necessity is his desire to make the Ryder Cup team. Before his injury, Koepka was third in points; now he resides outside automatic qualifying.
"Obviously it's a major, but at the same time to make that Ryder Cup team, I don't want to be a pick," he said. "Just play my way on the team and see how it goes.
As sore as the ankle is -- Koepka admitted to feeling pain by the fourth hole on Thursday -- it hasn't impeded his march up the leader board. He followed up with a 67 on Friday, and a third-round 66 has him just two back of Jimmy Walker heading into the final 18.
"I've got it taped up, have a brace on it," Koepka remarked following the finish to his third round on Sunday morning. "It feels alright now, but the real test will be walking 36 on it."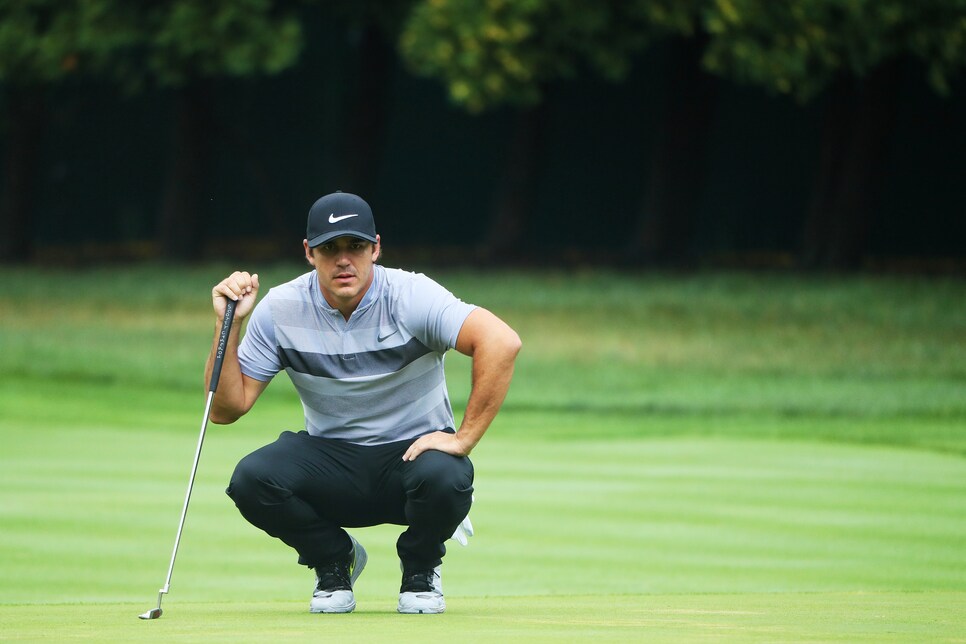 In golf circles, Koepka is the trendy "it" player. His athleticism and imposing physique pass the eye test, and a highly touted pre-tour resume -- besides being a three-time college All-American, Koepka won 2014 Rookie of the Year honors on the Euro circuit -- makes him an natural curiosity among golf fans. His game and looks have also made Koepka one of Nike's premier endorsers; the Swoosh advertises his outfit choices in merchandise tents in the same manner that it does for Rory McIlory, or Under Armour for Jordan Spieth. Ask anyone in the game about Koepka's future, and the answer is unanimous: he will be a force for years to come.
While Koepka's reputation precedes him, there's still some work left to do on the course. He has flashes of brilliance -- most notably, going eight under in an eight-hole stretch at the U.S. Open -- but it hasn't quite translated to the scorecard. Make no mistake, Koepka's career is off to an auspicious start: He has a win under his belt at the 2015 Waste Management Phoenix Open, two second-place finishes in 2016 and three top-10s at majors. But, despite the promise and hype, his track record isn't as solid as others in his age group like Rory McIlroy, Jason Day, Rickie Fowler, Danny Willett, Hideki Matsuyama, Branden Grace and Patrick Reed. He's right there...just not there.
Of course, Fowler and Day faced similar narratives last year before claiming breakout wins at the Players and PGA Championship, respectively. Koepka's stature can likewise change in the final round at Baltusrol.
"We're playing well," Koepka said. "We're striking the ball the way we want it. We're putting pretty well. So just keep doing what we're doing, should be fine."
And don't expect his ankle to factor into the equation.
"I've got 18 holes to win a major. I'm pretty sure I can explode off it."
Not bad for a guy who almost didn't play this week.