The Loop
Brooks Koepka breaks through, a WAG star is born, and an all-time Twitter feud between Rory & Elk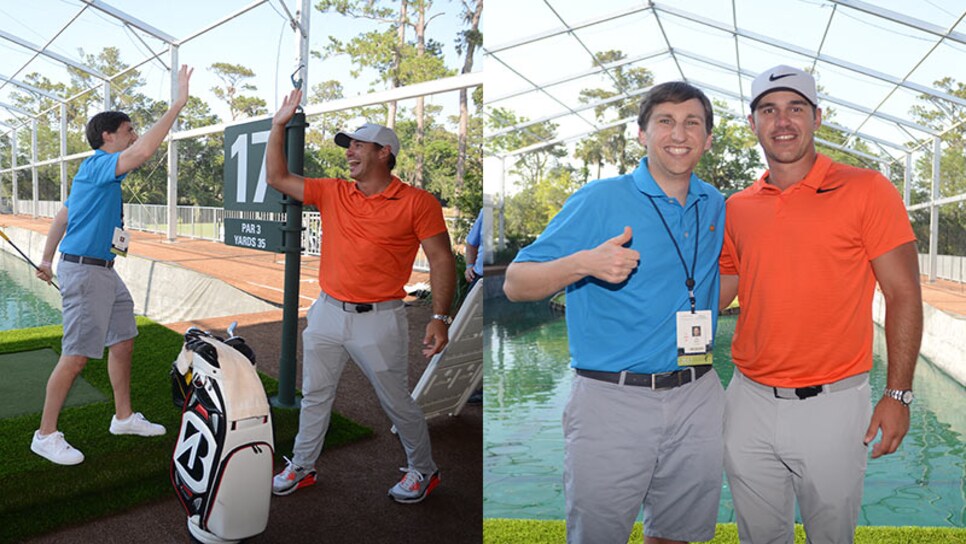 Turns out, it was just the sort of motivation this young star needed to get to the next level. Congrats, Brooks. And you're welcome.
Brooks Koepka: This year's U.S. Open essentially became a long drive contest and Koepka rose to the challenge. One of the longest hitters on tour, he managed to hit 88 percent of Erin Hills' fairways (they were wide, but not THAT wide), setting him up to hit 86 percent of greens in regulation. It was a tee-to-green clinic, and he finally stomped out the competition by holing three consecutive birdie putts on the back nine to win by four shots. Koepka is the seventh straight first-time major champ -- but we don't expect this to be his last. The world, including Fox's Joe Buck, was also introduced to Koepka's new girlfriend, former beauty pageant champ and current actress, Jena Sims.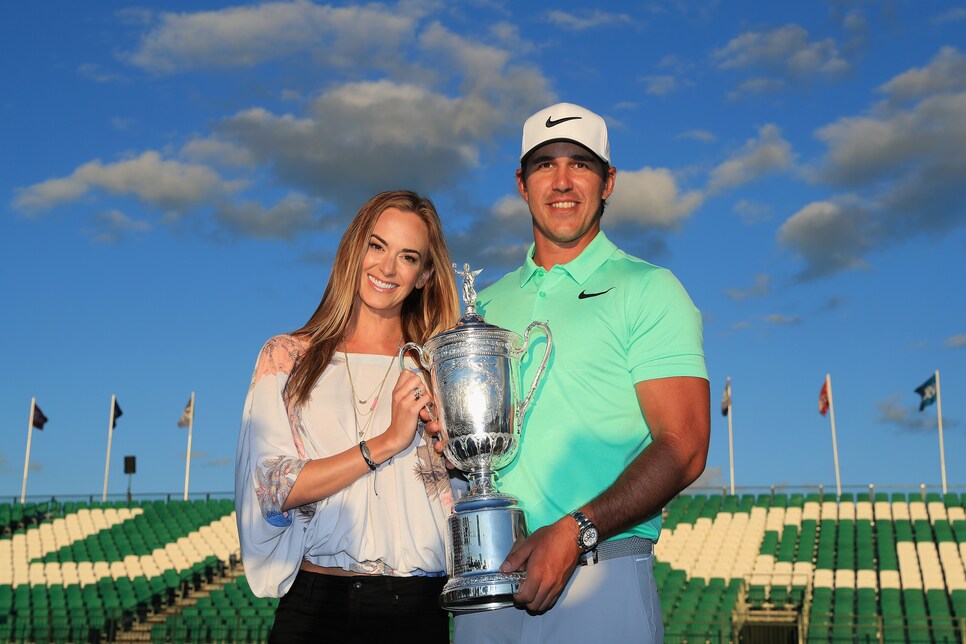 And Brooks and DJ showed how fit you need to be to win a U.S. Open these days. Good luck hanging with these guys in the gym.
Brian Harman: How about the pluckiness of this lefty? Harman hung in there until the finish (T-2) and the story of how he caused Rickie Fowler to cry in his last college tournament became the stuff of legend. This dude is tough. And the man who ended Dustin Johnson's three-tournament winning streak earlier this season is a legit threat when he pops up at leader boards going forward.
Justin Thomas: Yeah, yeah, he shot 75 playing in Sunday's final pairing, but JT gave us a highlight-packed round on Saturday that golf fans will remember for ages. There was a birdie putt with his back to the hole, a perfect 3-wood that elicited a "Be as good as you look!" plead (it was), and then another towering 3-wood on 18 from 300 yards that set up an eagle and a record nine-under-par 63. Who cares where it came from or where it ranks or what Johnny Miller thought. That round -- and those majestic shots -- were awesome.
Erin Hills: I came away a big fan of Erin Hills, although it played more like Easy Hills during the tournament (At times, I also referred to it as Eerie Hills and E. coli Hills, unfortunately). Did I sound like an old man moaning about the low scores (Ben Hogan would be rolling over in his grave!) at times? Yes, but there's not much the USGA can do about Mother Nature, who gave the course soft conditions and no sustained wind. Bad job, Mother Nature.
Steve Elkington: After Rory McIlroy, who hadn't played in six weeks thanks to a rib injury, missed the cut following a Friday 71 (Thursday's 78 killed him), Elk decided to take a shot at him, setting off a Twitter feud that made the one between Brandel Chamblee and Rory look tame.
We've got Rory winning this one by TKO.
The Big 3: Or, at least, the former big 3. Hideki Matsuyama moved to the No. 2 spot following his T-2 finish that was coupled with the top three players in the world (Dustin Johnson, Rory McIlroy and Jason Day) all missing the cut. It's the first time that the top three players have failed to make the weekend at the same major since the debut of the Official World Golf Ranking in 1986.
Skip Bayless' Rickie Fowler takes: Fox's coverage of the U.S. Open (Minus Joe Buck's girlfriend gaffe and the incessant, ridiculous bird noises) was great, but if you tuned into Fox Sports before the broadcast began, our condolences. Since the NBA season is over, Skip needed a replacement target for LeBron James and he locked in on Rickie Fowler, saying he "wasn't long enough to compete" (LOL) and that he's got "brand bigger than his guts." Let's hope Skip sticks to other sports for the next 51 weeks.
Playing behind J.J. Watt's group: We enjoyed the NFL star's voiceovers during the coverage, but we wouldn't have enjoyed being stuck behind his foursome on Monday. Watts played Erin Hills with four buddies, and, well, just look at this scorecard:
Now that's some U.S. Open-like carnage.
The PGA Tour heads to Connecticut for the Travelers Championship, AKA the fifth major of 2017. We joke, but seriously, how about the field for this week's event that includes Jordan Spieth, Rory McIlroy and Jason Day? Not too shabby.
Random tournament fact: TPC River Highlands is listed as 6,844 yards on the card, or exactly 995(!) yards less than Erin Hills during the second round of the U.S. Open.
RANDOM PROP BETS OF THE WEEK
-- A blimp will crash and E. coli will be detected at the Travelers: 1 MILLION-to-1 odds
-- Joe Buck will get Brooks Koepka's girlfriend's name wrong again: 10 MILLION-to-1 odds
-- A lot of weekend hackers will be saying "Be as good as you look!" this summer: LOCK
That's David Wallace from "The Office." And he's still in character wearing his Dunder Mifflin shirt four years after the show went off the air. Classic.
VIRAL VIDEO(S) OF THE WEEK
A bunch of fans took frightening footage of a commercial blimp crashing near Erin Hills during the first round of the U.S. Open.
The pilot was treated for some burns at a nearby hospital, but fortunately, no one was seriously hurt.
"A 63 for a par 72 is a heck of a score, even if it was the Milwaukee Open." – Johnny Miller. #JohnnyMillerForever
THIS WEEK IN DUSTIN JOHNSON-PAULINA GRETZKY-TATUM-RIVER PUBLIC DISPLAYS OF AFFECTION
Golf's most-photographed family is expanding!
And Paulina made a BIG announcement. Wedding planning is underway:
It's good to see DJ and Paulina are still making time for themselves:
After making things Instagram official with that "RickFoundaChick" hashtag, Rickie Fowler and girlfriend Allison Stokke got plenty of air time at Erin Hills: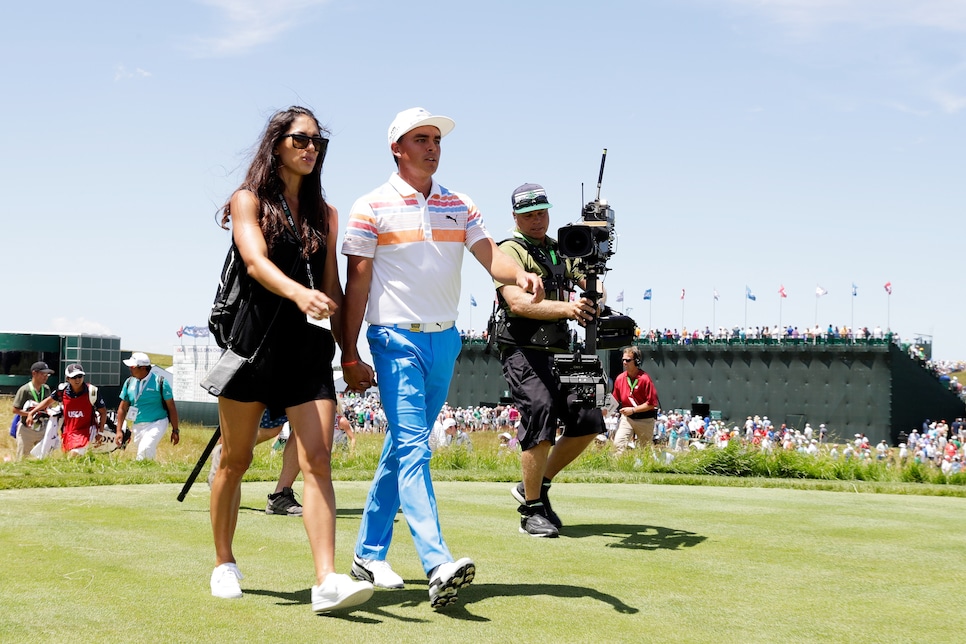 Meanwhile, Sergio Garcia's fiancée, Angela Akins, had her bridal shower, where it was a who's who of WAGs.
It's officially wedding season.
Tiger Woods revealed he's "receiving professional help" for dealing with pain medications. We wish the 14-time major champ the best. . . . While Brooks Koepka won the U.S. Open, Brooke Henderson won the Meijer LPGA Classic. It was a good week to be a Brook, eh? . . . Aaron Wise won his first Web.com Tour title at the Air Capital Classic to wrap up his PGA Tour card for next season. Even cooler? He got to take home this propeller as a trophy:
And here's a photo of yours truly hanging out with Michael Phelps, AKA The GOAT. No big deal.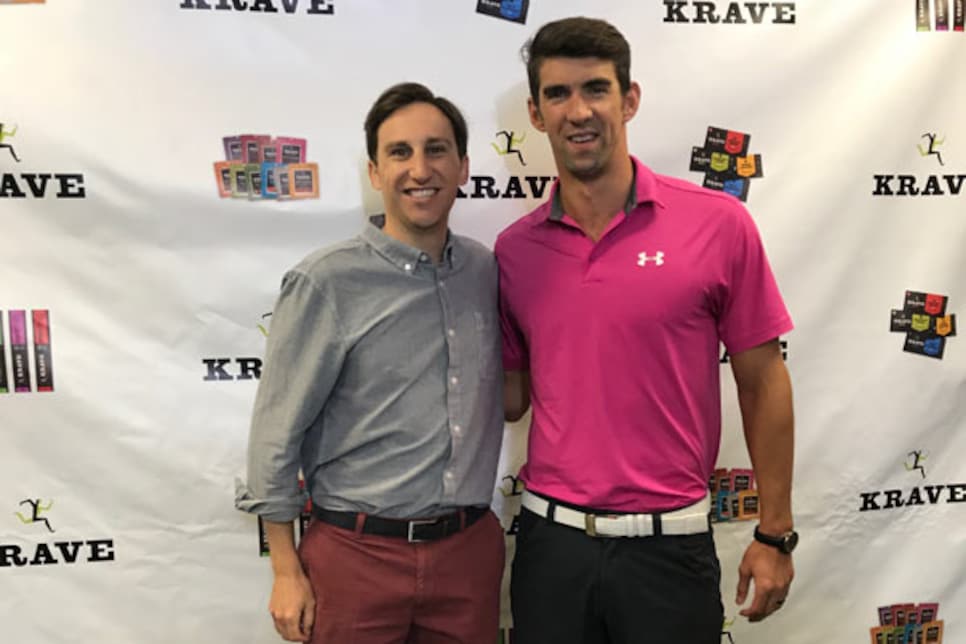 Stay tuned for an upcoming Golf Digest Podcast with Phelps. Between the two of us, we have 23 gold medals and one plastic trophy from a Carnival Cruise ping-pong tournament.
RANDOM QUESTIONS TO PONDER
Where does Michael Phelps keep all those medals? (He wouldn't tell me)
When will Erin Hills get to host another U.S. Open?
Will anyone break par at Shinnecock Hills next year?