AT&T Byron Nelson
Brooks Koepka's right knee isn't 100 percent but he sounds 100 times better than at the Masters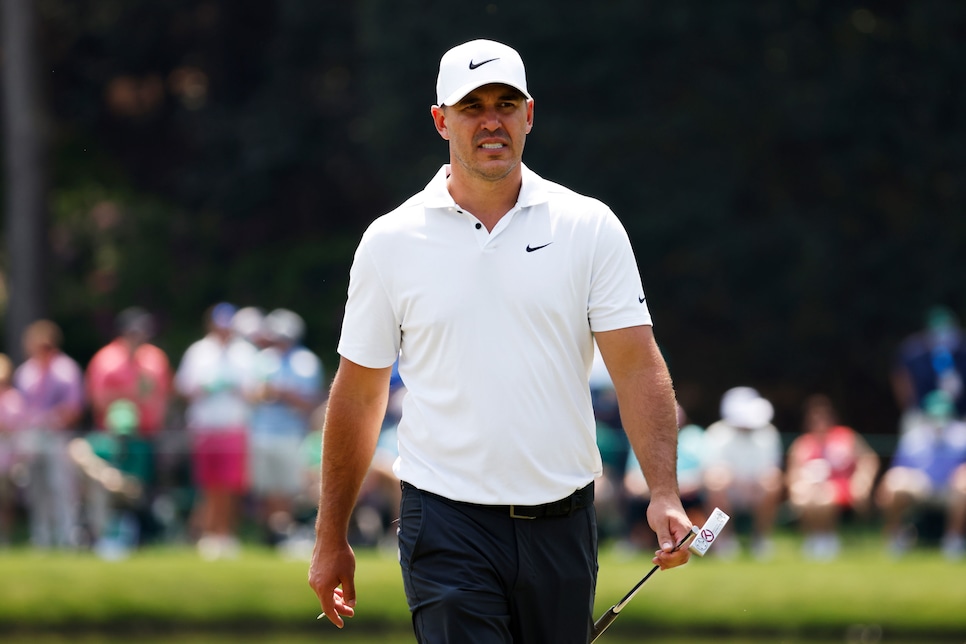 Brooks Koepka plays a practice round prior to the 2021 Masters at Augusta National Golf Club.
Jared C. Tilton
The last time Brooks Koepka and his fresh-off-surgery right knee played in a tournament he missed the cut at the Masters, where one of the first questions he was asked afterward was about how disappointed he was to not be playing the weekend at Augusta National. "How f--king disappointed do you think I am?" he said. "I worked my ass off just to get here, and then to play like this is pretty disappointing."
A month removed from that disappointment, the 31-year-old four-time major champion is in much better spirits—and health—as he makes his return to competition at this week's AT&T Byron Nelson.
"Still not 100 percent," he said Wednesday. "It'll be a while before I'm 100 percent. It's dramatically better than it was at Augusta. I feel like the strength is getting there. The mobility is getting there. I'm ahead of schedule. Long ways ahead of schedule of where I should be at this point, so I'm very pleased."
In early March, Koepka dislocated his right kneecap then underwent surgery to repair his medial patellofemoral ligament. The timing couldn't have been worse with the year's first major around the corner and the former World No. 1 in good form with a win at the Waste Management Phoenix Open in February and a T-2 at the WGC-Workday Championship two starts later.
If it wasn't the Masters, Koepka conceded he wouldn't have played for a number of weeks. He did and shot 74-75 to miss the cut by two.
"I'm in a completely new place now," Koepka said. "It was one of those things where the struggle I went through for that entire three weeks, month, whatever it was, just to get back to play was very satisfying, all the work I put in and being able to get out there and play.
"Yeah, I didn't play how I wanted to, but that happens a lot of weeks out here, and guys aren't hurt and still don't play like they want to. I've been victim of that. It's just one of those things."
There are, however, lingering effects that he'll have to deal with this week at TPC Craig Ranch and beyond. And the year's next major, the PGA Championship, which Koepka won in 2018 and 2019, is just a week away.
"I still can't squat down, get into a catcher's position or fully bend down," Koepka said. "It's a lot better than it was at Augusta, but it's still not completely normal.
"Every once in a while I'll have a swing where I don't load on my right side and stay on it. I get off it. That happens with the longer clubs, mainly driver. But everything from about 7-iron in, no problem."
Still, Koepka is optimistic about the state of his game and his body.
"It's just nice to be back out and being able to play golf and actually hit shots that I want to hit," he said, "unlike I was doing at Augusta."