News
Brooke Henderson is chasing a second major, but without her Canadian snowbird fan base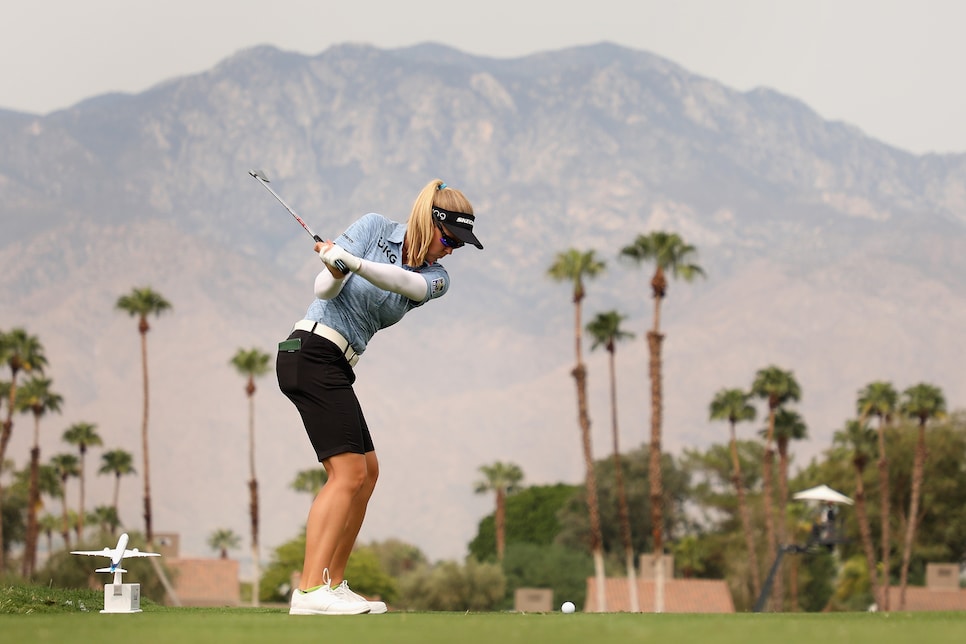 Brooke M. Henderson plays a tee shot on the fifth hole during the third round of the ANA Inspiration.
Christian Petersen
RANCHO MIRAGE, Calif. — Typically, pre-coronavirus, Canadian Brooke Henderson at the top of the leader board on a Sunday here in what ostensibly is Canada's southernmost province might give her a native's advantage.
But this is not a typical ANA Inspiration, and her only advantage going into the final round is that she has won a major championship and the woman with whom she shares the lead, Nelly Korda, has not.
Henderson on Saturday had the best round of the tournament, a seven-under-par 65 on the Dinah Shore Tournament Course at Mission Hills CC here in the heart of the Coachella Valley and is at 12-under 204. Korda, the solo leader after each of the first two rounds, shot a one-under 71, while Lexi Thompson, a winner here in 2014, is two shots down.
A study commissioned by the Greater Palm Springs Convention & Visitors Bureau a few years ago estimated that 300,000 Canadians visit the Coachella Valley annually, and many spend the winter and spring months living here.
"It's definitely really noticeable," Henderson said of a tournament without fans, notably those displaying the Canadian Maple Leaf. "But the thing about this place is there's so much tradition and history here, it's really special. Even without the fans that we miss a lot, it's still a great place to be."
Henderson, 23, is pursuing her 10th LPGA victory four years after winning her first major, in the KPMG Women's PGA Championship in 2016.
"I was just trying to move up [the leader board] as much as I could," she said on a day in which the temperature hit 100 degrees. "Trying to get into double digits under par, that was a big one. Just trying to put myself in great position going into tomorrow."
Her round began on a sour note, when she missed a short birdie putt on the first hole, but she followed by holing a 15-foot eagle putt on the second hole. She gained a tie for the lead with a birdie at nine.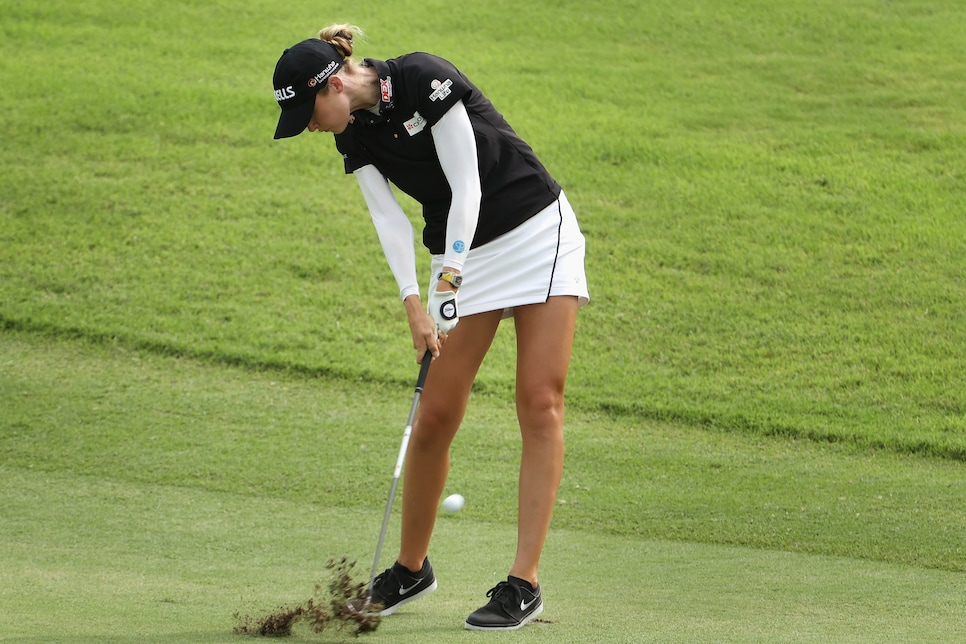 Nelly Korda plays her second shot on the 16th hole during the third round of the ANA Inspiration.
Christian Petersen
Korda then hit her second shot from the rough into a pond fronting the green at the sixth hole, made a double bogey and fell to fifth place, two strokes behind Henderson. She lost the lead, but not her poise, playing the back nine in three-under 33 to secure a tie for the lead.
"I was between a pitching wedge and a 9-iron and we thought since it was kind of growing down grain that that wouldn't kill it, but it absolutely flew nowhere," Korda said of the rinsed shot at 6. "The Bermuda rough just absolutely killed that shot.
"It was a disappointing front nine, but I was really proud of the way I fought on the back nine. Never gave up and there's still 18 more holes to be played, so much golf."
All of it to be played in a vacuum as it were, without fans, Canadian or otherwise.