LPGA
England's Bronte Law anxiously eyes another Solheim Cup, but injuries, time are getting in the way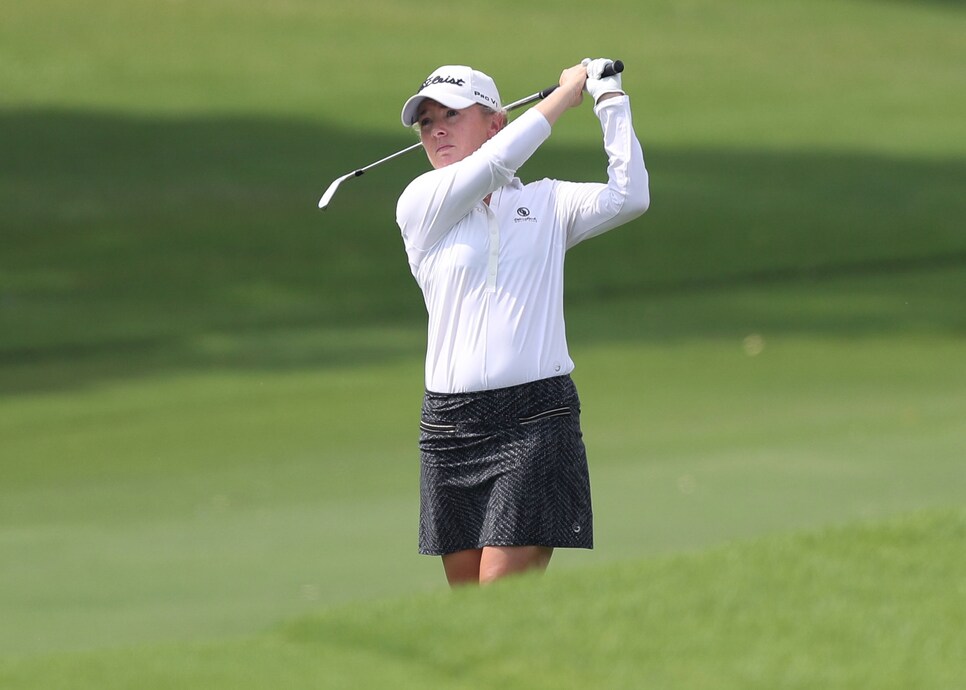 The last time Kingsmill Resort hosted the LPGA Tour, back in 2019, Bronte Law strutted around the Pure Silk Championship. Building off a playoff loss in her previous start, the then 24-year-old from England charged to her first career LPGA title.
As you might imagine, it felt like a breakthrough for the former college player of the year at UCLA. The victory locked Law into her first Solheim Cup, where she was a critical cog for a victorious Team Europe at Gleneagles.
In hindsight, though, Law's body paid a heavy price for those monumental successes, putting a limit on how far her breakthrough could take her and now putting into doubt her chance of playing for Team Europe in 2021.
"I was in pain, having various different ailments week-in, week-out," Law said. "I'm young. I shouldn't be having to deal with that. I just constantly remind myself of why I'm making these changes because the progression is never linear, and there will always be bumps in the road."
The debilitating pain caused Law to step back for the longevity of her career and attempt to reduce the pressure on her body. She's arching her spine less through the ball and trying to rotate more instead of lift the club at her takeaway.
"Making those changes now means I'm not putting my body under that wear and tear every day so that when I come off the golf course, I don't feel broken," Law said. "I feel like I can stand on the range and put in the work that I need to do."
She started changing her swing during the 2020 season, but it was challenging to commit to them during the pandemic. Her best finish after the restart was a T-30 at the U.S. Women's Open, her final appearance of 2020. She made four cuts over 13 events starting at the Drive On Championship at Inverness Club, host of the 2021 Solheim Cup.
The change resulted in Law sacrificing distance as she builds up her strength. She was 88th in average driving distance at 257 yards in 2019 but is down to 135th and 242.7 yards this season. She's brought on a new strength and conditioning team as she works harder than ever at her game, with her goal of making Europe's Solheim Cup and defending the Cup.
To make that team, however, will require a lot of solid play right quick. European Captain Catriona Matthew's 12 players will be composed of two from the Ladies European Tour points list, four off the Rolex Rankings, and six captain's picks.
Law is currently 56th on the LET points list with 1.75, trailing Emily Pedersen (108.38) and Nanna Koerstz Madsen (61.25). Koerstz Madsen is an example of why Law can still make the team by this road: 40 of her points came from her T-3 finish at the ANA Inspiration this season. Winning a major this season is worth 80 LET points, enough to vault anyone on the LET into a position to don the blue for Team Europe. Matthew called out Koerstz Madsen as a player she's keeping an eye on in her April blog for the LET's website off of her strong performance at the major.
Law is 86th in the Rolex Rankings entering Kingsmill. There are nine European players in front of her to the final rankings spot. Charley Hull (39th) is 47 spots ahead of Law.
Law's most likely option to make the team, then, is a captain's picks. In her blog for the LET at the end of April, Matthew shared her approach to her upcoming decision. "I think generally the first four picks will ultimately pick themselves based upon form and how well people are playing," Matthew writes. "It's the last couple of spots where it depends a lot on who is already in the team. I'll have to take into consideration a few factors such as what types of players there are, what the personalities are like and whether we have players who are rookies or more experienced."
Matthew would bring back four players from the winning team if Team Europe selected the first four picks off the Rolex Rankings: Georgia Hall (49th), Anna Nordqvist (60th), Caroline Masson (61st) and Celine Boutier (65th).
There's a lot of competition for the captain's picks. Leona Maguire shared with Golf Digest she's talked with Matthew on what she needs to do to make her first Solheim Cup squad, with a T-2 at the Lotte Championship to her name the early highlight of her year. Madelene Sagstrom won the 2020 Gainbridge LPGA at Boca Rio and played in the 2017 Solheim Cup. Azahara Munoz and Jodi Ewart Shadoff would provide veteran guile with four and three previous Solheim Cup appearances, respectively.
Law's work is paying off, as she's made as many cuts this season in eight starts as she did in all of 2020 in 15 events. She has through the AIG Women's Open, finishing on August 22, to make her case.
"I'm a true, firm believer that hard work does pay off and I will get to where I want to be," Law said.
She's got three months to solidify her spot for Team Europe.