News
Brittany Lincicome breaks par in second round of PGA Tour's Barbasol Championship, holes 116-yard shot for eagle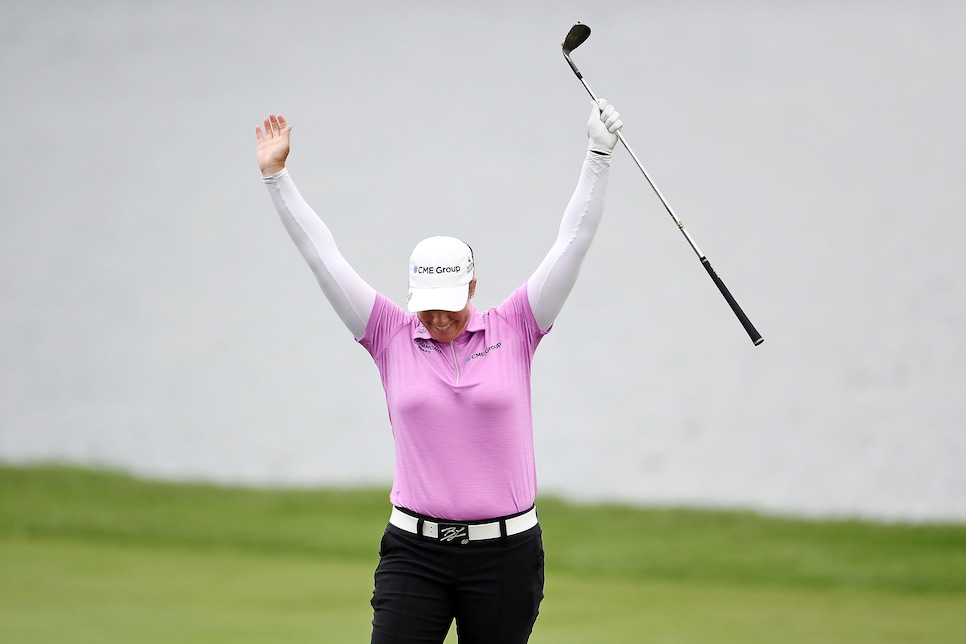 Brittany Lincicome did herself and the LPGA proud on Saturday, by making five birdies and an eagle and posting a one-under-par 71 in the weather-delayed second round of the PGA Tour's Barbasol Championship.
Lincicome finished 36 holes in five-over-par 149 at Keene Trace Golf Club in Nicholasville, Ky. She missed the cut and will finish near the bottom of the field, but not at the bottom.
The highlight of her round came on the par-5 17th hole, where she holed her third shot from 116 yards for eagle. A close second was her making three consecutive birdies on the front nine.
"A great little grip gap wedge," she said of the eagle. "Right when I hit it I thought I hit it a little short. I thought it was going to spin back a little bit on me. Then when it landed I was like, okay, it's on top, and then it rolled back and I was like, 'Oh, my gosh.' I mean, the highlight of my week. So cool."
She was among the leaders in the field in driving accuracy over two rounds, hitting 78.57 percent of them. However, she hit only 44.4 percent of greens in regulation.
"I felt a lot calmer today," she said. "I think maybe because the spectators couldn't come out as much, so it was a little bit calmer feeling this morning. This is obviously a much bigger stage or different stage than I'm used to. With a major coming up, hopefully that first tee shot I won't be as nervous. I've learned to kind of play through the nerves this week, which is great. Just in the future I think that'll really help me."
Lincicome, 32, was only the sixth female to play in a PGA Tour event.
"It was a pleasure, a treat," Conrad Shindler said of having been paired with her. "It's a historic moment always when we have a girl play in a PGA Tour event. To get to have a front row seat in the group, it's a unique aspect.
"She's really consistent. You know, she does the same thing every shot. She just knows where it's going to go. Great short great. Each day she gained confidence. Hit a lot of good putts. I think she made five birdies and had a great hole-out there on 17 for eagle."