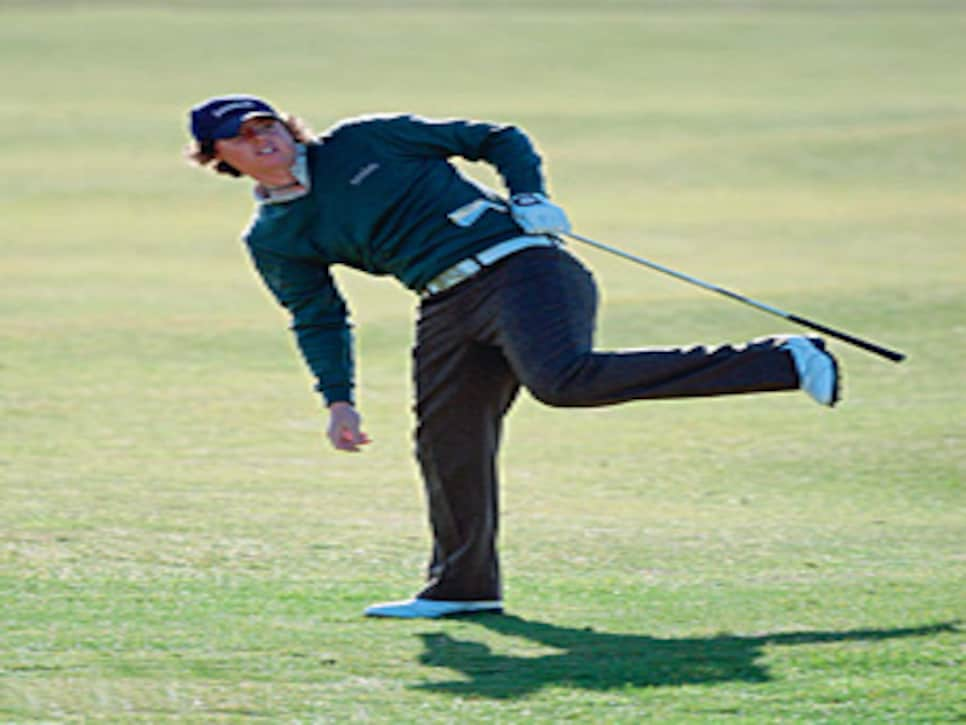 If you saw him at Carnoustie 12 months ago, you'll surely recall Rory McIlroy. The toothy grin. The tousled mop of dark hair above a forehead unlined by the game he has found so easy since he was 2, when he first smacked a "monster" 40-yard drive. The smooth, rhythmic and fearless swish through impact. All were there to see during an Open Championship won by one Irishman but lit up by another.
For it was the Belfast boy, then 18, who looked 14 and played like a veteran who charmed the galleries; first with an opening 68 -- the only bogey-free round of the day -- then with a closing birdie hailed long and loudly by the packed grandstands surrounding the 72nd hole, all as a prelude to making off with the Silver Medal awarded to the leading amateur. Later that summer McIlroy played in the Walker Cup, turned pro and, in only his first two tournaments, earned enough prize money to guarantee his European tour card for the 2008 season. His game, swing and personality have the spark of genius not seen in Europe since the emergence of Sergio Garcia a decade ago.
"Rory is a super lad," says Open champion Padraig Harrington. "He really does have a very good attitude. He's confident, but nice about it. There's a good balance there. He's a guy who is going to get better and experience bigger things. I don't think there are too many golfers who wouldn't like to be where Rory McIlroy is."
Today McIlroy is at the modest Holywood course on the outskirts of Belfast, where he grew up, where he is most at home, and where his father was the bar manager. The lounge and bar are virtual shrines to the local superstar. In one corner, his four scorecards from Carnoustie are framed alongside a signed flag and photograph. Nearby are other cards, one detailing the outrageous 61 (net 65) McIlroy shot at Royal Portrush, one of the world's most demanding courses, during the 2005 North of Ireland Championship. On another wall is a picture of an even more youthful Rory, holding the world 8-9 championship trophy he won at Doral in Florida. Alongside it is a greeting card, clearly inscribed by that same 9-year-old, thanking the Holywood members for all their kindness, help and support. There are many other photographs, too, reflecting an outstanding amateur career.
"I'm used to interviews," McIlroy says in a quiet corner of the clubhouse on a Wednesday morning in March. "Ask me anything." The charm and energy McIlroy displayed at Carnoustie is still evident in his restless demeanor. He has an edge, however. During the Walker Cup at Royal County Down, about 30 miles from the family home he has only recently abandoned for a new five-bedroom villa nearby, McIlroy was annoyed at what he considered repeated displays of "bad manners" and "ignorance toward the spectators." As a result, he turned on American Billy Horschel when the pair met on the final day.
"I was up against Horschel on the first day, too," he smiles. "I messed up the last hole and lost to him. I wasn't happy. Then I got him again, twice, on the Sunday. His antics were really p----- me off. For example, he had hit a bunker shot at the 14th in our morning foursome. It was a great shot and finished inches from the cup. But he came running down the hill hollering at the top of his voice. He was so loud and so obnoxious.
"Anyway, that outburst of his was probably the worst thing he could have done. In the second singles, I set out to be as loud as he was. On the first tee I ripped a drive up the middle, hit my 7-iron approach to maybe 15 feet -- I was shouting 'Be good! Be good!' all the way -- and holed the putt for an eagle. When the ball went in, I gave it the loudest 'Come on!' you've ever heard. I think he got the point."
One day after seeing off Horschel on County Down's 16th green, McIlroy was a professional. And within a month he had a tie for 42nd in his debut at the British Masters, a solo third in the Dunhill Links Championship, a tie for fourth in the Madrid Open and a less-notable share of 56th place in the Portugal Masters.
"Third in the Dunhill was unbelievable, really," he says. "Then I went straight to Madrid -- after getting the invitation on the Sunday evening -- and finished fourth. So it all happened very quickly and, to be honest, seemed very easy. But I was simply playing well at the time. In fact, after 10 holes of the last round at the Dunhill I was thinking about winning the thing, never mind getting my tour card."
That he didn't win was widely viewed as a blip. Darren Clarke is one of many who see nothing but good ahead for his fellow Ulsterman. "I first saw Rory when he was in his early teens," recalls Clarke, a five-time Ryder Cup player. "I knew instantly he had a special talent and truly believe he can go just as far as he wants to in the game -- he's that good. All the components of his swing are there, and he has the character and dedication to go all the way."
Bob Torrance, Harrington's coach and father of former Ryder Cup captain Sam, is another firm fan. "Rory has a brilliant technique," Torrance says. "His swing is very natural and has a great flow to it. There are no flops or flips. It's oily. I don't see any weaknesses. I just hope he leaves it all alone. He asked me about his swing a couple of years ago. I told him to stay away from coaches and keep doing what he's doing. He's a natural golfer and needs to be left to find his own way. The last thing any coach should do is muck about with a natural player. I love to watch him play. I saw him in the back-left bunker on the eighth hole at Carnoustie last year. He was near the back lip and had little room to work with. And he stiffed it. Made it look easy, too. He clearly has great hands."
[Ljava.lang.String;@26aa9969
McIlroy's 2008 season, perhaps not surprisingly, started slightly less auspiciously. In his first 11 events, he missed five cuts, with a tie for 11th in Abu Dhabi his best finish. It was a disappointing run after what were surely premature thoughts of a Ryder Cup berth come September.
"Playing the tour full-time has been very different," he admits. "I'm still feeling my way, but that's part of learning. The best players know how to schedule themselves at events. They play 18 holes, then go to practice knowing what they have to work on. Once they have done that, they leave. What they don't do is hang around on the range taking three hours to hit 100 balls. That's just procrastination and a waste of time. The best players always have a purpose, then they get away from the game."
He clearly loves it all, though. And even now, all of 19, he has memories that will last forever. "I've always been prone to first-tee nerves, but the first round at Carnoustie was the worst I had ever been," he says with a shudder. "I had serious butterflies. My most memorable moment came on the 18th green, though, when I was presented with the Silver Medal. That was special, especially as Padraig was getting the claret jug at the same time. And the cheers I got when I birdied the last hole were awesome."
There'll be many more ovations to come, no doubt.