The Level Playing Fields of Birkdale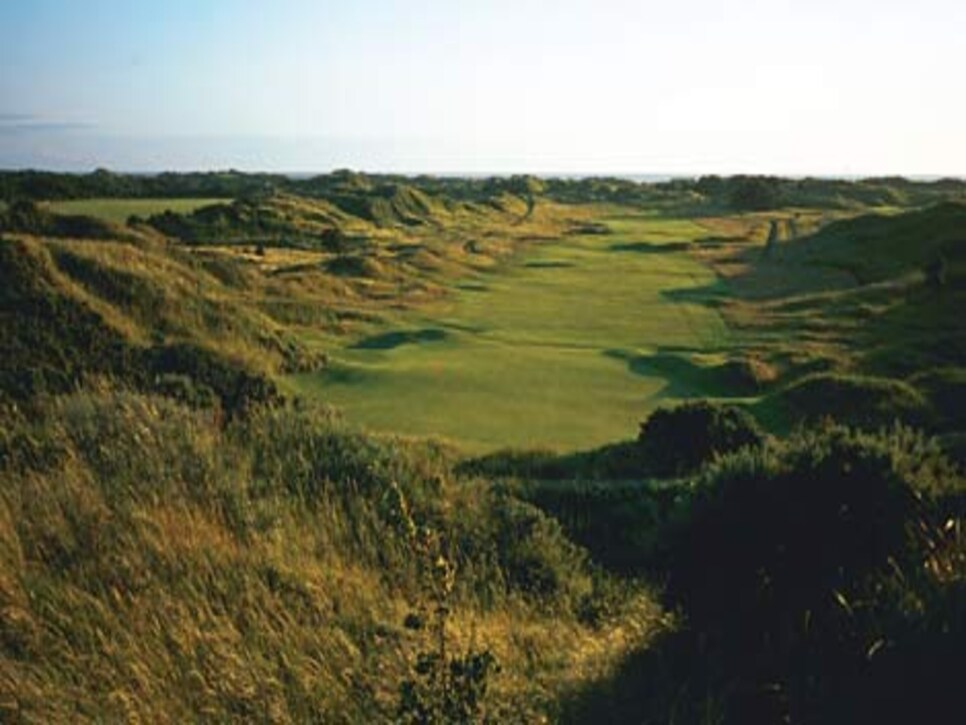 Within the tumultuous landscape that is Royal Birkdale Golf Club, host of the British Open July 17-20, there lies a conundrum: Why are Birkdale's fairways such fair ways for wayfaring golfers? Keep it in the short grass off the tee, and you can't get anything but a level lie. There's no gee or haw to the flow of these fairways, and no yaw, either. They just lie there, motionless, massive grass landing strips for tee shots launched by the likes of Woods, Els, Harrington and Mickelson.
In all other respects, Royal Birkdale is a world-class course -- we rank it 18th on our list of the 100 Best Courses Outside the United States -- in an otherworldly setting, a rocking, tumbling stretch of sand hills along England's Lancashire coast. The dunes, long ago whipped into peaks by gales off the Irish Sea, frame each hole, isolating most from one another. They're the tallest and most dramatic dunes in the Open rota, providing Birkdale with superior spectator vantage points ever since it first hosted an Open, in 1954.
Because most tee boxes are perched atop the dunes, and the routing changes direction on nearly every hole, impertinent winds can complicate matters. The deep rough of marram grass can be deadly, bunkers can be annoying in their placement, and the greens devious in their contours. One never sees the ocean during a round at Royal Birkdale -- the layout is separated from the shore by a coastal highway -- but this is a classic links.
Except for its fairways. Links are usually characterized by interminable humps and hollows, like those at St. Andrews and Royal Troon, or at the very least by the dips and swales found at Carnoustie and Royal Lytham. But Royal Birkdale's fairways are flat. Dead flat. As flat as the stomach on a supermodel. As flat as a proverbial pancake squished by a steamroller. As flat as the rooftop on Birkdale's ship-out-of-water, art-deco clubhouse. Granted, there are exceptions. The ninth fairway, riding a ridgeline, has some dramatic undulations, particularly short of the putting surface, and the fairways on the 10th and 16th, both par 4s, rise to greet elevated greens.
But the first fairway is flatter than the club's parking lot, which is paved on a slight incline. The eighth fairway is pool-table flat, with pockets, in the form of pot bunkers, haphazardly rearranged, mostly to the right. The 11th fairway, with mound-embraced bunkers spread across the middle, is more like a snooker table. The 17th fairway is a carpeted hallway, between two massive walls of gnarly grass, before turning left to reach a staircase green.
At Birkdale, the fairways, not the greens, are the dance floors, metaphorically speaking, and for generations, writers and critics have rationalized, euphemized, even apologized for the glaring flaw in an otherwise marvelous layout. "The decision to choose the relatively flat areas of Royal Birkdale on which to place the fairways means that the traditional vagaries of links golf are absent," said one writer. "The flattish fairways -- there is very little undulation -- prompt neither freak bounces nor awkward lies," wrote another. The fairways "...were not the adventurous exercise they might have been," wrote a third.
The club's history book from 1989 offers the dizziest amount of spin: "The avoidance of blind shots and the undulating fairways traditionally associated with links golf thus (enables) Birkdale to gain the reputation of being one of the fairest of the championship courses."
We can forgive the club historian for implying that its course is one of the tastiest of cream puffs. What is less forgivable is that the club offers no explanation for how or why its fairways ended up so level, so benign, so untraditional. The club simply reports that they've always been that way, ever since Frederic G. Hawtree, of the famed firm of Hawtree and J.H. Taylor, laid out the course in 1932, replacing an earlier version of Birkdale that finished with a blind par 3 (now the par-3 fourth).
Although the club implies that Hawtree accepted the ground as he found it, there's no evidence that the valleys between the massive sand hills were as level as the floors of coffins. Clearly, they were graded and bladed into their lack of shape. One need only climb to the top of any perimeter dune and gaze outward at the still-untouched rugged natural linksland surrounding Birkdale to realize that there's not a flat spot out there.
There's a logical explanation to Birkdale's fairways. The club's website indicates that a certain vegetation found on the course is usually found in damp grasslands: "This plant reminds us that the fairways were first laid out along naturally wet gullies called dune slacks." Dune slacks, according to geologists, are seams and clefts between seaside dunes that are usually at or below the natural water table. To route the course between the dunes, Hawtree had to use these soggy bottoms. But to use them as fairways, he surely had to fill them in, to get them above the water table.
[Ljava.lang.String;@31b8b80c
So why not contour the fill into interesting undulations? It could be that, back in the 1930s, when there were very few golf-course construction firms, a local road contractor (who had the necessary equipment) was hired to do the earthwork, knocking down high points, filling in low points, creating a series of perfectly graded roadbeds fashioned between dunes.
If that sounds unlikely, consider that in 1967, under the guidance of then-consulting architect Fred W. Hawtree (Frederic's son), a local contractor was hired to shave the top off a dune between the tee and green on the par-3 fourth so that golfers could see the bottom of the flag. The contractor got carried away and removed the entire dune, so today the fourth hole is the widest, blandest expanse on the entire property. Needless to say, Hawtree was not pleased, but he was powerless to reverse the mistake. If the son couldn't control one earthmover, can we blame his father for failing to inspire the imagination of an entire construction crew? Actually, we can. Nobody fills in a hole with a hump, unless told to do so.
Our theory about Birkdale's fairways is just a theory, of course. But it makes more sense to us than the club's flapdoodle that its fairways were established in a quest for fundamental fairness.
Nearly every open at Birkdale has resulted in some improvements to the course. After the 1961 Open, won by Arnold Palmer in extreme weather, it was decided that the par-3 17th gummed up spectator flow, so it was abandoned in favor of a new par-3 12th created by Fred W. Hawtree in raw dunes. It is an extraordinary hole in beauty and difficulty, and today is considered by some as one of the world's great par 3s. The club history claims Fred's father originally conceived a hole in that area, and the club has an old F.G. diagram with that hole penciled in to prove it, but what it has is the Hawtree Taylor diagram on which the younger Fred sketched his proposed new hole in the '60s.
After the 1965 Open, Peter Thomson's fifth claret jug and second at Birkdale, Fred was brought back to rebunker the course. He did so reluctantly. His father's crew had carved out bunkers with "laced-edge intricacies," Hawtree later wrote. "Unfortunately, many of his bunkers were transformed on the Scottish model (pot bunkers with stacked-sod faces) for practical considerations by the Royal Ancient Championship Committee."
Until 1991, Birkdale's greens were nearly as flat and ordinary as its fairways. But after the Open that summer was played on slow, spongy greens ("Pitching into them was like pitching into a laundry basket full of clothes," remarked Jack Nicklaus), the club rebuilt all greens to improve drainage. Martin Hawtree, son of Fred W., grandson of F.G., supervised the task. While replacing eight inches of "black, smelly muck" with a mixture of sand and soil, Martin convinced the club that some contouring of the surfaces was in order, even though some members thought humps and bumps would make the greens easy to read. Martin integrated greens into locales by stretching surrounding mounds and dunes into portions of the putting surfaces, and to make recovery shots a trifle more testing, he fashioned swales off the edges of many greens.
Prior to the 1998 Open, the club also cut down some 6,000 trees that had cluttered the dunes and buffered the mighty winds. Even with a new two-level green, the par-5 17th was the easiest hole in the 1998 Open, so Martin Hawtree rebuilt it a second time, using the back half of the old green as the front half of a new one, and running the remainder up into hand-carved dunes. The contours give the green real character, in contrast to Birkdale's other, more docile greens. He admits some club members don't like it, finding it freakish and out of character. "I feel it is not out of character," he says. "It's simply an extension of the bolder featuring I had attempted at 11 and 15, which were also somewhat controversial after the rebuild."
For this year's Open, Martin added back tees on the third, sixth, 10th, 11th and 16th, tightened the entrances to nine greens, added fairway bunkers on 10 holes and fashioned new dunes along the perimeters of half a dozen holes. In all, 16 holes have been changed and 155 yards have been added, pushing Birkdale to a par 70 of 7,173 yards. Despite all that reconstruction, the club has not recontoured its fairways. "That's not something we would ever consider," says managing secretary Michael Gilyeat. "We are what we are. That's what sets us apart from the others. We prefer that we've been carved within the sand hills rather than over them. We're not Royal St. George's, with its high holes and blind shots. There's no view at all of ever trying to create such conditions. That would be quite radical for this club."
Based on the results of the previous eight Opens at Birkdale, it's fair to say that when the weather is calm, the course can be a breeze. Johnny Miller overtook Seve Ballesteros with a flurry of birdies for a six-shot win in 1976, and Ian Baker-Finch had an outward nine of 29 in his final-round 66 to win in 1991. But when the winds howl, Birkdale can become a brute, extracting uncharacteristic scores, like 77s from Jack Nicklaus in 1965 and Tiger Woods in 1998.
But the most astonishing statistic is that no British, European or South African golfer has ever won an Open at Royal Birkdale—only Americans and Australians have been victorious. That anomaly has nothing to do with flat fairways favoring Americans and Australians. It's merely a matter of timing. Royal Lytham, across the bay, was once the Open venue where American professionals could never prevail. Tom Lehman broke that jinx in 1996. Sooner or later, perhaps this year, some European or South African will break through at Birkdale. After all, it's a level playing field for everyone.
Photo: courtesy of Hawtree Ltd
THE ROYAL FAMILY OF GOLF DESIGN
Those seeking a dynasty in golf design don't have to keep up with the Joneses. They have to keep up with the Hawtrees.
Hawtree Ltd. is the oldest continuous golf-design firm in operation. The three generations who have reworked Royal Birkdale Golf Club have designed or remodeled nearly 500 courses in 96 years, the bulk in the United Kingdom and the rest of Europe but also in Morocco, South Africa, El Salvador, India, Ukraine and even one, back in the 1970s, in Iran. They have designed only four courses in North America, which is why most Americans have never heard of them.
Frederick G. Hawtree, trained as a greenkeeper, started the company in 1912 (six years after Robert Trent Jones Sr. was born), when he constructed Croham Hurst in Surrey to the design of James Braid. (Some say F.G. designed the course for Braid, a five-time Open champion whose design business was one of his many activities.) Hawtree then maintained the course while moonlighting in design. After World War I, Hawtree formed a full-time business with another five-time Open champion, J.H. Taylor. Much like professional golfers today dabbling in design, Taylor would appear at initial interviews and at official openings; Hawtree handled the designs and day-to-day operations.
The firm of Hawtree J.H. Taylor Ltd. was best known for establishing among the first public courses, municipal and daily-fee, in Britain. In 1938, F.G.'s son, Frederick W. Hawtree, joined the company, and when Taylor retired after World War II, the company became Hawtree Son.
After F.G. died in 1955, Fred W. retained the Hawtree & Son company name in hopes that his twin sons, John and Martin, born eight years earlier, would join him. John went into telecommunications, but Martin, after attending the University of East Anglia (whose campus had been built on the site of one of his grandfather's municipal courses), joined his father's business in 1972.
In the '60s and '70s, Fred Hawtree was the premier architect in Europe, handling such highly regarded projects as Royal Waterloo in Belgium, the reworking of Killarney in Ireland and the expansion of Hillside Golf Club next to Royal Birkdale. He also did two courses in the United States, King's Grant (now The Links) in New Jersey and Mount Mitchell in North Carolina.
Fred, who retired in the 1980s to research and write books on golf architecture, died in 2000. Even before Fred's death, Martin elevated the company's profile. He has handled the remodeling of Lahinch in Ireland, Vilamoura in Portugal and Carnoustie in Scotland for the 2007 Open. His only American design is Reems Creek in North Carolina, opened in 1989. His first Canadian design, Tarandowah Golfers Club in Ontario, opened last year. Last summer, Donald Trump hired him to design the proposed Trump International Golf Links near Aberdeen, Scotland.
The evolution of Hawtree design styles, from the functional rudiments of F.G. to the austere efficiencies of Fred W. to the elaborate intricacies of Martin, can best be found at Royal Birkdale. Martin savored the opportunity to follow his grandfather and father there. "It was the most enjoyable job I've ever had," he says. "I feel a special affection for, even an obligation to Birkdale."