News
The Best And Worst Of The Open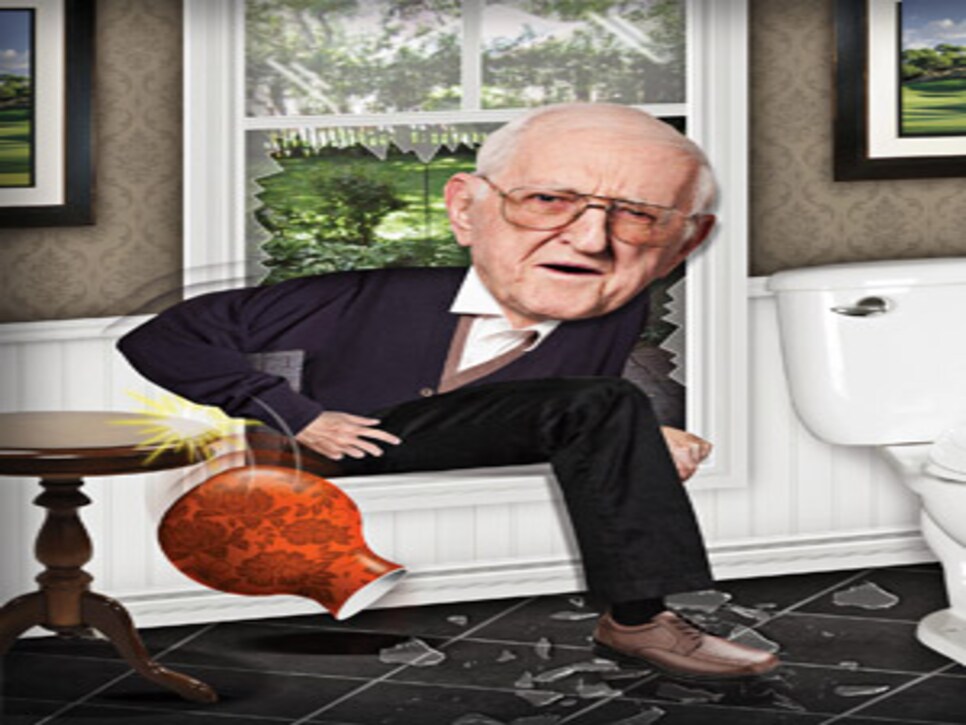 HE CAME IN THROUGH THE BATHROOM WINDOW
Not the Beatles' song--that was me getting into our locked house at Troon in 1997. Sorry about the busted vase.
Here comes my 45th British Open, which is kid stuff compared to the number of Masters tournaments (63) and U.S. Opens (60) I've witnessed, but I'll go ahead and hit a few practice chips and see if the balls fly as far as the pork pies, then pull out the driver and take a vicious swing at a plate of haggis.
BEST ADVICE, MOTHER DIVISION
Adam Scott's mother, a former club champion: "It's all about the putting, Adam."
The number of Opens I've covered, by venue: Old Course at St. Andrews, eight; Birkdale, Lytham, Troon (and now Muirfield this year), six each; Sandwich (St. George's), five; Turnberry, four; Carnoustie, three; and Hoylake (Liverpool), one. My favorites from the modern rota: 1. Old Course, 2. Carnoustie, 3. Lytham, 4. Hoylake, 5. Muirfield, 6. Troon, 7. Birkdale, 8. Turnberry, 9. Sandwich.
FIRST MEMORY OF PLAYING THE OLD COURSE
I was doing well until I got to No. 12. That's when my caddie said, "Aye, now comes the golf course."
The response Dave Marr got at the Old Course after he'd grabbed an 8-iron and asked his caddie if the shot was a hard 8 or a soft 8: "Just the true value of the club, sir."
BEST REQUEST, MOTHER DIVISION
Jack Nicklaus' mom to a guard who asked why she should be allowed a spot in the grandstand at St. Andrews in 1978: "My son's getting ready to win the Open, and I'd like to be able to watch it."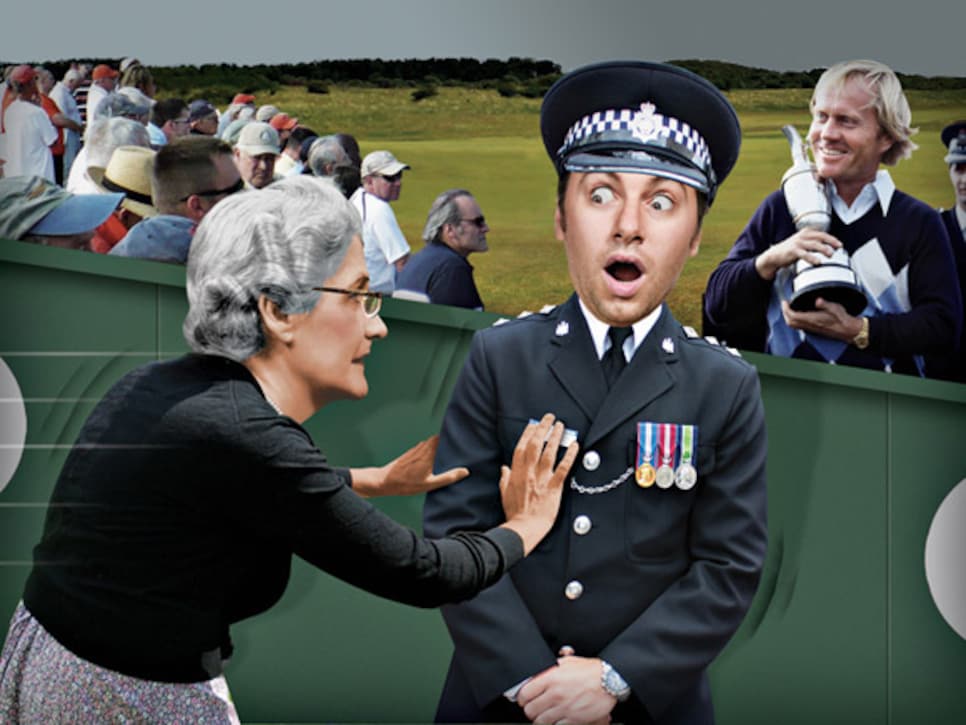 In my experience, the best order of fish and chips at the Open is when the fish tastes like chips and the chips taste like fish.
Lytham in 1988. The first sign of trouble: the cattle out back. Runner-up: Birkdale in 1991. The house featured one bathroom for eight people.
CONGRATULATIONS. NOW LEAVE.
Just hours after winning the 1980 Open at Muirfield, Tom Watson and his party that included Ben Crenshaw and Tom Weiskopf were about to be banished from the course before they were recognized in the twilight. History records that the misunderstanding was smoothed over at the bar.
Lee Trevino, at Muirfield in 1972: "No wonder everybody over here's so wrinkled up."
The Ailsa Craig is the bird sanctuary that you see in theFirth of Clyde at Turnberry. It resembles the world's largest half-sunken football. Either that or Mark Calcavecchia.
BEST RESPONSE TO CRITICISM
At Lytham in 1979, a competitor complained to R&A secretary Keith Mackenzie that the course was impossible and something ought to be done. "Well, we can't shut it down," Mackenzie said. "The members would only want to go out and play."
On Sunday at the 1992 Open at Muirfield: "Robin Hood's Body Found in Sherwood Forest: Died Clutching Maid Marian's Knickers."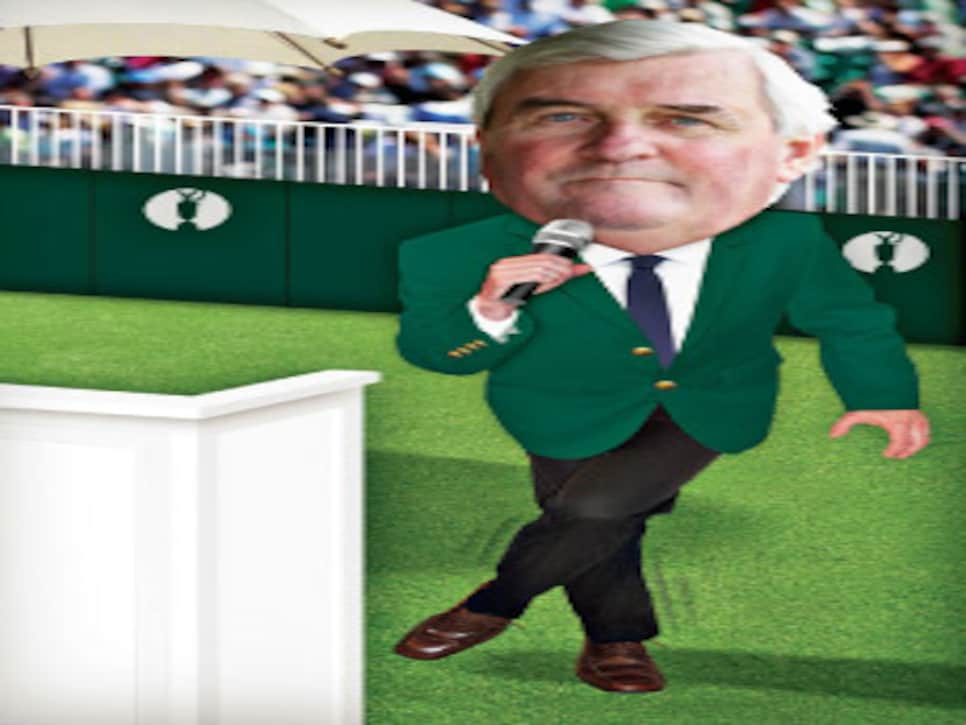 Ivor Robson, who elegantly introduces each player on the first tee every year, going almost 10 hours while never visiting the loo. Hold the coffee.
Prince Andrew at St. Andrews in 2010. It was a tough year for the Royals: Harry fell off a horse, and then Andy droned on at the writers' dinner until he fell off his speech.
BEST OPEN (AND BEST PREDICTION)
St. Andrews in 1970. Tony Jacklin firing eight under par through the first 10 holes in Round 1. Lee Trevino leading after 36 and 54, and saying to Prime Minister Edward Heath on the first tee, "You ever shake hands with a Mexican?" Then the Jack Nicklaus-Doug Sanders battle in the last round and playoff, and Jack dramatically discarding one of his sweaters to drive the last hole for a birdie to narrowly win, 72-73. This after Sanders had blown a 2½-foot putt on the 72nd green that would have given him the claret jug.
Gerald Micklem, a pillar of British golf, four-time Walker Cupper, a gent who seemed to have stepped out of a P.G. Wodehouse short story, was standing with Barbara Nicklaus in the gallery at 18 at that Open as Sanders hunched over the short putt for the win. "Congratulations," Micklem said. "Your husband has tied for the Open championship." Barbara looked surprised, if not confused. Micklem added, "It looks like it breaks left, but of course it breaks right." Local knowledge. Doug didn't even hit the cup.
John Cook, after losing to Nick Faldo by a stroke at Muirfield in 1992: "I was alive. Then I was dead. Then I was really alive. Then I was pretty much dead."
Swing guru Hank Haney stayed at the Golf Digest house at Hoylake in 2006 and evaluated the palsied putting strokes of golf writers. He had an easier time that week coaching Tiger Woods. That was the last of Tiger's three claret jugs, by the way.
Ballesteros, before winning at Lytham in 1979: "I don't aim for the rough. It just goes there."
WHEN A WINDY DAY PAID FOR THE POSTAGE
Darren Clarke saw the weather report calling for lots of wind at Troon one day in 1997 and made a sizable bet on the number of bogeys at the Postage Stamp, the par-3 eighth hole with a tiny green. The over-under bet called for 30 bogeys, and the field made 49.
GREG NORMAN BEING GREG NORMAN
Norman shot 77 at Turnberry in 2009, and he wasn't even leading at the time.
THE MOST HONEST THING GREG NORMAN EVER SAID
After losing a playoff at Troon in 1989, Norman on whether destiny owed him one: "[Expletive deleted.] It owes me about four."
BEST QUOTE USING THREE SPORTS
Jerry Pate to Ben Crenshaw before the final round at Lytham in 1979: "Gentle, you're my pick tomorrow. I believe you can rope-a-dope that old hook of yours right into victory lane."
BEST STREAKER STORY, FEMALE DIVISION
At Birkdale in 1991, 16-year-old Sherrie Bevan shed her clothes and gave Jose Maria Olazabal a kiss as he strode down the first fairway. "I don't know what got into her," Sherrie's mother said. "I looked around, and she was out of it."
NICKNAME I GAVE TO ERNIE ELS AFTER HE LOST A PLAYOFF TO TODD HAMILTON AT TROON IN 2004
Nick Faldo kept the story behind "code name Basil" secret until after his win at Muirfield in 1992. Basil referred to a hand puppet called Basil Brush, which used to appear on British TV. Instructor David Leadbetter instructed Faldo to think of brushing the top of the grass with his putter through impact. If he would do that, Leadbetter said, the putterhead must be accelerating. Only Basil to win an Open.
I TOLD YOU SO, 10 YEARS AGO
In 2003 at St. George's, Mark Roe and Jesper Parnevik forgot to exchange scorecards on the first tee and didn't realize it until it was too late. Therefore, they'd signed for the wrong score. As I wrote at the time, "It's hard to believe the officials didn't know that Roe had shot the 67 and Jesper had taken an 81. So rules are rules, the R&A said. Roe and Jesper were out. One could only wonder if rules would have been rules if this had happened to Tiger Woods."
YOU DON'T SKIP A MAJOR IN YOUR PRIME
But Curtis Strange did it in 1985 at Sandwich. Earlier that year he refused to play short of the 13th hole and blew the Masters, then he laid up short of the Atlantic Ocean.
BEST LINE ABOUT THE OLD COURSE
Sam Snead, winner of the Open at St. Andrews in 1946: "It looks like there used to be a golf course here."
Jack Newton, asked what he planned to do the night before his playoff with Tom Watson at Carnoustie in 1975: "Get drunk again."
OPEN RECORD FOR BRUSH FIRES
Six, at Birkdale in 1976.
I was at dinner at Troon in 1973 when Jack Nicklaus had this for Tom Weiskopf, who was going up against Johnny Miller: "Tom, don't play Miller; play the golf course."
THERE ARE TITLES, AND THEN THERE ARE TITLES
Nick Faldo won three Opens before he was knighted. I saw him at St. Andrews in 2010 and asked if I was supposed to call him "Sir Nick." He said, "I insist." He was kidding--I think.
Richard Boxall was three strokes off the lead in the third round at Birkdale in 1991 when he collapsed after hitting his tee shot at the ninth hole. Broken leg. Colin Montgomerie, in the same pairing, played on. "I was totally devastated," Monty said, "and my concentration went completely." Which goes to prove that when it comes to golfers, it's all about us.
LEADING THE LEAGUE IN PAIN
Hale Irwin gets my vote. He led at Lytham in 1979, but the lorry-driving beer bellies who were rooting for Seve heckled Hale with cries of "Miss it!" all the way to his final-round 78, after which his wife, Sally, said, "Heckling is cheating." Hale then inflicted pain upon himself in 1983 at Birkdale when he whiffed a two-inch putt in the third round that cost him a tie with Tom Watson. "If he doesn't two-putt this," Irwin said as Watson finished, "I'll kill him."
In 1953, when Ben Hogan won at Carnoustie during his Triple Crown year, I was bouncing around Europe on an overly generous college-graduation present from my folks. I fully intended to hop over to Scotland to cover Ben's Open effort, but I was taken prisoner one afternoon while sitting at this sidewalk café in Venice--and I don't even remember her name.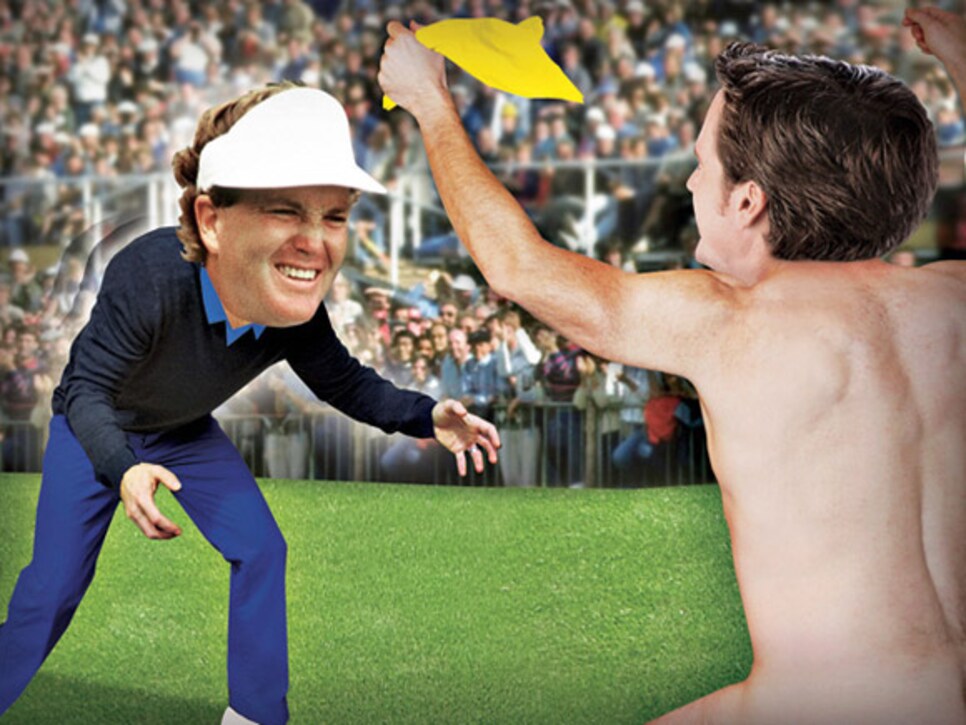 BEST TACKLE ON A STREAKER
Peter Jacobsen's takedown at St. George's in 1985. "I jump up, and I'm holding my fingers just a couple of inches apart, telling everybody that, you know, he had a tap-in," said Jacobsen, who described the proper technique: "Square up like a linebacker, but right before impact, make sure you turn your head."
Rod Pampling led the 1999 Open at Carnoustie with a first-round 71. After a second-round 86, he missed the cut.
THE BEST STORY (ALMOST) OF ALL TIME
At 59, Tom Watson missed a putt to win the 2009 Open at Turnberry before losing a playoff to Stewart Cink. I've been to funerals that have been more uplifting.
FAVORITE TOWN OTHER THAN ST. ANDREWS
Lytham and St. Annes. More dining options. Plus, there's neighboring Blackpool. Anybody who doesn't like Blackpool just doesn't have a sense of humor. Blackpool is what would happen if a tornado lifted up the worst parts of Disneyland and dropped them on Atlantic City. And it has a Jurassic Park where most of the visitors are fatter and scarier than the dinosaurs.
Mine, from the ground, watching fellow golf writers go up the rickety wooden roller coaster at Blackpool before the 1996 Open at Lytham. Equally terrifying: the Open at Sandwich in 2003, when I had to write Ben Curtis, ranked 396th in the world, as the winner over Tiger Woods, Vijay Singh, Davis Love III and Thomas Bjorn.
Gene Sarazen, then 71, aced the Postage Stamp with a 5-iron in the first round at Troon in 1973, almost 50 years after his first Open, and finished with a 79. (After the round, Sarazen got a wire from Howard Hughes, who was waiting for email and Twitter to be invented.) In the second round, Sarazen holed out of a bunker for a birdie on the same hole. So the geezer in plus fours played the hole in three under par and never had to putt.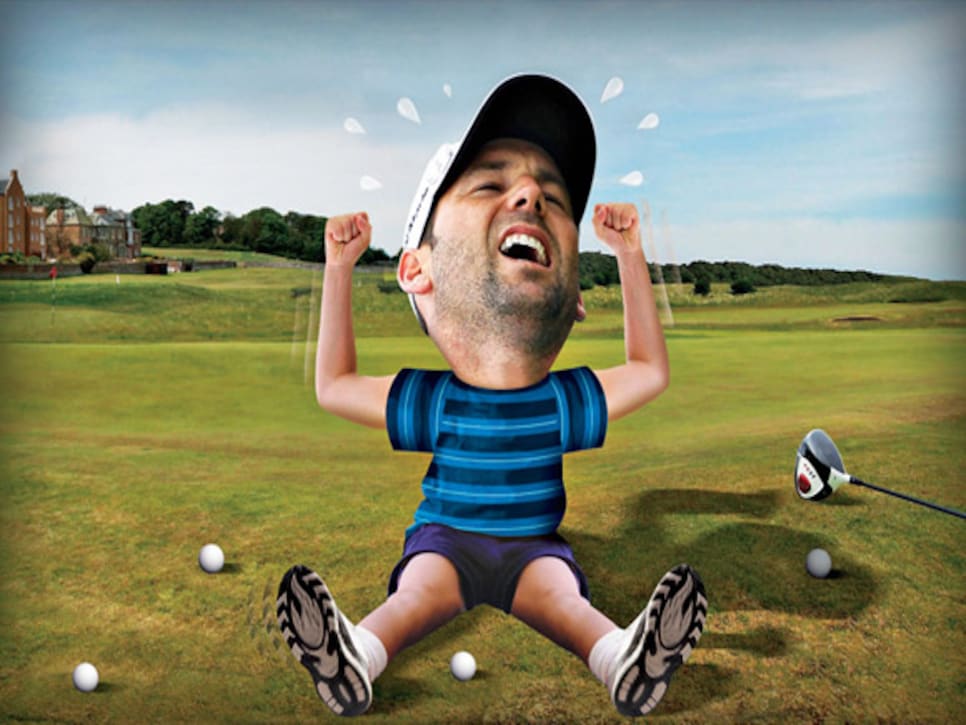 When asked to rank his putting on a scale of 1 to 10 at Turnberry in 2009, Sergio Garcia said he was a "15." He's not only a bad putter, he flunked arithmetic.
FAVORITE COURSE OTHER THAN ST. ANDREWS
Carnoustie. The name derives from two words: the carn, which was the first bubble-head shepherd's crook, and noustie, a soup consisting of sheep's blood and minced gutta perchas.
Harry Vardon won six British Opens, but never at St. Andrews. Tom Watson won five British Opens, but never at St. Andrews. Walter Hagen won four British Opens, but never at St. Andrews. But John Daly won at St. Andrews?
The Road Hole at St. Andrews. Danger lurks everywhere on the 17th, from the tee shot to the Road Hole bunker to, of course, the road. As Seve Ballesteros said, "The road is no good."
The Road Hole at St. Andrews.
Byron Nelson. But he entered only twice (fifth in 1937 at Carnoustie and T-32 at St. Andrews in 1955).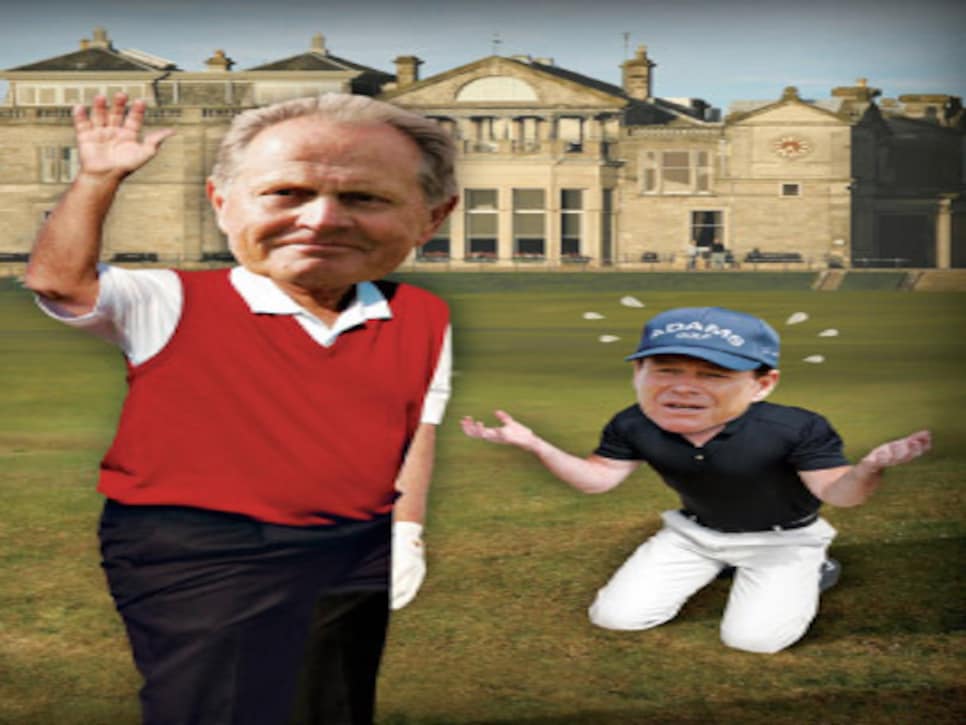 Messerschmidt/Getty Images
Jack Nicklaus' 14-foot birdie on the 18th at the Old Course in 2005. Even Tom Watson got emotional.
BEST DECADE FOR ANY MAJOR
Olde Sod in the 1970s. The winners were Jack Nicklaus ('70, '78 ), Lee Trevino ('71, '72), Tom Weiskopf ('73), Gary Player ('74), Tom Watson ('75), Johnny Miller ('76), Tom Watson ('77), Seve Ballesteros ('79). Only kennel I ever saw with no dogs in it.
In 18 consecutive Opens, from 1963-'80, Jack Nicklaus finished in the top five in 16 of them. He won three, was runner-up in seven, third three times, fourth twice, and fifth once. Jack's first Open was 1962 at Troon, which also was my first Open. Coming off his win over Arnold Palmer in the U.S. Open at Oakmont, Jack shot 80-72-74-79 with new irons, a new driver and a new ball. That included a 10 at the Railway 11th hole at Troon, a number Jack matched at St. Andrews' 14th in 1995 when he took four shots to escape Hell Bunker.
When Jack Nicklaus shot a woeful 83 in the first round at Sandwich in 1981, the great Jim Murray put it this way: "When Hemingway found he could no longer write, he got up the next day and shot himself. When Jack Nicklaus found he could shoot an 83, he got up the next day and shot a 66."