News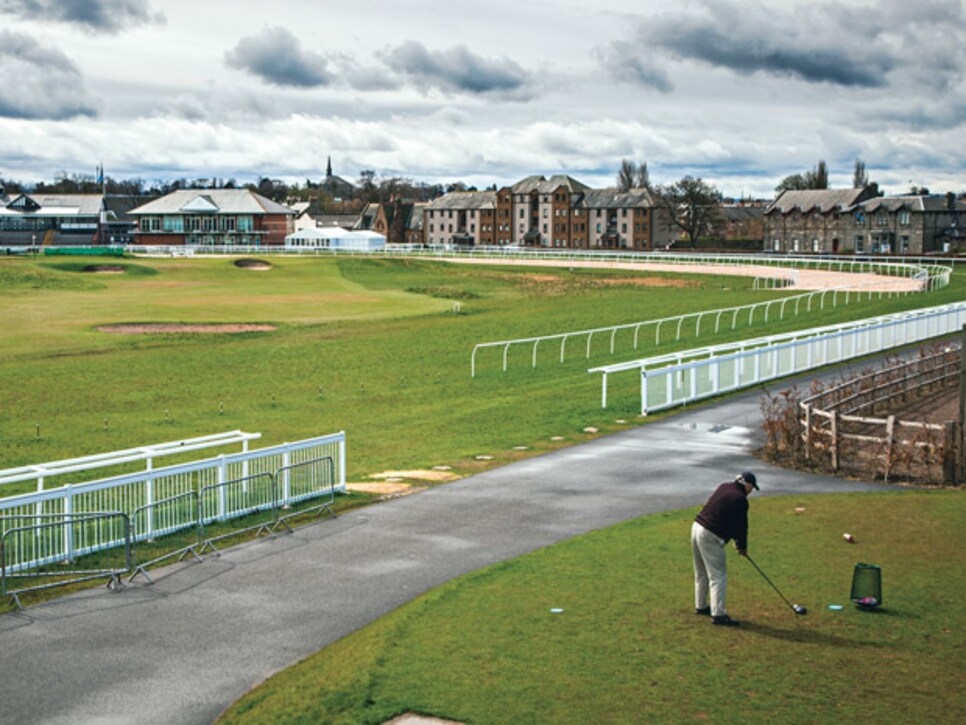 Mixing golf and horse racing at Musselburgh.
It's a decidedly First-World tale of woe: diehard golfer returns from long-anticipated pilgrimage to Scotland, only to be unimaginably exhausted. Sure, a good time was had by all touring some of the world's great links. But 36 holes a day while navigating unfamiliar roads from the dreaded left side, followed by evenings imbibing barbecue-starter-strength scotch, generally defeats the purpose of an enlightened golf vacation.
Packing as many golf courses into a trip is understandable. After all, you never know when you'll get back. And golf addicts labor under the delusion that everyone back home wants them to reel off a who's-who list of courses. Therefore, the pilgrimage component--visiting the historic places where Scots first got hooked on this zany game, and absorbing the soul of this religion--is usually relegated to walking the streets of St. Andrews and posing Arnie-style on the Swilcan Bridge.
The dream golf trip to Scotland can be accomplished with far less labor and much more satisfaction by setting up in one easy-to-reach region that also happens to be one of the world's most beautiful meetings of urbanity and nature. You can knock back a pint at the oldest golf clubhouse on the planet, walk sacred grounds where the rules were created, see where the first big-money matches and tournaments were played, and even whack it around the oldest-played course in the world. For good measure, this genuine home of golf will also supply you with a world-class links, a misunderstood masterpiece, and some off-the-beaten-track beauties, all while traveling at a more relaxed pace that allows for soaking up the history, ambiance and singularity that is life in Scotland. This place is not St. Andrews.
If golf is your religion, then the only proper pilgrimage to make is to the place where the first documented rounds of golf were played, and where the world's best will once again descend for the 2013 Open Championship. Your expedition destination can be found in the real home of golf: Edinburgh and its suburban brother, East Lothian. Or, as new road signs brand East Lothian, "Scotland's Golf Coast," an apt description for the scenic terrain 30 or so minutes east of the British Isles' second-most-visited city.
No, East Lothian doesn't sing like St. Andrews, sounding more like a faux resort destination P.G. Wodehouse might have cooked up for a Drones Club weekend. Yet I implore you to find a more geographically convenient and history-rich clan of links golf.
Now, the essential pilgrimage does not have to be in the proposed order, though a wise traveler and veteran of links-golf trips will understand the rationale of opening with a couple of relaxed days before building to a conclusion. So find your way to Edinburgh first, arriving at its convenient airport just outside the city center--or even better, via the handy Waverley train station. Both locations offer car rentals. So whether you rent or take a train into the city, pick-up and drop-offs at different locations are not an issue with the rental companies as long as you don't mind the fee. Either way, you must cleanse yourself of the inevitable travel stress by dropping off your bags and heading to a central Edinburgh city park named Leith Links.
You won't need your clubs, because they haven't played golf at Leith in more than 100 years, except for one day in 1994 to commemorate the 250th anniversary of the Honourable Company of Edinburgh Golfers. A series of plaques on the western side of today's city park commemorate the Honourable Company's original home.
It later moved up High Street to Musselburgh. Once that links got busy, the Company headed to East Lothian and stately Muirfield, host of this year's Open. Leith Links, however, was the documented location of Scotland "gouf" as far back as 1496, when the burgeoning sport was banned for interfering with the more esteemed practice of archery. But the lure of gouf was too strong, and several iterations of the Leith Links developed over the next few centuries, first from five 400-yard holes before a more playable 18-hole standard was routed. The original 13 rules of golf were developed here around 1744 and became the basis for the rules adopted and revised by the Royal & Ancient in 1754. Even the term "fore" seems to have originated at Leith, a byproduct of the park's location for cannons during and after the Siege of Leith.
Leith also hosted golf's first word-of-mouth grudge match, in 1680. An early precursor to the more notorious Bushwood showdown of Czervik-Webb versus Smails-Beeper, when caddie Danny Noonan was called on as a mid-round ringer, this one involved the Duke of York--later to become James VII of Scotland and James II of England. The future king challenged two English dukes in a dispute over which country created the sport. (England versus Scotland, of course.) Instead of enlisting a fellow aristocrat, James called on his people to locate a ringer. The Noonan to the duke's Czervik was John Paterson, a shoemaker who also made featheries and was known to gouf his ball around Leith Links as well as anyone.
Naturally, as with the infamous "Caddyshack" four-ball, the rich guy and his commoner partner won. The duke gave the winning proceeds to Paterson, who built the tenement "Golfer's Land" on the Royal Mile. That historic street remains a must-walk today, though Paterson's building is now a pub, and a large plaque commemorates the match. On the front of the fantastic Kilderkin pub sits a heraldic design piece commissioned by the duke, inscribed with the golfers' motto "Far and Sure."
Next in Edinburgh is a spin around the Bruntsfield Links, a free pitch-and-putt in the city center. With only an unmanned starter's shack, this sacred ground was once home to the Royal Burgess Golfing Society, self-declared as the world's "oldest properly constituted golf club," with origins to 1735.
After golf, the Burghers repaired at the gloriously branded Rare Mangy Johnston's for an invigorating ale while the competing Bruntsfield Golfing Society headed to Ye Old Golf Tavern, previously established under a different name in 1456 and not becoming the clubhouse until 1788. Bruntsfield today is 36 short pitch holes, and with a free green fee it plays host to all makes and sizes of golfers, including college students from the university that has produced the likes of Sir Arthur Conan Doyle, Robert Louis Stevenson and Charles Darwin. Though Rare Mangy Johnston's is long gone, you can enjoy a meal and a pint at today's Golf Tavern overlooking Bruntsfield Links. Make sure to take in the fantastic memorabilia and imagine the Burghers knocking back an adult beverage here more than 200 years ago in what is now the game's oldest clubhouse.
By now you're eager to hit a driver, and Musselburgh Links offers the next logical step. Rent a car, but instead of the 10-minute drive from the city center, take the long route around the amazing nature wonderland called Holyrood and its rocky peak, Arthur's Seat. Do not miss The Sheep Heid Inn, Edinburgh's oldest surviving pub (1360!), recently restored with a backroom bowling alley.
Many of the aforementioned golfing societies had set up shop at the Musselburgh Old Course by 1874, when Leith and Bruntsfield became too popular. The original clubhouses overlooking Musselburgh and the surrounding racetrack still stand tall as you drive in to the links. They are worth walking by, if nothing else to see the Musselburgh Old Course Golf Club's sculpted homage to five of the six Open Championship winners here fronting the stately structure. The nine-hole gem they play is the oldest continually open golf course, with origins to 1567.
Musselburgh was home to the first women's golf competition, the original cup-cutter and the first mid-round snack bar. Golfers reach the culinary landmark after teeing off on the fourth hole over the still-active horse racetrack, before playing a second shot to a more inviting version of the Old Course's Road Hole green. Awaiting is the legendary Mrs. Forman's, serving as a backstop for an unfortunate shot but a fortunate opportunity to consume.
Ideally, Musselburgh should be played with hickories that can be rented from the golf shop. This is a rare opportunity to play the game as they did in the days of Willie Park Jr. and Old Tom Morris. (Just make sure the shafts are all straight on your rental set.) Because a slow round at Musselburgh takes just 90 minutes, play a second time with your regular sticks to absorb the ancient setting and to experience how the game has changed.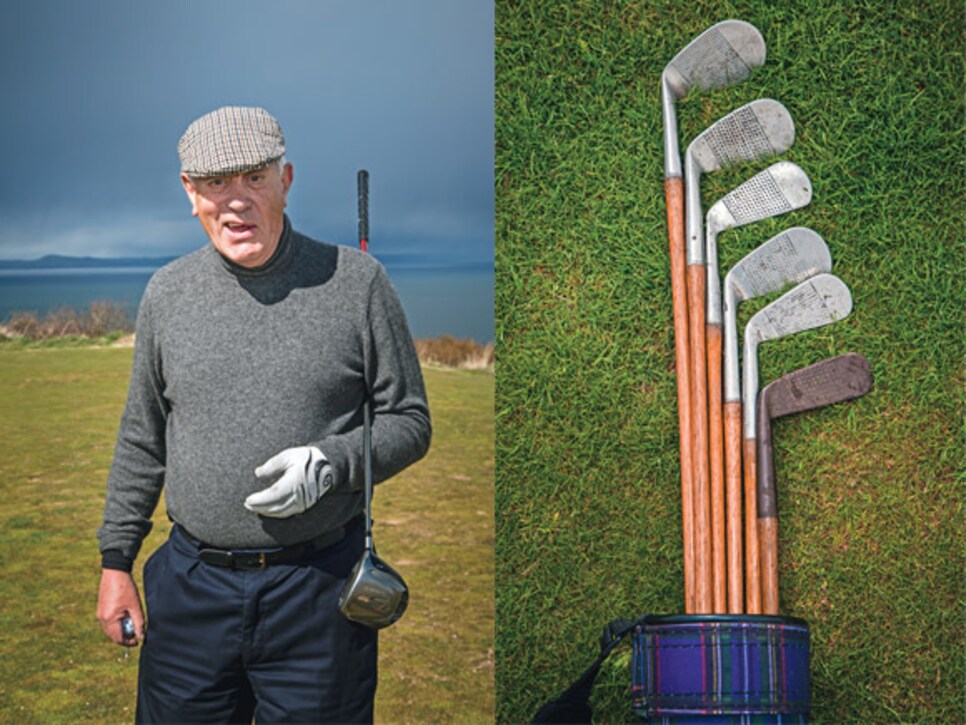 If the day you are visiting Musselburgh happens to be one of the 30 or so race days over the turf course encircling the links, stick around to do some people watching, savor some fish and chips and take in the two most colorful sports in the world: links golf and thoroughbred racing. You can tee off as late as 2½ to three hours before the first post. Not to worry: They scour the racecourse's six-inch U.S. Open rough by hand before the first race to ensure golf balls do not trip up the magnificent athletes. Still, I hunted down a wayward shot that made it onto the track, just in case.
Musselburgh also gives you the first taste of the sea and Scotland's Golf Coast. Scotland's version of 17 Mile Drive means visitors generally take the slow approach to route A198 connecting East Lothian's links. The scenery is lovely, and seemingly every half-mile or so there is a links to tempt you to turn the car around.
East Lothian lodging options are as plentiful as the golf, and for booking information and other insights into the best places to stay, head to golfeastlothian.com
. There is no better organized website for a golf region if you just want quick and easy access to the all-important basics.
Taking A198 in order, Gullane is a terrific place to set up because the town lives and breathes golf. The Golf Inn is just steps from Gullane Golf Club, providing a super place to meet like-minded folks. You're a short walk to any of the Gullane Golf Club's three courses, which offer spectacular views and a few downright bizarre holes. Any of the three courses will provide enough thrills, with the No. 1 and No. 2 courses offering the best sea views as they wrap around Gullane Hill, though No. 3 might be the most fun to play. For a mid- or post-round meal, head across the street from the current clubhouse to the Old Clubhouse, which overlooks Gullane's children's course and dates to 1890. Afterward, you're still within 10 minutes or less to several splendid nearby links: Kilspindie, Longniddry or Luffness. Each of these can easily substitute for one of the Gullane courses in terms of design quality, ambience and fun. Gullane also features Archie Baird's Heritage of Golf Museum, where a visit with the club's historian includes a brief tour that will give you a sense of the game's evolution and importance to East Lothian. The next-door Gullane golf shop is also the only place you can buy Muirfield merchandise, so stock up!
Harry Colt's Muirfield design is just on the outskirts of Gullane. This is where even links-golf skeptics will experience a perfect blend of golfing "test" mixed with just enough design quirk to keep the world's best players honest. By Scottish standards, getting on Muirfield requires planning, availability on a Tuesday or Thursday morning, and some luck. "I'd say the priority is to plan well in advance, as peak-season tee times tend to fill 12 months ahead," says Allan Minto, who overseas Golf East Lothian. "Booking procedures [see below] are as clear and simple as any championship venue in the U.K."
The good news is that even with a rejection, East Lothian offers plenty. So depending on how Muirfield works out, you can move up the coast about 10 minutes to the enchanting village of North Berwick, where you'll find a links that is anything but "equitable." Arguably it's the least-understood great course, even though the West Links features the most copied hole known to man: the Redan. Though playing the original right-to-left par 3 is a thrill, North Berwick features several other wild and memorable holes in a cinematic setting. Throw in a start and finish to the round in the town center, à la St. Andrews, with an ancient clubhouse bearing a striking resemblance to the Royal and Ancient's famed building, and this is one of golf's essential experiences. From here you can go any number of ways, but golfers rarely complain about Dunbar East Links or The Glen's views of Bass Rock with a smattering of world-class holes.
Assuming you've spent four or five days sampling East Lothian's links, you should be adequately filled with memories, meals and mementos. And should your pilgrimage still not feel complete, there is always the option to drop off the car at Waverley Station, hop on a train for a one-hour ride to St. Andrews and get in a round at the Old Course.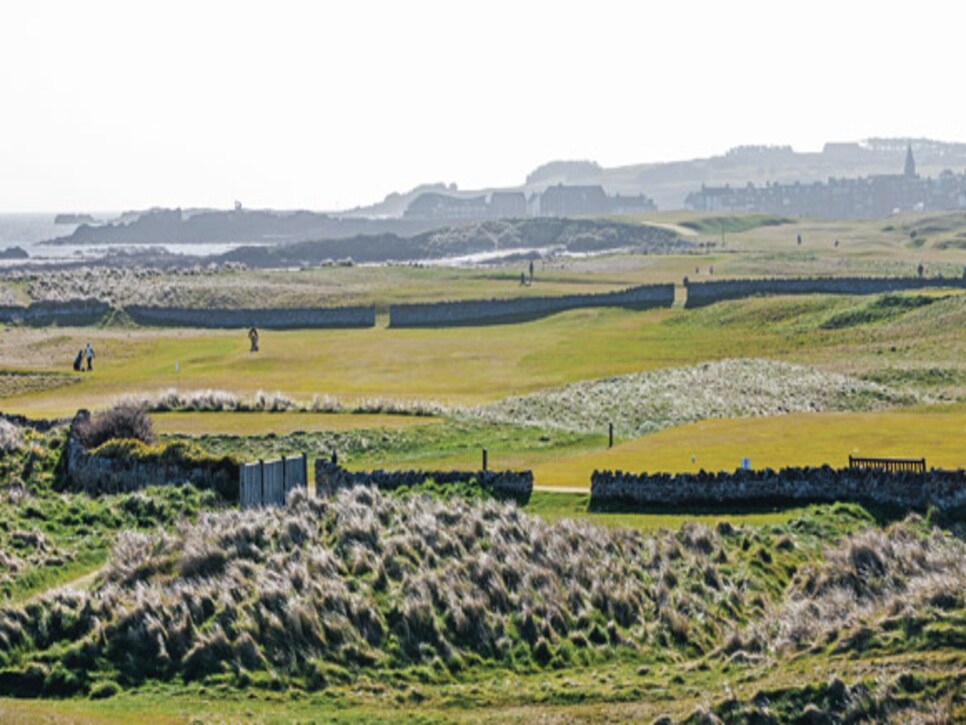 Covers everything you need to know with photos of historic courses, sites and golf clubs and origins of key golf terminology.
One-stop shopping for all your East Lothian golf needs. Well-designed and easy to navigate.
The oldest clubhouse in golf serves lunch and dinner (breakfast on weekends), with many tributes to its past as the home of Bruntsfield Links Golfing Society.
Oldest played course in the world is a must visit for its setting, history and the option to play with hickories.
The Heritage of Golf Museum is next to the Gullane golf shop. Historian and author Archie Baird will gladly take you through a quick or extended tour of the game's history.
The original Gullane clubhouse, established in 1890, features excellent food, hospitality and setting.
Established in 1836, conveniently located and devoted to those who want a bed-and-breakfast-style accommodation in Gullane.
Helpful website for the 2013 Open Championship; includes tee-time information for visitors.
to save a few dollars and get your ticket delivered beforehand. Book first-class if you can afford it (an additional $250 to $300), because the perks can be helpful when lugging clubs or luggage around.
Comprehensive website with info on one of the world's least-understood great courses.