Voices
British Open 2023: Light 'em up, Brian Harman. In praise of the mighty blowout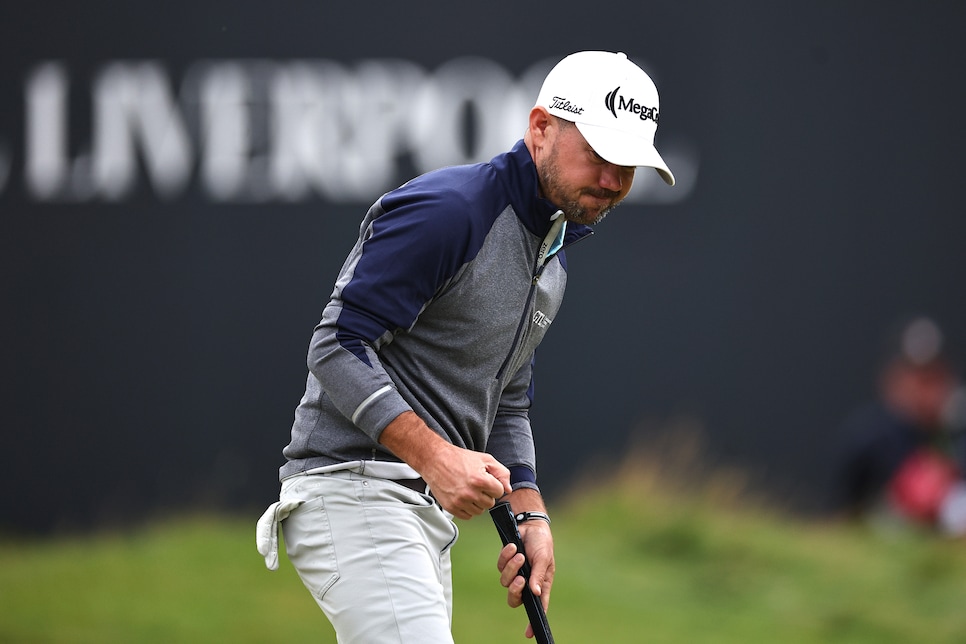 Brian Harman reacts after making his par putt on the 18th hole.
Jared C. Tilton
HOYLAKE, England — "Brian Harman is playing like a tremendous machine."
That quote, altered for current circumstances—Harman torching Royal Liverpool and holding a near-insurmountable five-shot lead heading into Sunday—is derived from the words of Chic Anderson, the legendary horse racing announcer who said nearly the same words about the greatest racehorse of all time, Secretariat, as he blew the field away to win the Triple Crown in the 1973 Belmont Stakes. Watch that video, and tell me you don't get goosebumps around the two-minute mark when Secretariat begins to pull ahead and Anderson unleashes his famous call.
Which brings me to my point: As the golf world moans and groans that Harman has stolen the drama from the final men's major of the year, we ignore that he's given us something brilliant in its own way. I promise I will not write the phrase "Brian Harman is golf's Secretariat" (oops), but there is something awe-inspiring about his excellent play thus far. In the same way that we watched with mouths agape when Rory McIlroy won by eight shots in the 2011 U.S. Open at Congressional, or Tiger Woods won the U.S. Open by 15 at Pebble in 2000, I'd suggest that if Sunday takes on the rhythms of a coronation, we can still appreciate the dominance Harman has unleashed at Hoylake.
The sneaky truth is blowouts that feature superlative play are fantastic. Last week, Sabrina Ionescu turned the WNBA three-point shooting contest into a rout, but in doing so she shattered every men's or women's three-point contest record and at one point made an absurd 20 threes in a row. Watch this, and tell me it's anything less than a top-notch spectating experience:
You can find examples of the riveting blowout everywhere. The 24 perfect games thrown in MLB history; the old St. Louis Rams "Greatest Show on Turf" offense; Erling Haaland scoring copious, record-setting goals as Man City blows out the competition; Wayne Gretzky scoring five goals to give him 50 in 39 games. And nowhere was that clearer in golf than what Woods did from roughly 1998 to 2001, the greatest golfer in history at the peak of his powers. We didn't complain then because Tiger was a magnetic figure whose excellence was the sustained kind, and sure, Harman is not exactly operating on the same level of excitement as Tiger, Rory or pretty much anyone else on the leaderboard.
But here's what he is doing: He's playing like a man possessed on a course that's not very easy, and in the process hammering a complete cast of the best players in the world. His performance on the greens is specifically staggering; he's first in the field, and it's not close. What you're seeing from him is an historic performance that nobody can match, and while there's a chance I'm making excuses for what could be a dull Sunday procession, I think there's something compelling about that. As in, yes, I can watch Harman win by seven shots on a rainy afternoon at Royal Liverpool and still enjoy myself.
It's all about perspective. Close finishes get the heart pumping, but there's nothing like a blowout for distinguishing the really epic performances. In fact—and here I'm talking specifically about golf—if there's not a blowout, did anyone really put on an extraordinary display of skill? Or did they simply outlast a bunch of players who were more or less like them, but not as lucky? (Do I believe what I just said? Can I ask enough rhetorical questions so I don't have to answer that?) Seriously, though, when a golfer crushes the field, there can be no doubt, no debating fortunate bounces or narrow escapes. It's definitive, it's emphatic, and in its own unique way, it's awesome.
So let there be no pouting on Sunday. No moaning, no groaning, no whining, no pining. If Harman finishes his tour de force in style, take it for the great show it is—a man on top of his game, unmatched, showing us a glimpse of golf played at its highest level. Appreciate the strategy, the execution, and the mental mastery. If you don't think it's boring, it won't be, and there's beauty even in a bludgeoning.
Is it the British Open or the Open Championship? The name of the final men's major of the golf season is a subject of continued discussion. The event's official name, as explained in this op-ed by former R&A chairman Ian Pattinson, is the Open Championship. But since many United States golf fans continue to refer to it as the British Open, and search news around the event accordingly, Golf Digest continues to utilize both names in its coverage.