Seen on tour
British Open 2021: Why Justin Thomas changed putters last week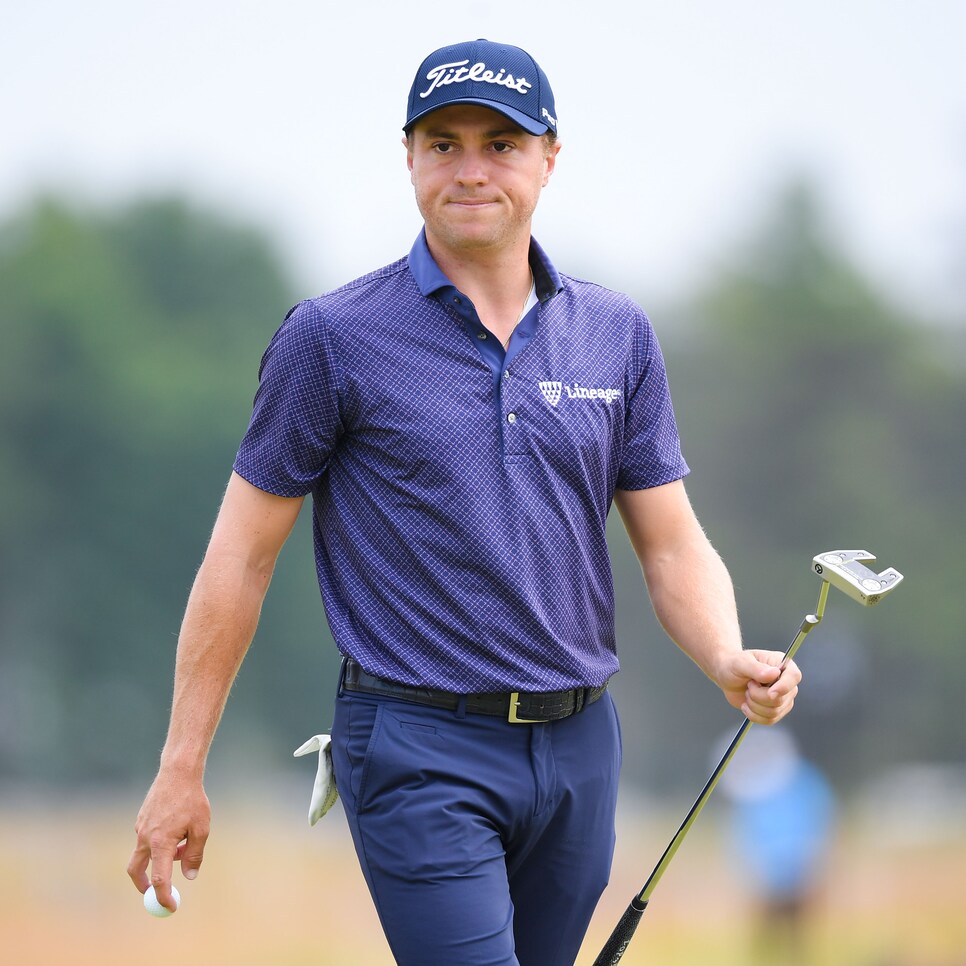 Justin Thomas arrived at Royal St. George's for the Open Championship armed with a new friend—a Scotty Cameron Phantom X5 tour prototype putter that he first used in last week's Scottish Open. The genesis of the putter change was a recent visit to the Scotty Cameron putter studio in California, where Thomas found a familiar shape with a bit of a twist to his liking.
Thomas' new putter combines the company's new Phantom X5 head (a similar style and shape as his previous Futura X5.5 mallet) but with a prototype knuckle neck, similar to what you might see on a Cameron Newport 2 model.
"JT's had incredible success the last five years with his Futura X5.5 gamer, but had been thinking lately about experimenting with a slightly different look," said Scotty Cameron tour rep Drew Page. "We took the Phantom X5 head shape he loves and gave it a Newport 2-style neck, which he's also used in the past. He tested it at a few different neck lengths and was able to find a setup that was giving him a more consistent stroke pattern with that little bit different visual and the same feel that he's used to."
The process is not unlike what Thomas went through in 2016 when he went to the Cameron Studio and worked with Cameron himself as well as director of putter fitting and player development Paul Vizanko. At the time, Thomas was using a Newport 2 blade but walked out with something totally different in the form of a prototype mallet.
"That was a totally different look for me," Thomas told Golf Digest in 2017. "I'd used a Newport 2 style for basically my entire life. I had used a Cameron Fastback model during my year on the Web.com Tour for about 85 percent of the season but other than that it's been a Newport 2, so it was a completely different look.
"Anytime you go to the Studio and work with Scotty and Paul, you learn something new every time. It's an unbelievable experience. It's really fun. You walk out of there with more knowledge than when you go in there. I feel like I leave having something good to work on with my putting and my mechanics. It's not just looking at different putters. You're looking at what putters are going to give you the best roll and bring out your best stroke, what's the right weight. I was struggling a little bit with my stroke at the time and I wanted to try something different. I just kind of picked that putter [the mallet-style Futura X5] up and it felt kinda good and we worked on a neck configuration that worked for my eye."
The history here is important in perhaps explaining why Thomas is willing to make such a significant switch prior to a major championship. After the change Thomas went on a roll, winning five times in 2016-'17, including his first major at the PGA Championship and being named PGA Tour Player of the Year. In May of the following year, he ascended to the top spot in the World Ranking.
With that kind of track record after a putter change, it's easy to see why he's willing to make the move now (Thomas entered this week ranked 107th in strokes gained/putting this season). Whether he can match his previous success after doing so will be worth watching.
Find the right club for your game with our new Hot List interactive: