News
British Open 2019 live blog: Tiger Woods' struggles mightily on Day 1; J.B. Holmes leads at Royal Portrush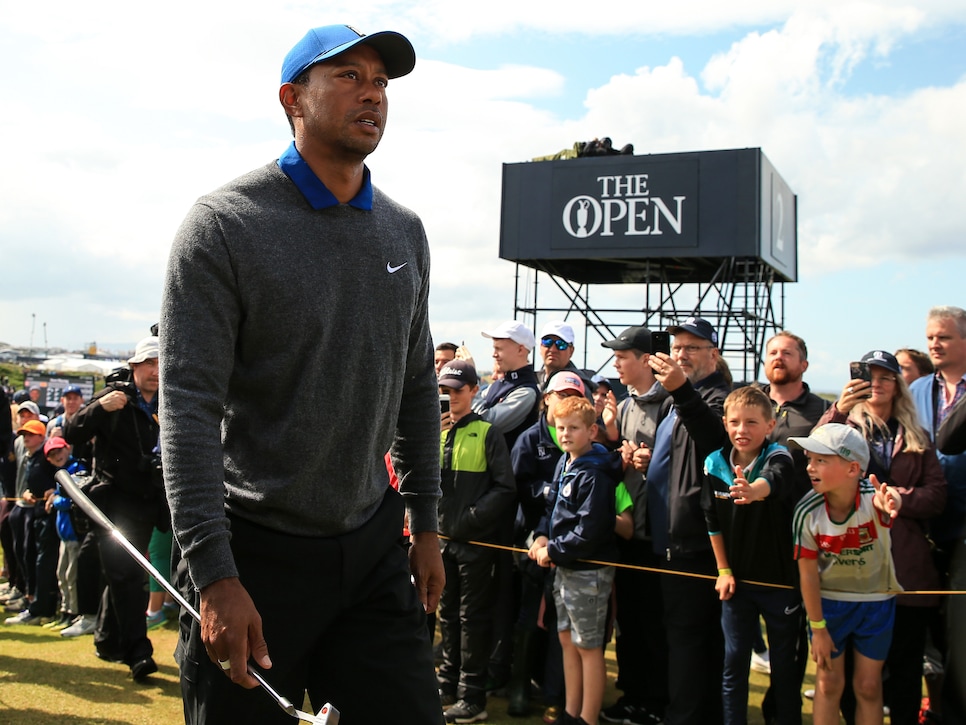 3:18 p.m.: That's a disappointing finish for Jon Rahm, bogeying the home hole while sitting in the middle of the fairway with his drive. That's two bogeys on his final four holes of the day, and after leading for most of the afternoon, he'll finish the day two shots shy of J.B. Holmes (Holmes finished 5-under).
Here's a quick look at how the world's top players fared:
3:05 p.m.: Tiger fails to get up and down after his fairway-wood approach missed the green. That'll be his sixth bogey and a 7-over 78—only one shot better than Rory McIlroy. Tiger ties the second-worst opening round in a major, with only his 80 at the 2018 U.S. Open being worse (he also opened with a 78 at the 2015 U.S. Open).
Going (a lot) higher up the leader board, Jon Rahm hits another loose approach at the 18th hole—and he has a little emotional reaction, saying to himself: "Could you hit any worse shots coming in?"
He hits a delicate pitch to about six feet, and will have a chance to remain one off J.B. Holmes' lead.
2:51 p.m.: Tiger's tee shot at the long par-4 home hole finds some thick rough left of the fairway. He'll have to scramble a bit to save par and avoid dropping another shot.
Jon Rahm, currently one off the lead playing 17, nearly holes out from a greenside bunker, but will settle for a par to head to 18 one off J.B. Holmes' lead.
2:37 p.m.: Lee Westwood is making a run! The Englishman rolls in a birdie putt at the home hole to card a 3-under 68 to start his Open Championship.
The 46-year-old entered the week with some decent form, finishing inside the top 25 in three of his previous four starts. You likely know Westwood is one of (if not the most) accomplished player never to have won a major. He owns 17 top-10s in his career, the last of which was a T-2 at the 2016 Masters.
Maybe he has one last stand in him this week.
2:33 p.m.: J.B. Holmes is now a solo leader, with Jon Rahm missing a short putt at 15 to drop a shot to 4-under. Rahm heads to the daunting par-3 16th hole needing a bounceback.
The last time J.B. Holmes led a round after a major was the 2008 PGA Championship, where he led after 36 holes. He eventually shot a final-round 81.
2:25 p.m.: J.B. Holmes pours in the birdie putt at the 18th hole to tie Jon Rahm atop the leaderboard (for now). That was a great round from Holmes, highlighted by him driving the green at the picturesque par-4 fifth hole.
After an opening bogey, Holmes added six birdies coming in to grab a card the best round of the day thus far. Jon Rahm missed the green at 15, and he'll have a tough up and down upcoming.
2:21 p.m.: Jon Rahm finds the fairway with less than driver at the 15th hole. Meanwhile up on the green, Tiger Woods holds his arms up in relief after finally making his first birdie of the day. The last time he had went a round at a major without a birdie was the 2010 U.S. Open. That stat will live on with the birdie make by Tiger. He gets to 6-over through 15.
2:14 p.m.: Jon Rahm plays a nice putt from off the green to save par at 14. He heads to 15 with the lead by one over J.B. Holmes. The last four holes are playing a combined 140-over par so far today—so Rahm will do well to keep a bogey off his card coming in.
Holmes plays a terrific approach at 18 and will have about 25 feet to tie Rahm atop the lead.
2:05 p.m.: Tiger hits a fairway wood off the tee and finds the fairway at 15. It's been a really, really bad day from the Masters champion—probably the worst we've seen him play in 2019. +7 through 14. And he's looked like he's been in pain the entire time.
Back to the top of the leaderboard, J.B. Holmes (-4) two-putts at 17 to stay at 4-under. And our solo leader Jon Rahm (-5) just found some trouble off the fairway at 14. Tony Finau (-3) is also just two off the lead and playing the 17th hole.
Rahm plays a smart approach just off the green at 14, with a good chance to two-putt to stay alone in the lead.
1:55 p.m.: The par-3 16th hole has lived up to its "Calamity Corner" moniker, yielding just four birdies all day. A fifth just dropped from off the green, and it came from the putter of Lee Westwood, who reaches two under with two to play. Incredible roll from the 46-year-old Englishman.
1:50 p.m.: Jon Rahm takes back the lead with a two-putt birdie at the par-5 12th. His playing partner, Patrick Cantlay, has stalled, following a two under through five holes start by playing his last seven holes in two over.
A few big names are lurking at one under, including Dustin Johnson and Justin Rose. They both have four holes to play. Cam Smith just posted one under despite looking like he might bogey the 18th after hitting his second in some hack-out rough up near the green. Not only did he hack it out, he almost hacked it in the hole, setting up an easy par putt.
1:43 p.m.: Tiger gets his best look at birdie of the day at the 13th aaaaaaanddddd... misses. Six over through 13. I don't think he's going to win.
In case we forgot to update you on Spieth's round, he ended up finishing with a one-under 70. Has to be pleased with that start with the way he's played of late.
1:33 p.m.: Jon Rahm shows he's human with his first dropped shot of the day at No. 11. He's back at four under with Lowry and Holmes, who has three tough holes left to get to the house. Quietly joining the three under crew is Tony Finau, who made his third birdie of the day at the 12th and is working on a bogey-free round through 13 holes.
Meanwhile, Tiger's slog of a round continues at the 12th, where he makes par to remain at six over.
1:27 p.m.: The surprise of the afternoon wave has been the play of J.B. Holmes, not that we've actually seen much of it on the broadcast. After an opening bogey, Holmes has played his next 13 holes in five under, putting him one off Rahm's lead. Holmes, who finished in solo third at the 2016 Open, had missed five of six cuts entering this week.
1:13 p.m.: Rough finish for Louis Oosthuizen, who reached three under with a birdie at the 15th hole. But he finishes with a one-under 70 after making bogeys at 16 and 18. Koepka, who played alongside Oosthuizen, finishes with a three-under 68, which has become a very popular score on Thursday.
1:02 p.m: We have a new solo leader in Jon Rahm, who just made the turn in five-under 31 after holing his third birdie in a row. Guy is en feugo.
At the 18th, England's Tommy Fleetwood finishes off his opening 68 with a tap-in par. One of his playing partners, Justin Thomas, posts even par, a strong score with the way he started his round by going three over through four holes.
12:55 p.m.: We spoke too soon on Koepka's par putt. He missed, dropping his first shot of the day. The lead now belongs to Lowry and Rahm.
12:48 p.m.: Tiger makes bogey at the ninth to turn in five-over. It's a chop-fest.
Ahead at the 17th, Brooks Koepka missed his drive so badly to the left it looked like he was about to kill his round. In typical Koepka fashion, he muscled one back out into the fairway with his second, then he a beautiful pitch that checked up close to the hole. Looks like he'll escape with par. If he does, he'll remain in a tie for the lead with Lowry and Rahm, who just made a second straight birdie at the eighth to get to four under.
Tyrrell Hatton, who was also at four under, makes bogey at the 18th, his only bogey of the day, to post a 68. Great round, but knowing Hatton, he'll be seething over that finish.
12:40 p.m.: Tiger is resembling a weekend hacker right now, and no, that is not an exaggeration. Another missed drive to the left at the ninth forced him to hack out and he barely hit it 20 yards. Just not his day. He'll need a 29 on the back to get back in this thing. Speaking of, let's check out this back nine from New Zealand's Ryan Fox: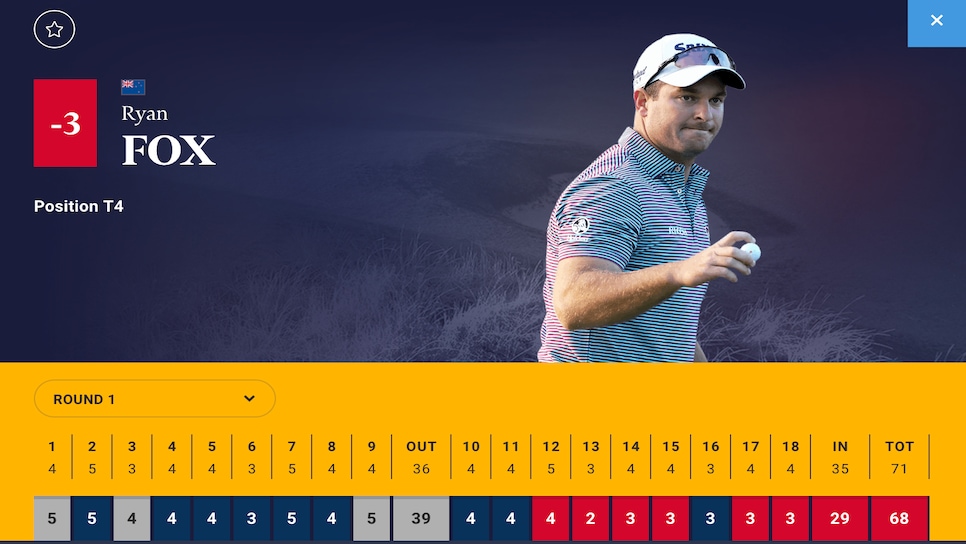 Just ridiculous. One shy of Rory's back-nine 28 that he posted when he shot a course-record 61 back in 2005. Fox is at three under, one off the lead. Good to see that he's gotten over that 14 Club Challenge loss to Eddie Pepperell.
12:31 p.m.: Tiger's birdie effort comes up a revolution short. He's four over with one to play on the front nine.
Up ahead at the 17th, Tyrrell Hatton holes one from deep to reach four under, tying him for the lead with Brooks Koepka and Shane Lowry. No bogeys on the card for the Englishman today. At the seventh, Jon Rahm holes his birdie putt to get to three under. And how about Jason Day? The Aussie just posted a front nine, two-under 34 and sits two back. It's all happening!
12:24 p.m.: Behind Lowry and Koepka is a large group at three under, one that includes England's Tyrrell Hatton, who nearly joined them at four under with a chip-in at the 16th, but it rimmed out. Also at three under are Tommy Fleetwood and Louis Ootshuizen. Quite the Thursday leader board. Jon Rahm, who is at two under, could join the three under ranks shortly, as he's just it a good third shot into the par-5 seventh green.
Ahead at the 8th, Tiger finds the fairway and then the green, setting himself up with a good look at birdie. Could really use this to stop the bleeding.
12:11 p.m.: Oh boy. Tiger is absolutely butchering the par-5 seventh at Royal Portrush. His drive missed the fairway left, then he hacked one up and found some more rough, then he tried to have a go at the green and his third hit a mound of grass right in front of him and didn't advance more than 30 yards. His fourth wasn't much better, advancing only about 50 yards. Incredibly, he just hit his fifth to tap-in range and is going to save a bogey to fall to four over. A nice save, but he's looking like a guy who is more likely to withdraw then to fight back to even par right now.
11:58 a.m.: Welp, the 148th Open Championship might be over already. Brooks Koepka just drained a bomb for his fourth birdie of the day to get to four under, tying him for the lead with Shane Lowry. This guy really does have an on/off switch for major weeks. Just incredible.
11:48 a.m.: Tiger misses the green at the par-3 sixth, then tries to play a flop and it goes horribly, his ball sailing over the green and setting him up with a tough up and down just to save bogey. He failed to do that, settling for a disastrous double to drop to three over. Yikes.
11:38 a.m.: After a woeful birdie effort at No. 5, the easiest hole on the course, Tiger misses his par putt and drops to one over. Meanwhile, in the group behind him, Patrick Cantlay drove the green and has less than 10 feet for eagle. You could see his ball on the green while Tiger was still putting for birdie. If Cantlay makes, he'll get to three under.
11:33 a.m.: Erik Van Rooyen, who first introduced himself to American golf fans with a strong start at Carnoustie a year ago, continues to impress in major championships. He's at three under through 14 holes, one off the lead of Shane Lowry. In the group behind him, Thomas Pieters and Tyrrell Hatton are each at two under. Also at two under? Lee Westwood, yes, the Lee Westwood, who just made his third consecutive birdie at the seventh hole after dropping a shot at the fourth.
11:27 a.m.: At the short par-4 fifth, Tiger comes up short of the green and then throws up a high wedge shot behind the pin. Decent look at birdie coming up.
11:10 a.m.: Tiger found another fairway bunker off the tee at No. 4, but he scrambles again for a par.
Danny Willett, currently one off the lead, is in a bit of trouble at the 11th hole. His second shot soared in the thick heather, and he might be lucky to save a bogey here.
10:54 a.m.: Tiger hit a tremendous shot at the par-3 third hole to about eight feet but can't convert the putt. That's disappointing after such a great tee shot. He's even par through 3.
Jon Rahm, Patrick Cantlay and Tony Finau both added early birdies to start their rounds off at 1-under. Brooks Koepka remains at 2-under through 12. With Tiger on the course, we haven't seen much of Koepka's round the past four or five holes.
10:42 a.m.: Tiger's putt for birdie from 30 feet comes up about 3 feet shy. He salvages that for par.
10:35 a.m.: Tiger hit a nice fairway wood off the second tee, but his ball just rolls into one of the many bunkers on this hole. He can only hack it out, and he'll still have 235 yards left for his third at this par 5. His iron finds the green, and he'll have about 30 feet to navigate.
Jordan Spieth just gave two shots back with a double bogey at the eight hole. He was one off Shane Lowry's lead until that 6 at the par 4. Spieth moves back to 1-under.
10:28 a.m.: Rory's nightmare finally concludes with one final disaster, a triple-bogey on No. 18. Add it all up and that's an opening 79 for the pre-tournament favorite. Ouch.
10:25 a.m.: Well, that's one way to start a round. Following that tugged tee shot, Woods found a deep greenside bunker with his approach. But he hit a fantastic third shot from about 50 yards to 10 feet and drained the putt for par.
Amazing. Even more good news? There were no more grimaces.
10:11 a.m.: Tiger Woods tees off on No. 1 and. . . misses left. It's not nearly as bad as the tee shot Rory hit about five hours earlier, but Woods will be dealing with some deep stuff right off the bat. He also appeared to grimace while watching his ball. . . Oh, boy. . .
10:05 a.m.: Um, so this just happened...
This player shall remain nameless. Kidding! It was Justin Harding. Sorry, Justin.
10:01 a.m.: Kevin Kisner continues his roller coaster round with a long birdie on No. 16. Take that, Calamity Corner! After getting to four under, Kisner gave all those shots back. But this latest birdie has him back in red figures with one hole to go.
9:54 a.m.: Rory. Gulp. After getting a couple strokes back followig that nightmarish start, the four-time major champ gave them both back on No. 16. McIlroy missed a short par putt then missed an even shorter attempt for bogey. Northern Ireland is not happy.
9:45 a.m.: Here comes Jordan Spieth! The three-time major champ makes his third birdie in five holes to begin his week and quickly move to T-2. Spieth has struggled since his last win, but it came at the 2017 Open and he also played in the final group at Carnoustie last year. The guy would clean up playing full time on the European Tour.
9:39 a.m.: Aaaaand Adam Scott misses his birdie try. In other predictable results, Rory McIlroy juuuust comes up short on another long birdie bid on No. 15. He remains at three over par. At least, he's two shots ahead of Scott.
9:33 a.m.: Adam Scott has had a miserable day (Glad I bet on him!), but he hits a brilliant 2-iron into the par-3 16th. Yep, TWO-iron. This hole is a beast. By the way, it's called "Calamity Corner." Little-known fact.
9:24 a.m.: Actually, it sounds like they did find G-Mac's ball, though not until after the new three-minute search period. It used to be five minutes before the recent rule change. What. A. Dagger.
9:22 a.m.: Unfortunate scene at the 18th hole, where Graeme McDowell found the high grass off the tee and was unable to find his ball even with a huge search party. He now has to make the worst walk in golf, back to the tee to hit his third. Through 14 holes, the Northern Irishman was at three under, one back. He's since dropped shots at 15, 17 and will now surely drop at least one, likely two at the 18th to post a round of over par. Ouch.
9:10 a.m.: Well, well, well, look who it is: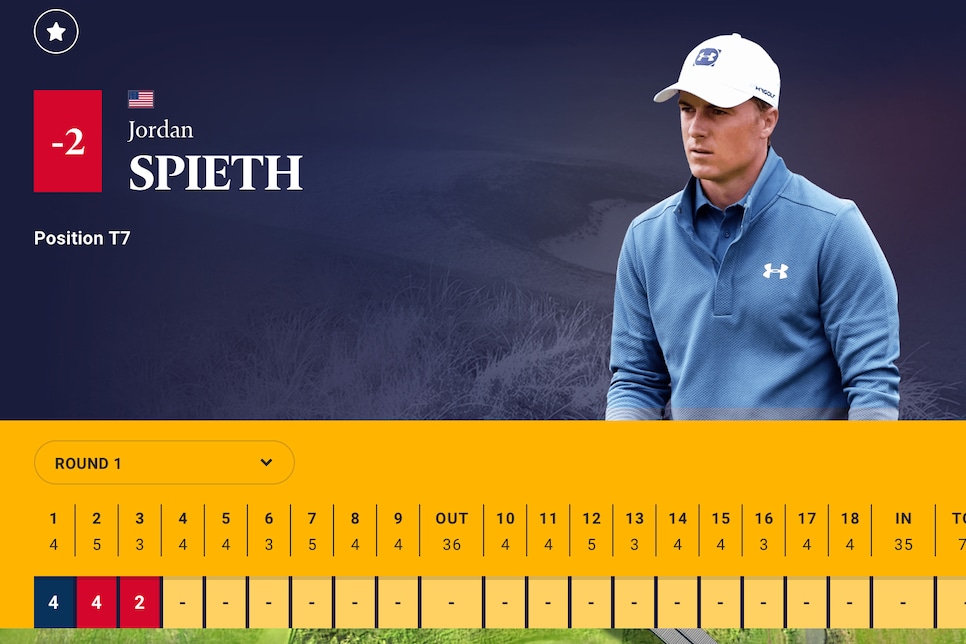 Weather has calmed a bit. Don't let Spieth get hot!
Up at the 18th, Kiradech Aphibarnrat rolls in a bomb from the front part of the green to post a 68, putting him one off the lead. BARN RAT!
8:55 a.m.: Par for Rory at the 12th to remain at three over. Feels like a big missed opportunity, as that's the last par 5 he'll play today.
8:45 a.m.: A poor tee shot forced Scotland's Robert Macintyre to hack one back out into the fairway and try to get up and down from ... no idea how many yards since the Open's web site and app doesn't have shot tracker (what is that about?). But Bobby Mac hit a great third, then an even better fourth with his par putt but it power lipped out and he cleaned up his bogey for a 68. What a start for the 22-year-old, who has quietly had an excellent recent stretch on the European Tour, including back-to-back runner-up finishes in May at the British Masters and the Made in Denmark. If you bet on him pre-tourney you got him at 200-1. He's dropped to 66-1 as of now, still a decent number for a guy one off the lead.
8:34 a.m.: At the par-5 second, Brooks Koepka just misses chipping in for an eagle. Tap-in bird gets him to one under. Yawn.
8:31 a.m.: Rory rolls in the par for a heck of a save to keep the good momentum going. Now he'll have the par-5 12th, another chance to get one back. At the 18th, Frittelli settles for bogey to card a three-under 68. Still a hell of an opening round for a guy who didn't even know he was playing in this tournament until last Sunday.
8:27 a.m.: Looks like Rory had a better lie than we thought, and he nearly chipped it in for birdie. Still has about five feet to clean up his par.
8:22 a.m.: The Open weather has officially arrived. Umbrellas are out, rain jackets are on and the wind is blowing. Somebody must have turned on the "PROPER GOLF" machine. It's already getting to the players, including McIlroy, who just badly missed the green right and found some high grass at the 11th. He'll need a mini miracle to get up and down for par.
Ahead at 18, John Deere Classic winner Dylan Frittelli pulls one well left of the green and has a long chip he'll try to get close, save par, and post a 67. That'd be the ultimate escape to the clubhouse with the weather that's rolled in. Scotland's Robert Macintyre is looking to do the same as he sits at four under through 17 holes.
8:17 a.m.: Par for Brooks Koepka at the first as some rain begins to fall at Royal Portrush. Better start than Rory had, some would say.
8:15 a.m.: From off the green at the 14th, Northern Ireland's own Graeme McDowell rolls in a birdie to get to three under for the tournament, one off the lead. That produced a nice roar for the hometown hero. What a story that would be.
8:09 a.m.: Garcia makes an eight-footer on the 18th for par to shoot 68. It's his first major round in the 60s since his Masters triumph in 2017.
8:04 a.m.: Brooks Koepka takes iron off the opening tee and finds the short stuff. All he's trying to do is build on his 2-1-2 major finishes this season. No biggie.
7:54 a.m.: McIlroy birdies the ninth to move to three over. Forget claret jug; should McIlroy make a weekend run, need a Sunday ceremony with Matt Kuchar officially passing the backdoor torch to Rors.
7:50 a.m.: Not a ton of action as of late. Potrush beginning to show its teeth.
7:42 a.m.: Phil wraps up his round, a five-over 76. That's the makings of a quick exit.
7:35 a.m.: Sergio Garcia, who's been in the wilderness over the past year, is up to T-4 with a three-under round. The Barn Rat isn't far behind, two under through 13 holes. And Dylan Frittelli, last week's John Deere Classic winner, moves to four under, just a stroke behind Webb.
7:27 a.m.: Things are starting to get away from Molinari. Two holes after making bogey, the Open champ signs for a double and is now two over on his day.
7:22 a.m.: For the first time all morning we have a Rickie Fowler sighting. Even for his round, Fowler puts his third at the par-6 seventh to four feet. Fowler is one that has excelled on links layouts, don't be surprised if he finds himself in the weekend mix.
7:20 a.m.: Rory bounces back with a birdie at the seventh. We have the makings of an all-time backdoor top 10.
7:12 a.m.: So...things are moving quickly for David Duval. The former Open champ was two under through two. He's now 13 over, thanks to hitting the wrong ball on the seventh which lead to a 15.
Check that, Duval's 15 was changed to a 13. So there's that.
7:02 a.m.: Robert MacIntyre moves to four under, which is now a shot behind Simpson, who is five under thru 13.
6:56 a.m.: Schauffele makes an excellent recovery from the heather, his ball trickling off the 10th green. At one under for the day, the X-Man is T-12.
6:48 a.m.: Apparently Phil cut birdies out of his diet as well. Mickelson is three over, T-65 out of the 81 players to tee it up so far.
6:40 a.m.: Hold the phone; we have a BEEF sighting! Andrew Johnston is in the red heading into Portrush's par-5 12th hole. Another fan favorite, Eddie Pepperell, is two under heading into the closing stretch.
6:30 a.m.: Rory's woes continues, his approach on the fifth sailing to the right of the score board. He gets a favorable drop and puts it on the green, but the poor cat is all over the place.
6:20 a.m.: Kiz rolls is a 15-footer at the third, now three under through four. Else, Portrush's own Graeme McDowell is two under through seven holes, while defending champ Francesco Molinari is one under through four.
6:18 a.m.: Lowry birdies the par-5 12th to get back to four under, a tie for the lead. With him is Webb Simpson, who has birdied four of his past five holes. Don't be surprised to see some low scoring from the morning wave.
6:10 a.m.: Hometown hero Darren Clarke makes his way up the 18th hole. The former Open champ has carried himself well, even on the day and in a position to make a run at the weekend.
6:02: a.m.: Kevin Kisner is two under through three. Kiz had a run at last year's claret jug, through the opening holes that doesn't look like an aberration.
5:55 a.m.: Brooks is on the Iron Throne, Tiger is more god than man, Phil is big with people who yell "BABA BOOEY" and Spieth is your mom's favorite golfer. But that twitter just held a funeral for itself because he made an 8 shows no player engenders themselves to fans like Rory McIlroy.
Unfortunately, it's continuing to go sideways, as Rory makes bogey at the third after his tee shot at the par 3 goes into the high stuff.
5:50 a.m.: Nothing to see here, just Xander Schauffele three under through six. He's like Brooks Koepka before Brooks Koepka became BROOKS KOEPKA.
5:43 a.m.: No better for Rory at the second, missing a six-footer for bird. Got to feel for the dude.
5:33 a.m.: With his 8 on the first hole, McIlroy's live odd of winning the Open take an amazing plunge:
5:29 a.m.: On the other side of the leader board, Shane Lowry just made a birdie on the 10th hole, his fourth birdie of the day, to become the first player to get to four under. Now there was a sleeper pick.
5:24 a.m.: A missed 10-foot putt for a 7 leaves Rory with an opening quadruple-bogey 8. Yep, it's a lot quieter out here at Portrush than it was 15 minutes ago.
5:20 a.m.: McIlroy is forced to take a unplayable and drop, then chips on the green with his sixth shot.
5:16 a.m.: McIlroy's first ball did go OB. Hitting his fourth from a gnarly lie, he pulls the shot left of the green into even thicker gorse.
5:10 a.m.: Double ugh ... as he pulls his provisional left, too.
5:09 a.m.: Ugh ... pulled tee ball with an iron for McIlroy's opening shot. And he's going to hit a provision ball out of fear that it might have gone OB left.
5:08 a.m.: Ok, we've really been building to this point all morning. Rory McIlroy had made his way to the first tee and the ovation is the loudest we've heard so far. McIlroy met with the media on Wednesday and did a not job of downplaying the importance of this event and the pressure he might be feeling. If he's being honest, you have to like McIlroy's chances this week, playing a course that he has a familiarity with and playing as well as he has throughout 2019. But you've got to think that deep down, this tournament isn't really just like any other Open for Rory.
4:58 a.m.: There hasn't been a repeat winner of the Open Championship since Padraig Harrington in 2007-'08. It's something that Francesco Molinari would like to remedy as he steps to the first hole. However, the 36-year-old seems to still be unpacking the mental baggage of losing the lead in the final round of the Masters in April. Since finishing T-5 to Tiger Woods, he has only posted one top-40 finish in five starts.
4:45 a.m.: Schauffele, with a birdie on No. 2, is two under and tied for the lead. That didn't take long, did it.
4:27 a.m.: Admit it, you're the guy who tells you're buddies that Xander Schauffele is your sleeper pick in every major these days. Well, No. 1, he can't really be a sleeper when he has five top-six finishes in majors since 2017. And No. 2, he made a birdie on the first hole. We're guessing you're going to like having taken him as your sleeper this week.
4:13 a.m.: Like Clarke to start the championship, the ovation is large for another Northern Ireland native as Graeme McDowell tees off on the first hole. Unlike Clarke or McIlroy, McDowell grew up in Portrush proper, making him the player with the most local ties to the area.
4:10 a.m.: A long eagle putt on the second hole moves Andrew (Beef) Johnston into a six-way tie for the lead at two under. Johnston only qualified for the Open last week with a T-4 finish in Scotland. After become a mini-celebrity with his eighth-place finish at the 2016 Open at Troon, the Englishman has struggled on the course and off. He recently discussed his mental health struggles, so it's nice to see his game coming around of late.
3:52 a.m.: Among the storylines that will be playing out over the next four days, as often is the case at the British Open, is the weather. Players were greeted with cooler temperatures and even a little sun at the start of the round, but the forecast is a little precarious for the rest of the day:
6 am-12 p.m.: Bright spells but with passing heavy showers likely (70 percent) 12 p.m.-6 p.m.: Sunny spells with a continued chance of passing showers (reducing from 70 percent to 30 percent)
3:41 a.m.: We have a Rory McIlroy sighting on property. He doesn't tee off for another 90 minutes.
3:33 a.m.: If you're looking for some background on Royal Portrush and it's return as Open host, take a minute to read Mike Stachura's story from the July issue of Golf Digest](https://www.golfdigest.com/story/an-opening-for-the-open). You might also like this piece from Ryan Herrington on what it took for the R&A to transform Royal Portrush from classic links to fully loaded Open Championship venue.
3:25 a.m.: We mentioned the rain from Wednesday softening the greens, and indeed there are birdies to be had on the course. Through the first the first nine threesomes, 25 birdies have been made compared to 20 bogeys.
3:16 a.m.: And just like that, Clarke finds a bit of trouble off the tee on the par-5 seventh hole, making his first bogey and falling back into a tie for first at two under with British Amateur champion James Segrue, who is part of the opening threesome.
3:01 a.m.: If you're just getting up and not sure you've cleared your blurry eyes, don't worry. They aren't deceiving you. Darren Clarke is leading the Open after six holes at three under par. The 50-year-old native of Northern Ireland was asked a few weeks ago if he'd be the first player off the tee to start this year's tournament. Naturally Clarke was flattered, even if the honor felt slightly ceremonial. But the 2011 Open winner found the fairway and made birdie on No. 1, followed by two more on the third and fifth holes to jump to an early—and well received—lead.