News
British Open 2018: Tiger Woods likes the way his putting is coming along as he preps for his first Open since 2015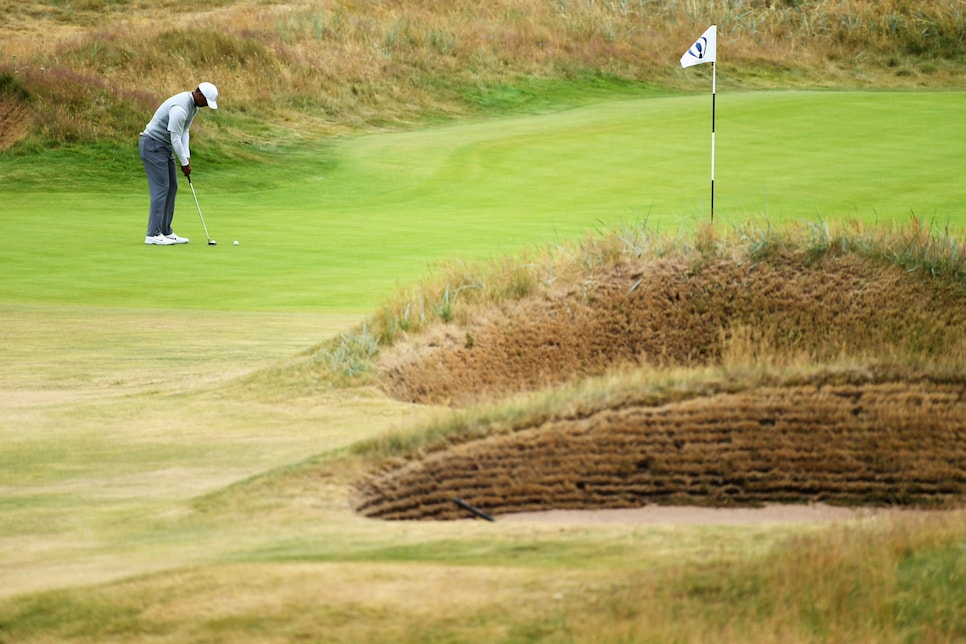 CARNOUSTIE, Scotland—Drive for show, putt for dough the cliché goes. It's almost as old as Carnoustie. Not quite, but I digress. When it comes to Tiger Woods' performance in 2018, however, it certainly is applicable.
When Woods returned from spinal-fusion surgery at the end of 2017, one of the questions that loomed was whether he would be able to keep up with the long hitters in today's modern game. It took all of one round before that was answered.
His putting, however, is another matter.
At the U.S. Open at Shinnecock Hills, Woods struggled mightily with the short stick, taking 58 putts after hitting just 16 greens over two days and shot 79-72 to miss the cut.
Two weeks earlier, at Muirfield Village, a course where he was won five times, he tied for 23rd but ranked near the bottom of the field in distance of putts made. His other Memorial putting stats were similarly dreadful: he finished in the negative in strokes-gained/putting each of the four days and took 31 putts on both Saturday and Sunday.
There have been weeks when Woods has rolled it well—he ranks 56th for the season in strokes-gained/putting—but he was frustrated enough that he benched his longtime Scotty Cameron blade, the one he won 13 of his 14 majors with, for a TaylorMade Ardmore 3 mallet putter in his last start three weeks ago at the Quicken Loans National. The result? A tie for fourth.
Just as importantly, Woods ranked third in distance of putts made for the week, was on the plus side in strokes gained-putting in each of the last three rounds and had just one three-putt over four days.
The club remains in the bag for Woods' first Open Championship in three years this week at Carnoustie.
"[The mallet putter] has a little more swing to it," Woods said Tuesday. "I've struggled on slower greens throughout my entire career. It's one of the reasons why I think I really like the fact that this putter has grooves, so it does roll initially a little bit faster and a little bit more true and it is a little bit hotter."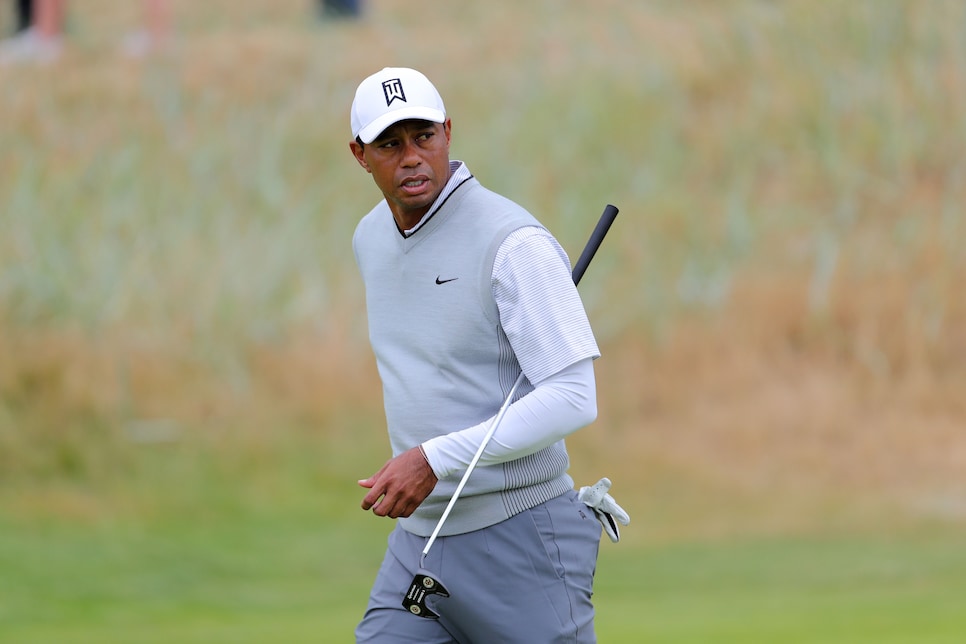 Richard Sellers - PA Images
Woods also noted that on the baked-out yellow brick road that was Carnoustie earlier this week, the fairways are running hotter than the greens. It's true. During a practice round he smoked a 3-iron 333 yards on the 18th hole. The putting surfaces? They're green as green gets.
Normally when Woods, who won three Opens in 2000, 2005 and 2006 and finished T-12 and T-7 in two of them at Carnoustie in 1999 and 2007, would add lead tape to his putter when coming across the pond. It makes the club heavier and gets the ball rolling faster. No need, he says, with this putter.
"I think it's more about getting a feel," Woods said of Carnoustie. "I feel very confident with the way I'm rolling the golf ball."
That's not the only change Woods has made, by the way. He has added a 2-iron to the bag, taking a few degrees off his normal one. With Carnoustie playing so firm, it's possible he noted that he could approach it the same way he did Hoylake in 2006.
All of which is to say Woods feels pretty good about his game, particularly at a place that will provide the opportunity to use his creative genius, as he tries to add to his major total this week. Putting better will help, too.
"Each tournament I keep coming back to I keep feeling a little bit better because I'm starting to play some golf again," he said. "Just need to play some cleaner golf, and who knows?"