News
British Open 2018: Russell Knox feels the heat playing next to Tiger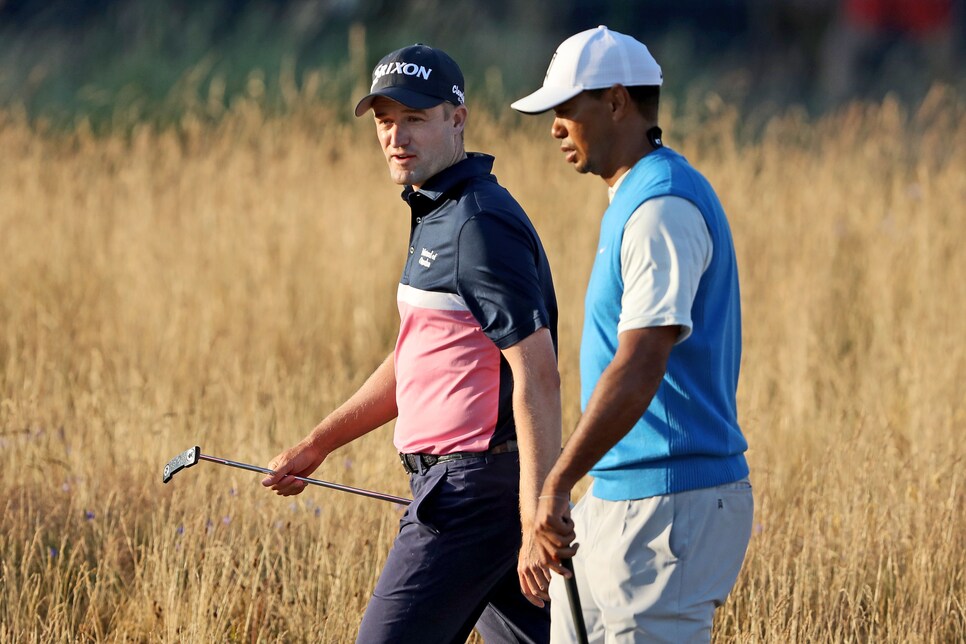 CARNOUSTIE, Scotland—Russell Knox punched his ticket to the Open Championship by finishing second at the French Open a few weeks ago, an event that's part of the claret jug's qualifying series. His reward? A tee time with Tiger Woods and Hideki Matsuyama. Way to treat one of your own, Scotland. With a massive Japanese media contingent and the usual Tiger trackers, there were more people inside the ropes than there would be if they were handing out free pints down in St. Andrews at the Dunvegan.
At 33 years old and a three-time winner, Knox has been around. He turned pro in 2007 and this week marks his 161st career start on the PGA Tour. Fourteen of them have been in majors. But Thursday marked the first time he pegged it up alongside the guy who has WON 14 majors.
"I just didn't feel normal," Knox said. "My swing, it was just like I had too much tension. But I mean, first round with Tiger, obviously, I expected to feel a little bit different."
How was it different? Take it away, Russ.
"I don't know really," he continued. "I mean, it's Tiger Woods. How would you feel playing with him?
"I've won three times. I've played in front of loads of people for the last eight years. But, I mean, I think it's a little different knowing who you're playing with. I think he's the best golfer of all time. He's definitely the person I looked up to. So getting to play with him is pretty unique."
Hey Russ, don't be so nervous. After all, it's been five years since Tiger last won. You won two weeks ago at the Irish Open. Actually, you've won three times since he last did. Take that Big Cat!
"I don't know how nervous he can be," Woods cracked. "He's playing well. We're in a major championship. So, obviously, we're all nervous. We all have to battle those nerves, and this golf course, as I said, it's not easy."
Both of them found that out. Woods shot even-par 71, Knox 73 after a bogey on the last.
But playing alongside Tiger proved just as difficult as taking on a baked out, bricked out Carnasty.
"He's a person which I've seen on the range in the past, and I mean, he's almost like a mythical figure," Knox said. "Of course I settled into it and enjoyed being out there and enjoyed playing with him. That's just a part of golf. Some days your swing feels awful, and some days it feels great. I battled through it, and [Friday] there's a huge chance that I'm going to feel much better than I did today."
Hate to tell you this, Russ, but you're playing with Tiger again in the second round.
"I wanted to chat with him a little bit," Knox continued. "Obviously, Hideki is not the easiest person to talk to with the language barrier. So I was like, yeah, I'm out here with Tiger for five hours, might as well talk to him."
What did they talk about?
"It's kind of a blur, to be honest. It's like, oh, I'm chatting away with Tiger here like normal. I don't even remember what I was saying."
He figured the round would be, too. Expecting the worst and hoping for the best kind of thing.
"I feel like I should know what I'm doing," the affable Scot said. "It's cool playing with Tiger, but I've got to get over that. I'm here to win, not just enjoy my walk around the course.
"I knew it was going to be an uncomfortable round for me. Like I was never going to feel like I was out playing with my buddies, just freewheeling it, and that's understandable. Major championship, Open in Scotland, playing with your hero, you're never going to feel like you're just winging it."
Carnoustie tough? I'd hate to meet the guy who made THIS pairing.