News
British Open 2018: Rose and McIlroy fight hard on Sunday, but find themselves wondering what might have been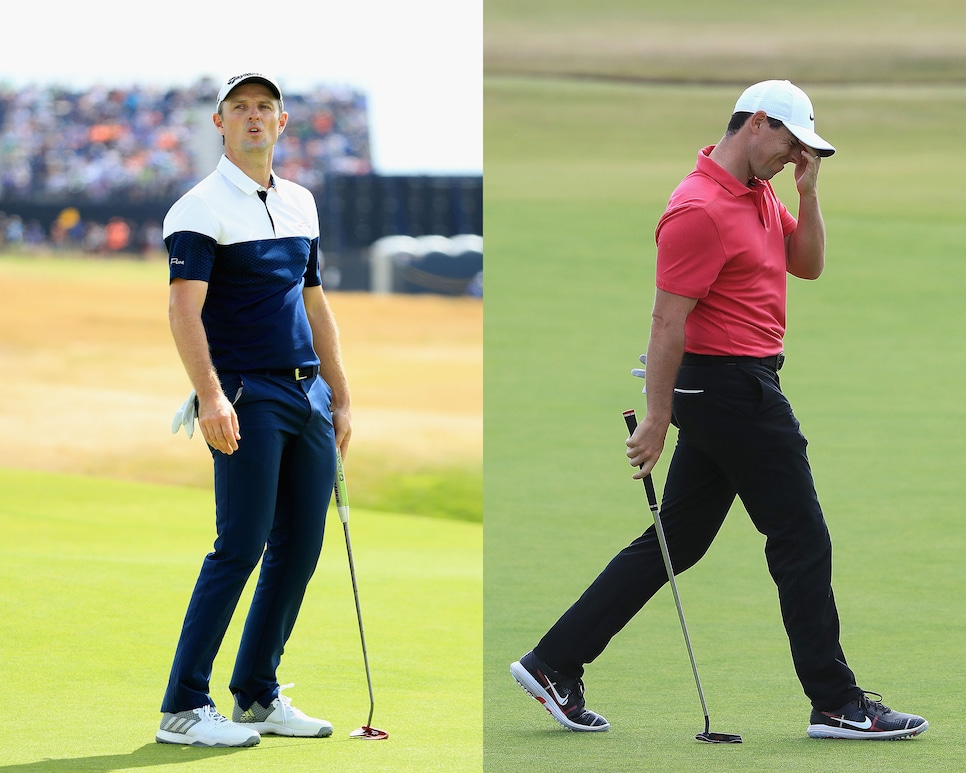 CARNOUSTIE, Scotland — They'll go down as having been among a group of four to finish runner-up at the Open Championship, something at some point in the future they'll likely find themselves boasting about. But on Sunday night at Carnoustie Golf Links, the feeling wasn't quite as satisfying as it might one day be remembered.
What if Justin Rose didn't spin his wheels during the first two rounds, a 72-73 start barely getting him into the weekend, before he impressively posted a 64-69 on Saturday and Sunday? And had Rory McIlroy's putter been more consistent in any of his four rounds, might the Northern Irishman's fate have been different?
In the end, the pair faced up to the reality that they had come up two strokes short (along with Xander Schauffele and Kevin Kisner) of where they wanted to be: holding the claret jug on the 18th hole. Instead, it was fellow European Francesco Molinari standing as the worthy champion golfer of the year.
Both got into the clubhouse at six under par, a few holes ahead of the leaders. But the way Molinari was playing on the back nine, they each knew deep down they'd need some help if they were to play more golf later in the day.
"It's exciting to be in with even a sniff," Rose said, before acknowledging he would "need a little help from my friends out there."
"My mindset was go and spoil the party here," said McIlroy after posting a closing 70. "I just ran out of holes."
Interestingly, the rounds of Rose and McIlroy in many ways mirrored one another. Both shot one-over 37s on the front nine, still watching a packed leader board from down below. Each then made a dramatic eagle putt on the par-5 14th, to jump into the fray from seemingly nowhere.
"The leaders started to wobble a little bit toward the end of the front nine, and that's when I knew there was an opportunity," said Rose, who set an ambitious target for five under on the back nine.
Rose continued to press on, making a birdie on the 18th hole for the fourth straight day, an unheard of feat on the par-4 finishing hole, to close out with an inward 32 for his two-under 69.
"I kept urging myself to try and make birdies," he said.
They had been few and far between for Rose on Thursday and Friday. If not for the 15-footer he did roll in on the 18th on Friday he wouldn't even have been around on the weekend. Given that, Rose was hard pressed to be too disappointed about falling short on Sunday. "I just think having made the cut number, it's a great effort to be relevant on the leader board on Sunday," he said.
Still, at age 37, Rose is at a point in his career where adding majors to the 2013 U.S. Open title and the 2016 Olympic gold that he already owns is the way his legacy will be defined. And coming close, like he did with his playoff loss in the Masters in 2017, is nice, but not necessarily enough.
McIlroy finds himself in a similar situation. The four-time major champion was thrown for a loop when he squandered an opportunity to win the Masters in April and complete the career Grand Slam. He subsequently missed the cut at the U.S. Open and was searching a bit for answers.
To his credit, rounds of 69-69 put him in a good spot to contend on the weekend. But when he set himself up with short birdie putts, his familiar bugaboo, his putter, held him back, leading to a mere 70 on Saturday when the rest of the leaders were shooting rounds in the 60s. On Sunday, he missed a few makable putts on a handful of front-nine holes.
"I [felt] I could have squeezed one more out of the round today," McIlroy said.
But then came the 40-foot eagle bomb on the 14th, leaping him to six under and a temporary tie for the lead. He knew it wasn't enough though, but he failed to set up reasonable birdie chances on Carnoustie's tricky 15th, 16th and 17th holes.
"The only real chance was at the last," McIlroy said, where he had just a little more 100 yards to the hole, but hit his wedge only to 15 feet and failed to roll in the birdie try.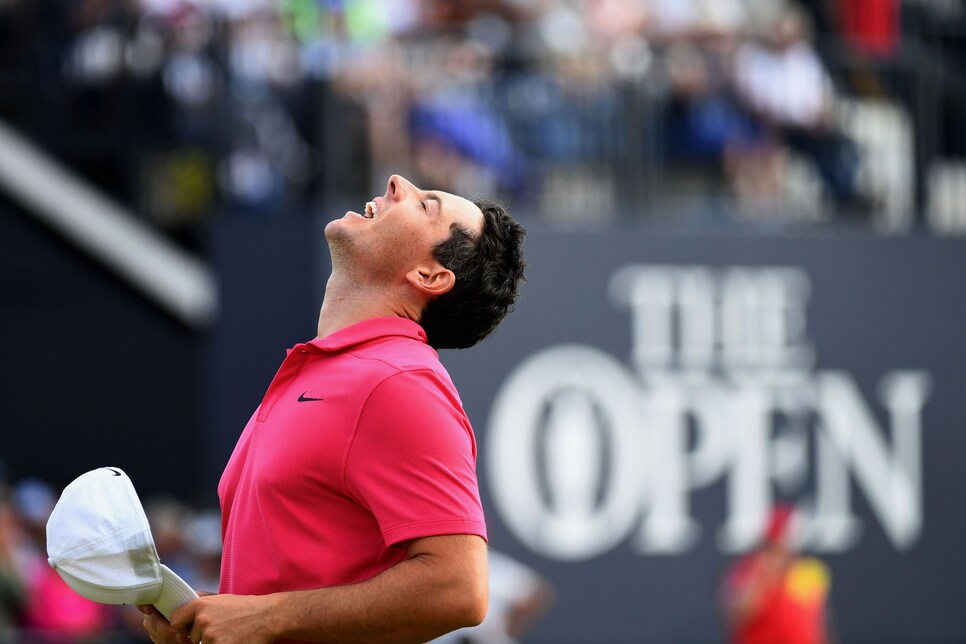 For the 2014 Open champion, this marks the fifth top-five finish in an Open, something to take a positive from. "I don't really feel like it's a defeat," said McIlroy, who was the only golfer to break par in all four rounds. "I feel like it's a good week."
But it could have been better.