News
British Open 2018: Dustin Johnson's Carnoustie strategy? Let it loose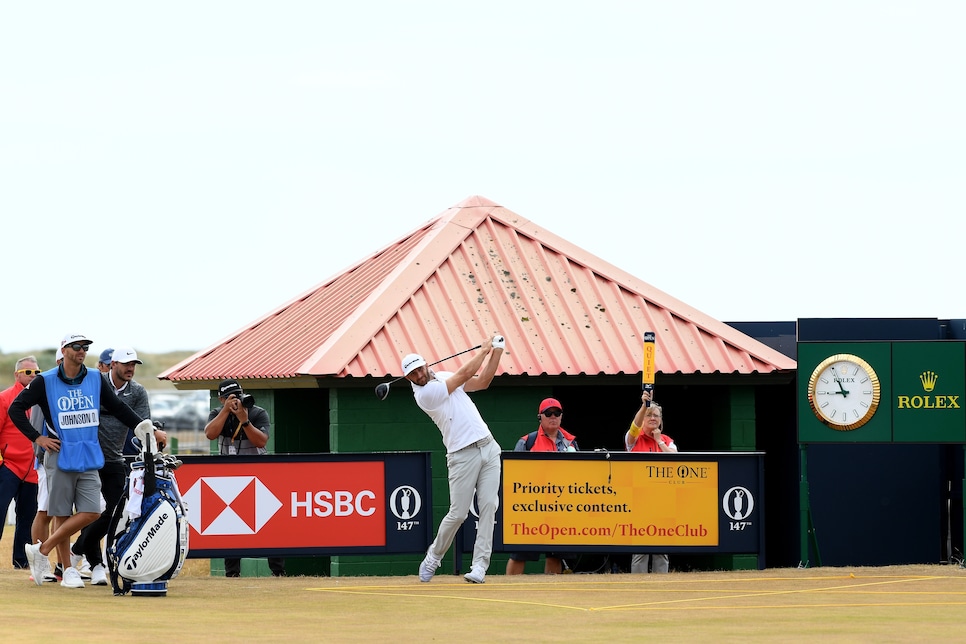 CARNOUSTIE, Scotland — Dustin Johnson received his participation trophy Tuesday afternoon at Carnoustie Golf Links.
He's the only player in the field at the 147th Open Championship to get one.
At the conclusion of his pre-championship press conference, Johnson accepted the Mark H. McCormack Award for holding the No. 1 spot in the Official World Golf Ranking for the greatest number of weeks in 2017. It was a very good year.
He can't say the same for the current season, though he has won twice and has regained the No. 1 ranking after losing it to Justin Thomas for four weeks. But he also has absorbed several disappointments, including his third-place finish at last month's U.S. Open at Shinnecock Hills when he led after each of the first three rounds before Brooks Koepka overtook him. Johnson became the 10th player in the championship's history to hold the lead after every round but the last one.
Is his glass currently half empty or full? Or does he even care? The guy does take nonchalance to an art form, after all.
"I'm kind of in the middle," he said. "I feel like it's gone pretty well. I feel like I've played really well. I've played consistently well. To me, the only part of my game where I feel like I'm struggling a little bit is with the putter, but I don't feel like I'm struggling putting. I feel like I'm putting it well and rolling it good. I just haven't really made a lot of putts. There's been quite a few tournaments where, if I just putt pretty well on the weekend, then, you know, I win."
And the U.S. Open was one of those.
"I played well enough to win. I didn't putt well enough on the weekend to win," Johnson, 34, said. "You know, I didn't feel like I was hitting bad putts, but I just wasn't making anything. You know, that's golf."
The golf thing is something Johnson has figured out. In his 11 stroke-play starts this season, he has finished no worse than T-17, which came at the Players. Winner of 18 PGA Tour titles, he leads his peers in a slew of categories: scoring (68.682 average), birdie average, par-4 scoring, par-5 scoring, strokes-gained/off the tee, strokes-gained/tee to green and strokes gained-total.
Obviously, then, he's been struggling on the greens. Well, not so much. Johnson is 18th in strokes gained/putting and seventh in putts per round. So, where's the chink in the armor? Well, he alluded to his U.S. Open finish, and sure enough, the South Carolina native is a rather pedestrian 51st in fourth round putting. From 10-20 feet, he languishes in the 150s in the rankings among 201 players.
Unfortunately, ball striking might not be as critical as previous championships at Carnoustie, since the links are drier than an English wit. Fortunately, Johnson, who has three top-10s in nine Open appearances, couldn't care less. While other players are contemplating how much they will stifle their drivers, Johnson intends to let loose on as many as half the holes. This is called playing to your strengths.
It's what Johnson does best. What he doesn't do particularly well is strategize, though he knows when to reign in his game. But, then, does he really need to? He agreed that he is not inclined to overanalyze. But he's smart enough to recognize prudence, such as when he plays the short par-4 third hole this week where he'll opt for 7-iron off the tee.
But autopilot is his best option. He knows it.
"But that's why I do put the work in so when I'm out playing I don't have to think about it," he said. "I just play golf, have a good time."
About that trophy he accepted Tuesday; he wore a bemused grin when he received it. Winning the claret jug, that would be a good time. His glass would appear a lot fuller.