News
British Open 2018: Danny Willett is feeling more like his old self, and his game is showing it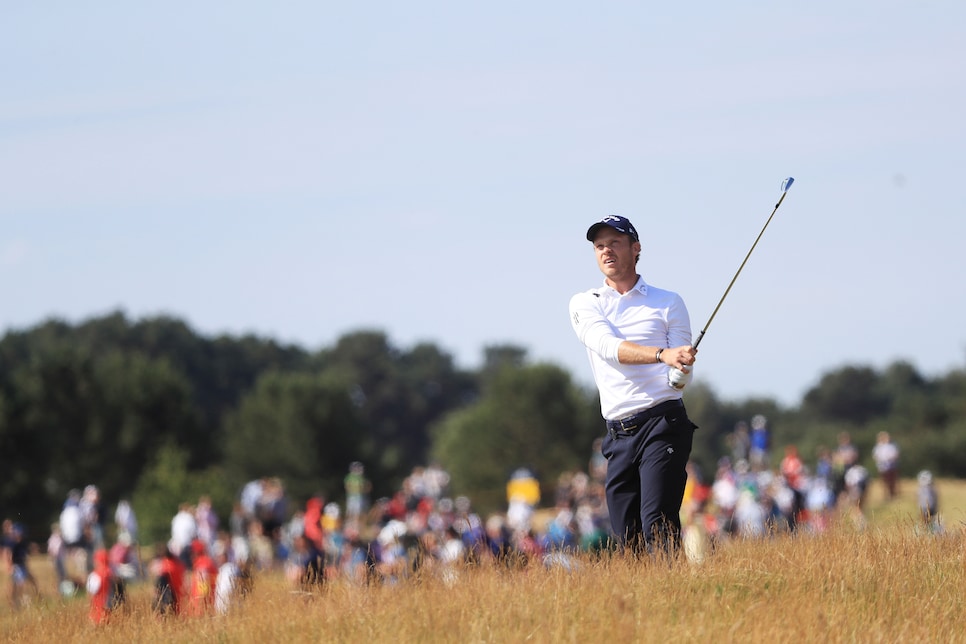 Sam Greenwood/Getty Images
CARNOUSTIE, Scotland — It could and probably should have been better given how well he struck the ball from tee-to-green, but Danny Willett was happy enough with his opening-round 69 in the 147th Open Championship at Carnoustie. More than two years on from winning the 2016 Masters but less than 12 months removed from what he called "the darkest time of my career," the 30-year-old Englishman has learned perspective. Where once there was cockiness and bravado, there now lurks realism and recognition of the big picture.
Such a score isn't quite the surprise it would have been even a couple of months ago. Willett has been showing signs of life recently. Tied for eighth at the Italian Open last month, this son of a former Church of England vicar and a retired Swedish math teacher (that's a Swede who teaches math, not a lady who teaches Swedish math) has been T-6 at the Irish Open and T-19 at the Scottish Open in his last two starts. Promising for a player who last year, admittedly hampered by nagging back and shoulder injuries, managed only two top-10s in 19 starts on the European Tour.
"That was good," confirmed Willett, who got up at 4:20 a.m. for his 6:57 starting time. "A lot of 12-, and 15-footers just slid by too. Could have been a really, really nice knock, but at the end of the day it wasn't. I've really enjoyed golf the last six, seven weeks. Even getting the clubs out and going to play at home without having to do two-hours of warmup and visit the physio. Just hit play nine holes and feel pretty good doing it.
With the improvement in his health, Willett has been able to do more practice and work that bit harder away from the tour.
"Even if it's just an extra half-hour putting or hitting balls, little sessions have enabled me to gain a little more than I ordinarily would have. So has being able to go home and not have to go through treatment and stuff. It's nice. Regardless of how my golf is, that's a lot better place to be."
For all that talk of perspective, however, Willett was quick to dismiss any notion that he cares less about his game than he used to. Under the guidance of swing coach Sean Foley, he is still putting in the hours on the range.
"And I still get annoyed," he says with a smile. "I still want to make everything. Sometimes I still struggle to remember the times that were terrible and go, well, that's not too bad. Unfortunately, I'm not always like that. But it's definitely nice to be stood here after shooting a relatively stress-free 69. I'm looking at the number as a whole and not how I finished [bogey-bogey] or started [bogey]. It's another number in the 60s. I've had a few of those in the past couple of months, which has been nice."
Indeed, Willett's work ethic is one thing that has never been in question. As far back as training camps with the English amateur squad, Chris Wood, a compatriot and fellow Ryder Cup player, recalls how much effort his teammate put into his golf.
"At all the camps I went to there was only me and one other who really wanted it and put the hours in," Wood says. "We were always there. First in the gym at 6:30 in the morning. Nothing was an issue. And that was me and Willett. Looking back now, it was so obvious. If I had been on the outside looking in, I would have picked up on the fact that we were a little different. We wanted it more."
Through all that has gone on since that glorious triumph at Augusta National, that much has never changed for the 2016 Masters champion.