News
British Open 2018: A lost summer continues for Phil Mickelson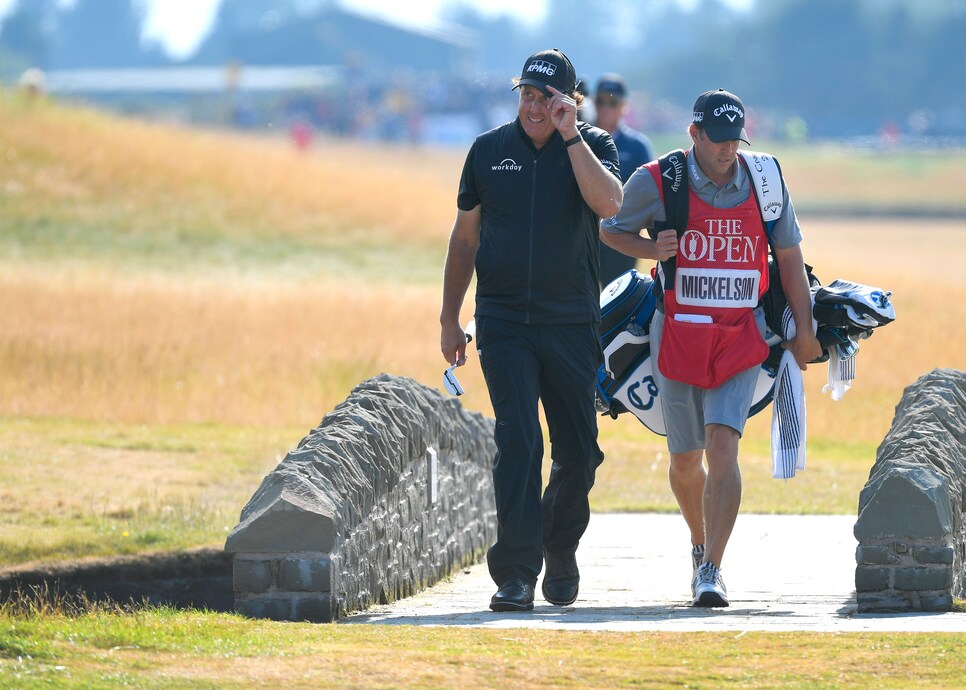 CARNOUSTIE, Scotland — Watching Phi Mickelson in the third round of the Open Championship at Carnoustie, a few things were immediately apparent. First, many in the predominantly Scottish galleries really want Phil to "come on." Second, the vast majority appear to care not a whit about his wee indiscretion on the 13th green at Shinnecock Hills during the third round of last month's U.S Open.
"We've all been there," said one Caledonian spectator. "I knew exactly how he was feeling."
And third, the 2013 champion golfer of the year is clearly struggling with his game. It's not awful—he is one under par for the 54 holes—but it's not quite there either.
"The game's just hard for me right now," said Mickelson after signing for a one-under-par 70. "I don't feel like I'm playing bad, but it's not coming easy. So today was a fight. I'm enjoying the challenge. It's not coming as easy as it did the first part of the year. When I hit great drives, I couldn't quite get the irons close. I couldn't quite make the putts. I just haven't made the putts when I needed to this week."
It hasn't just been the putting though. Mickelson owned up to feeling uncomfortable any time he was faced with a "slice wind," one blowing from right-to-left. On those holes he is leaving the driver in the bag and going with irons off the tees. All of which makes it difficult to attack and, in turn, shoot the really low score he required to get anywhere near contention.
Mickelson's game looked so solid the first third months of 2018, when he ended his nearly five-year winless drought with his victory at the WGC-Mexico Championship, one of five top-five finishes in his first eight starts. But the head-spinning events of the crazy Saturday at Shinnecock Hills—combined with the many apologizes now made for hitting a moving ball—seem to have created a distraction that he will somehow need to get past if he wants to accomplish some of his other big picture goals this year. Most notably make the American Ryder Cup team and help lead it to a rare road victory in Paris come September.
Still, for all his travails, Mickelson must have been cheered by the warm reception he received from the large crowds roaming the Angus links on yet another day of warm sunshine. On the other hand, while Scotland's longest heatwave since 1976 was leading to low scores all over the course, golf's all-time greatest left-hander was treading the water the links has barely seen since mid-June.
At least he was for most of the round. A pedestrian one over par through 13 holes, Mickelson suddenly made three birdies in succession to raise hopes of a second consecutive sub-70 score. A sloppy bogey at the 17th hole, playing into the prevailing wind, put paid to that notion, but there was still time for one of the game's great showmen to hit a shot that will live long in the memory.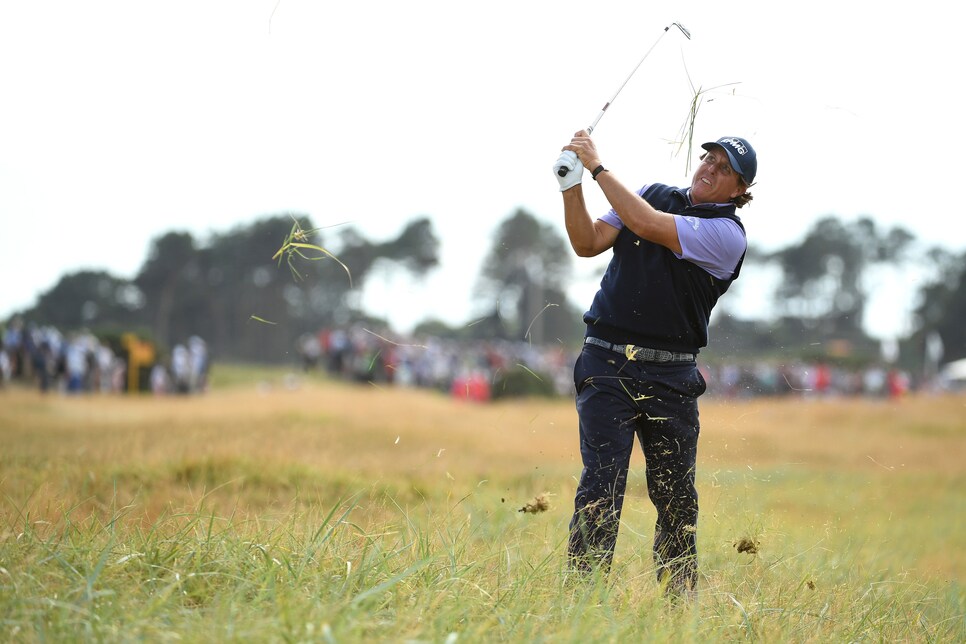 Having pushed his drive into heavy rough left of the elusive 18th fairway, Mickelson was 170 yards away from carrying the Barry Burn, 180 yards from the front of the green. It was risky. But since when has Mickelson turned down an opportunity to go for the low-percentage play?
Sky Sports commentator Ewen Murray delights in telling the tale of Mickelson back when he was being coached by Butch Harmon. On the range before a round in which he was paired with Dustin Johnson, Harmon had his pupil hitting some beautiful drives. Employing a shorter than normal swing, Mickelson had the ball on the proverbial string.
"Now Phil," said Harmon. "Whatever you do today, don't get into a long-hitting contest with Dustin. Just make the swings you've been doing here."
"Oh Butch," came the reply. "I think we both know that isn't going to happen."
Anyway, using a 7-iron from a slightly fortuitous uphill lie in the long grass, Mickelson duly smashed his ball onto the distant putting surface. The resulting 35-foot putt for birdie shaved the edge but did not drop. It was typical and vintage Phil.
"There's always risk," he said. "You've got the burn right there. And I didn't have a great lie. But being uphill it allowed me to launch the shot up in the air. As long as it came out reasonably well, it was going to go up in the wind. And if that happened, I could use the wind, which is what I did."
In the end, he left happy enough. This is the first time in three attempts Mickelson has made the cut in an Open Championship at Carnoustie. And the last two rounds are the only times he has broken par.
You are using an unsupported version of Internet Explorer. Please upgrade to Internet Explorer 11 or use a different web browser.