News
British Open 2017: What it will take for Rory McIlroy to salvage his season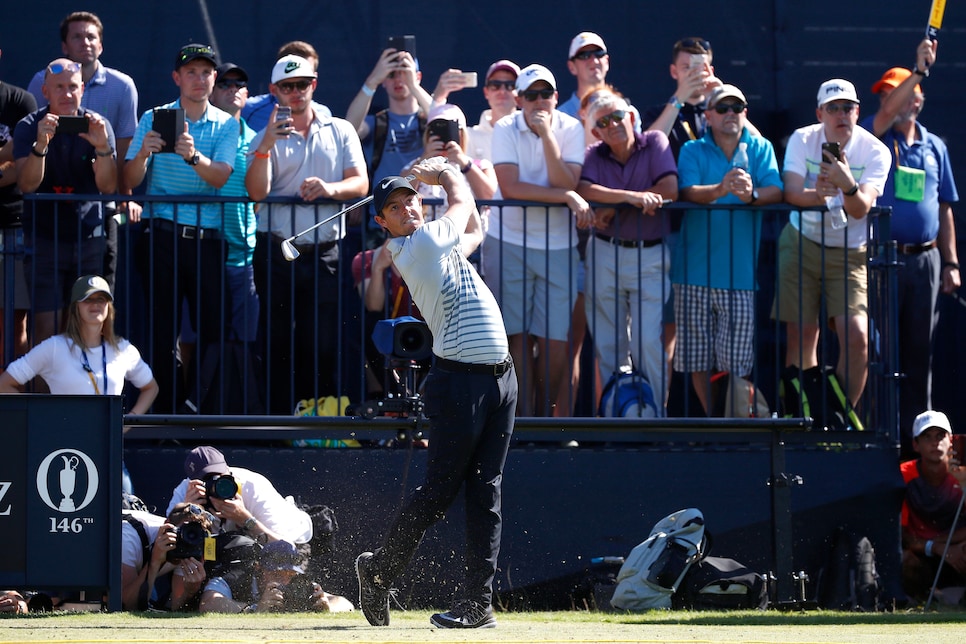 Photo By: Gregory Shamus/Getty Images
SOUTHPORT, England -- For all of Rory McIlroy's obvious physical gifts, he knows that golf is a pursuit that, at its tipping point, is far more mental. It was a lesson passed down to McIlroy and embodied by its two greatest players, Jack Nicklaus and Tiger Woods.
"They were both so strong mentally," McIlroy said on the eve of the Open Championship. "I think it's really about knowing yourself and knowing what works for you and what thoughts work and what techniques work.
"Sometimes maybe what worked two years ago doesn't work for you now and you need something else. And you're always trying to evolve and trying to figure out new ways to bring the best out of yourself."
It was a telling self-assessment by the four-time major winner, who arrived at Royal Birkdale having missed the cut in three of his last four starts.
Just a few weeks ago, McIlroy described this year as a "transitional" one, given various distractions, some of his own doing and others out of his control. There was the desire to work out new club deals after Nike unexpectedly halted its equipment business. There was his wedding in April to Erica Stoll, and officially becoming a U.S. resident. And then there was a rib injury that kept him out for a month earlier this season and has continued to linger.
"The one thing about Rory is as soon as you question him, he'll do something special and turn it all around." —Justin Rose.
All these have prevented him from keeping his game as sharp as he would like, a fact most evident in his below average wedge play and putting. Frustration with the latter has caused him to make several changes in putters over the course of the season—to the point where he used three different flat sticks over four days at last month's Travelers Championship.
"It's been a very stop-start year," he said. "It hasn't been the year that I had planned, going back to January and feeling like I was in a good place in my game.
"And because I haven't played that much, the only thing I can really do is take some sort of confidence from what I'm seeing in practice, and sometimes that doesn't quite translate to what happens on the course."
Just last season, McIlroy won two of the last three Playoff events and with it the FedEx Cup. The finish salvaged what would have been an otherwise mediocre year, relatively speaking.
McIlroy also hasn't won a major since the 2014 PGA Championship, a streak of nine straight (he missed the defense of the claret jug at St. Andrews in 2015 because of an ankle injury). That said, Woods twice had stretches of 10 in a row without winning one.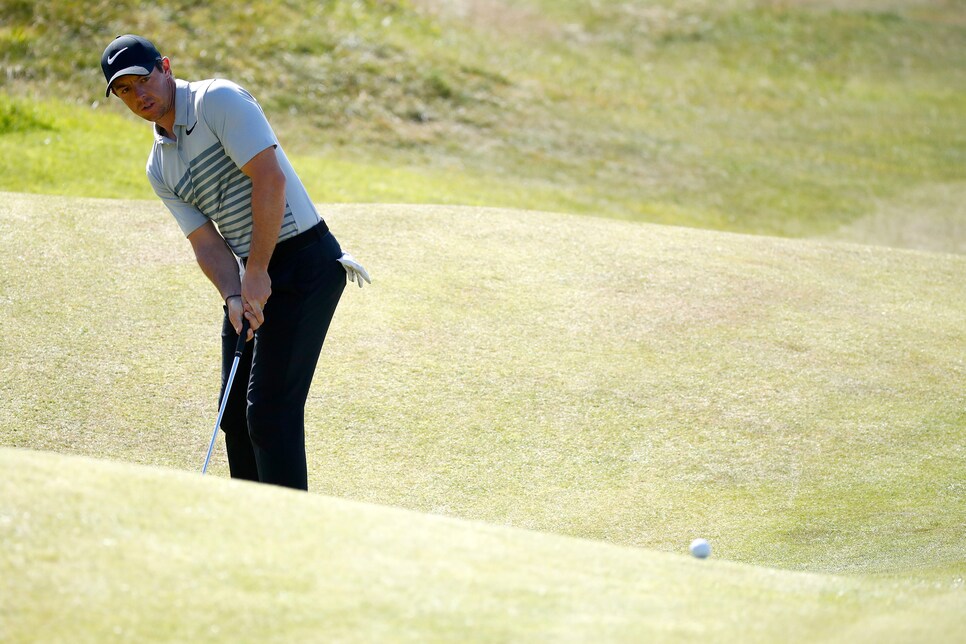 Gregory Shamus/Getty Images
If there's a silver lining to all of this for the 28-year-old, it's that he has been here before. After blowing a four-stroke lead and shooting 80 on the final day of the 2011 Masters, McIlroy bounced back two months later to win the U.S. Open at Congressional by eight strokes.
Similarly, in 2013, a year after winning five times, McIlroy won just once the following year while in the midst of an equipment change. But that drought didn't last long. In 2014, he won five titles, including the Open Championship at nearby Royal Liverpool, followed by the WGC-Bridgestone Invitational and the PGA Championship at Valhalla, all in the span of a month.
"The one thing about Rory is as soon as you question him, he'll do something special and turn it all around," said Justin Rose. "It's happened a few times in his career where people say he's in a bit of a slump and then he'll win at FedEx Cup. So never worry about him from that point of view."
Of course, Rose can say this. But for McIlroy to turn things around again, he must believe it. Which is where the mental strength shown by Nicklaus and Woods comes in. During their dominant runs, there were lean times where they got by despite trouble with their games. These times are forgotten, mostly, because they managed to find their form again—and block out the whispers that maybe they had lost their edge.
This too can happen to McIlroy, who has found solace in a Tom Weiskopf line from years ago.
"He said, 'When I'm playing well, I can never imagine how I ever played so badly; and when I play badly, I can never imagine how I played so great,'" McIlroy said. "I think that's how fine the line is in golf, between playing great and playing poorly.
"My memories of golf are pretty good right now. I've done some pretty good things in this game, and I don't feel like I'm that far away from doing them again."
The question is whether the wait will be counted in weeks and months, or hours and days.