The Loop
British Open 2017: This English treat has the most interesting wrapper in the world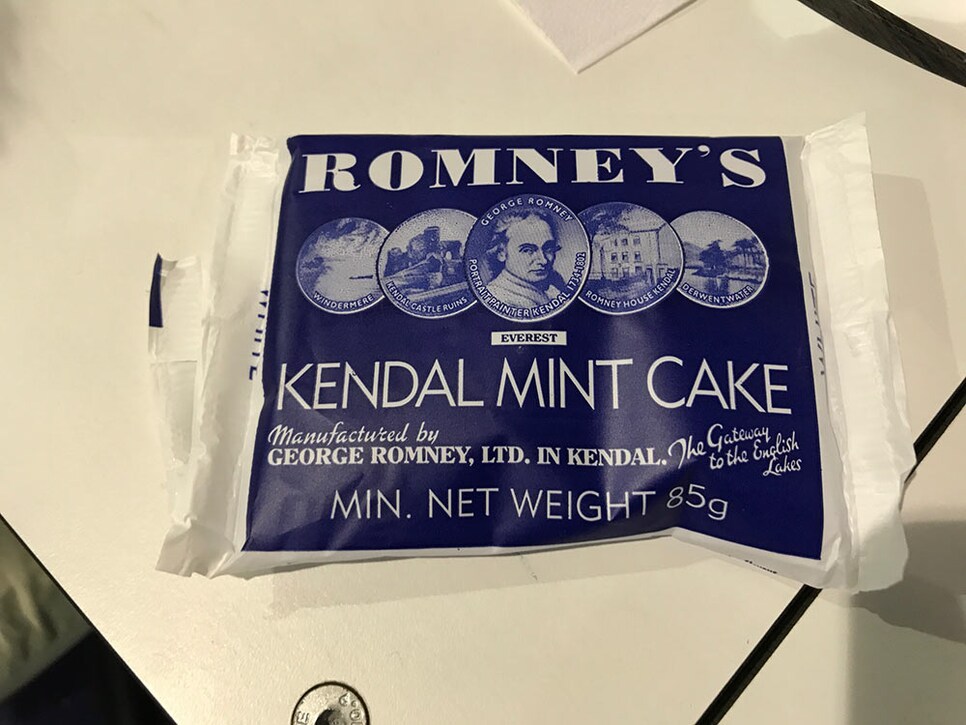 SOUTHPORT, England -- In my fifth trip to cover the British Open, I now consider myself one of the foremost experts on the desserts served in the media center. For one thing, I have a pretty strong sweet tooth. For another, I'm not an adventurous eater so I often survive the week on a diet consisting mainly of candy and chocolate muffins. Take Wednesday, when my inability to figure out what soup was being served wound up involving three workers explaining its ingredients to me. Turns out, it was simply vegetable soup. I gave it a try (how bold, I know), but quickly switched to a Kit-Kat. I've got problems.
Anyway, a new item in press dining caught my eye this year: Romney's Kendal Mint Cake.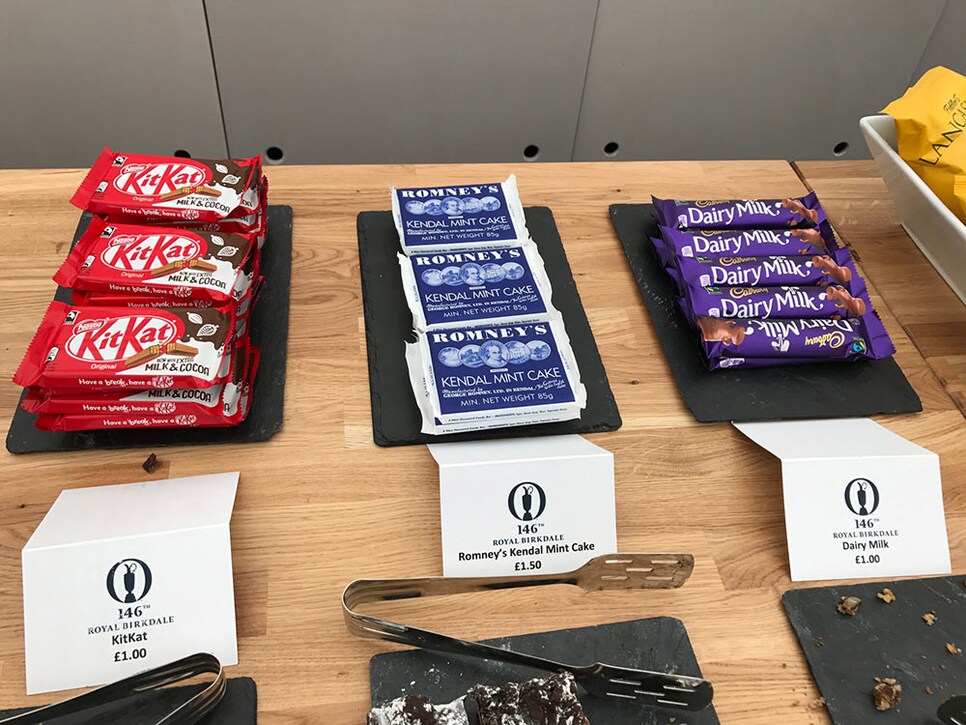 I'd never seen or heard of it before, but quickly discovered it's essentially a York Peppermint Patty minus the chocolate. Well, at least, that's what the "white" flavor is. I did some digging on Romney's website and they actually manufacture a bunch of variations of the candy, including a brown one made from brown sugar and a chocolate-coated one. Unfortunately, the white flavor, which sparkles when you hold it up to the light because it's basically a block of sugar, is our only option this week. Why anyone would ever choose to serve (or eat) a peppermint patty without a chocolate coating over a peppermint patty with a chocolate coating is beyond me, but hey, at least we still have Kit-Kats and Cadbury bars.
More importantly regarding this local treat, however, is the wrapper it comes in. Specifically, the story it tells on the back. Check it out: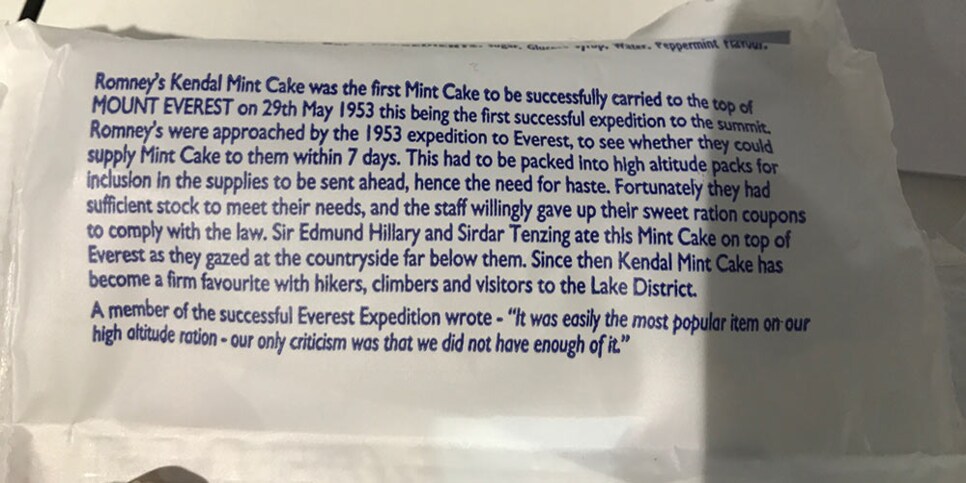 In case the print is too small, this fascinating paragraph begins by saying, "Romney's Kendal Mint Cake was the first Mint Cake to be successfully carried to the top of MOUNT EVEREST on 29th May 1953." The first Mint Cake to make it to the top of Mount Everest? Was there a lot of competition for this honor? Was this England's version of the Space Race?
The wrapper goes on to say that "Sir Edmund Hillary and Sirdar Tenzing ate this Mint Cake on top of Everest as they gazed at the countryside far below." History! Of course, we kid. That's a neat thing to be able to say about a product. And it seems these things hold up well in high altitude. As a result, "Kendal Mint Cake has become a firm favourite with hikers, climbers and visitors to the Lake District." Good to know. I then went to Wikipedia to find out way (way) more than anyone needs to know about this product.
Kendal Mint Cakes are called such because they come from Kendal in Cumbria, England (about two hours from Royal Birkdale), and there are three companies known for manufacturing these: Romney's, Quigger's and Wilson's. Call them the Big 3 . . . of Kendal Mint Cakes. Although, sadly -- again, according to Wikipedia -- Wilson's recently closed up shop. So the Kendal Mint Cake business is a tough space to be in, after all.
Two more things of note: Romney's, introduced in 1918, pre-dates the York Peppermint Patty by 22 years. Impressive. And secondly, the company made a 200 limited "Kendall Mint Cakes" in 2016 to celebrate Kendall Jenner's 21st birthday. OK, we'll stop.
Additional "reporting" by Brian Wacker