News
British Open 2017: There's one thing Henrik Stenson wishes he did with the claret jug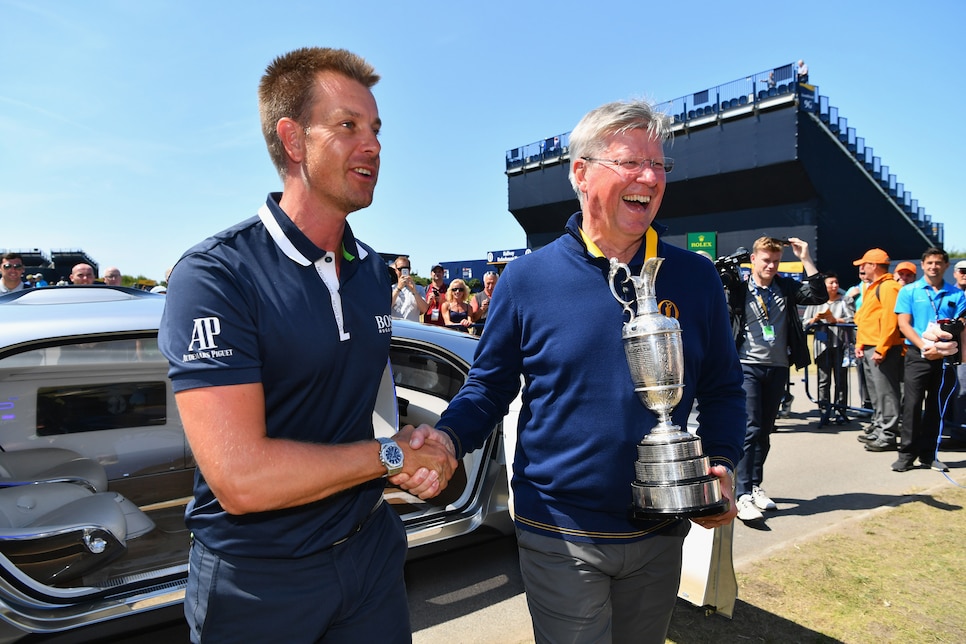 SOUTHPORT, England — So many things to do with the claret jug, so little time. That sounded like Henrik Stenson's lament as he met with the media on Tuesday at the British Open, having sadly handed back the trophy upon arrival the previous day at Royal Birkdale.
Yes, Stenson was famously able to take the jug for a ride on a jet ski, what he described as the goofiest adventure he took with the iconic prize. But there was something more he had hoped to do with it that never came to pass.
"I've made an official promise that if I ever win the claret jug again, I'm going skydiving with it," Stenson said. "And I don't know which is going to be harder, winning the claret jug again or going skydiving afterwards because that thought scares me a little bit. It won't stop me from trying to win it, though."
What might stop Stenson, however, is his present form. While carrying the label "Champion Golfer of the Year," the 41-year-old Swede hasn't been playing like much of one in 2017. In nine PGA Tour starts this season, Stenson has missed five cuts (including at both the Masters and U.S. Open) and has one WD. His record is slightly better on the European Tour, having posted a T-3 finish at the BMW PGA Championship in May.
As is usually the case for Stenson, when things are going bad it stems from his short game. "I don't feel like I've had the consistency I want to have," Stenson said.
Andrew Redington/Getty Images
That said, he also acknowledges that this was the same case a year ago when he arrived at Royal Troon. Stenson had missed the cut at Wells Fargo and the Players Championship, then withdrew in the second round of the U.S. Open at Oakmont, before having the best tournament of his career, capped by his stunning Sunday 63.
"Even though it was the best year of my career last year, I felt it was well timed, as well," Stenson said. "I played my best at a few events that really mattered. I'm kind of working on that, trying to get that consistency back, whether it's going to be good enough this week or not, I can't tell you, but I couldn't tell you how I was going to win before the week last year either. In golf, I guess you're only a couple of good shots and picking up some nice solid feelings away from having a really good week."
Where Stenson might have an edge compared to years past is in the pressure department. Having finally won a major last year after several close calls, the Swede
"More than anything I'm going to enjoy being out there," Stenson said. "I worked hard my whole career to be able to win that championship last year, and I can't really put the pressure on myself that I'm going to win it again. It took a lot of chances to win that one, so I'm just going to go out there and do my best, really."