News
British Open 2017: Somebody's got his strut back as Rory McIlroy shoots a 68, in hunt at Birkdale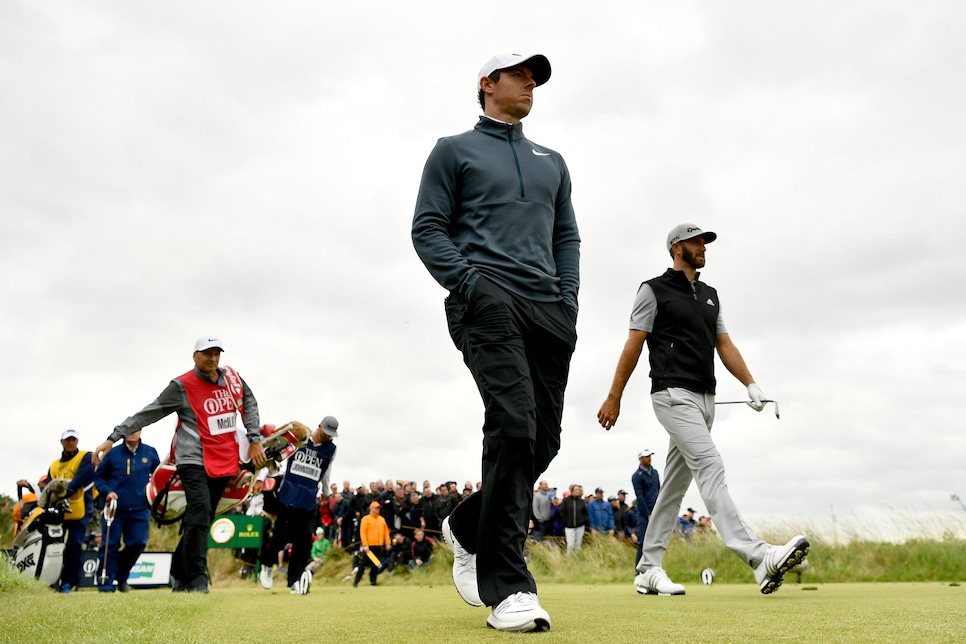 SOUTHPORT, England — Rory McIlroy strutted down the fairways of Royal Birkdale on Friday morning with his head up, chest out and a certain pep to his step.
Presumed thought: "I'm Rory ----ing McIlroy!"
Finally, he played like it, beginning with a 370-yard 3-wood off the first tee to set up an opening-hole birdie. Then came another at the third, and one more on the sixth, a brutal 499-yard par 4 that is again playing as the toughest hole on the course and where he nuked a tee shot over the right fairway bunker and stuffed his approach to three feet.
"I hit some quality shots out there," McIlroy said following his second round of the Open Championship. "I saw a lot of better iron shots. I saw some really good putts going in. … I was happy to see that."
A day earlier, the 28-year-old Ulsterman played his first six holes in 28 strokes (five over) and looked like he was headed for a fourth missed cut in his last five starts and second straight missed cut at a major.
Then McIlroy's caddie, J.P. Fitzgerald, prodded him along, barking at the four-time major champion on the sixth, "You're Rory McIlroy, what the ---- are you doing?"
McIlroy responded by playing his final eight holes on Thursday in four under to grind out a 71. So often McIlroy has gone in the opposite direction. Fitzgerald's prodding helped it go the right way.
"He does do it quite often," McIlroy said of Fitzgerald, who has been on the bag for the last nine years. "It's just whether it penetrates my head is a different thing.
"He knows me pretty well. And he knows what to say out there and what not to say. And he definitely said the right thing yesterday when I needed it."
And McIlroy needed a round like Friday's, not just to get him to the weekend but to perhaps kick start what has been a disjointed year, interrupted by a rib injury and plagued by substandard wedge play and putting that led to too many weekends off.
As impressive as the Friday start was, however, a bigger boost might have come from what McIlroy did once he made the turn. After a few errant tee shots—a ball in a fairway bunker at 10, another foul ball at 11, left of the green at the par-3 12th—he rolled in a 12-footer to save par (letting out a fist pump as it dropped) followed by another from 10 feet and then an up-and-down with a chip to a foot to make it three in a row.
He didn't have the same fortune on Nos. 13 and 15, making bogey on each, but added a birdie on the par-5 17th to help cap a round of 68 that moved him within a few strokes of the lead going into the weekend, a position that was made even more positive by bad weather in the afternoon wave.
"That stretch, 10, 11, 12, just to keep the momentum going and keep the round going, they were all huge," McIlroy said. "When you see a shot like the one I hit into 6, that does give you a lot of confidence. The long iron I hit into the 17th [but] I guess it's almost like a validation that when you hole putts like [10 and 11] and you think this is really good, you're fighting for it and you're mentally where you need to be. I don't think it gives you confidence but almost more satisfaction."
It was a more-than-satisfactory performance and one that reminded everyone of just how good the former world No. 1 can be on the game's grandest stages.
He hasn't won a major since the 2014 PGA Championship, yes, but he's still capable of being Rory ----ing McIlroy.