News
British Open 2017: Shaun Norris shoots 65, tells people questioning his putting stroke "they can come walk with me"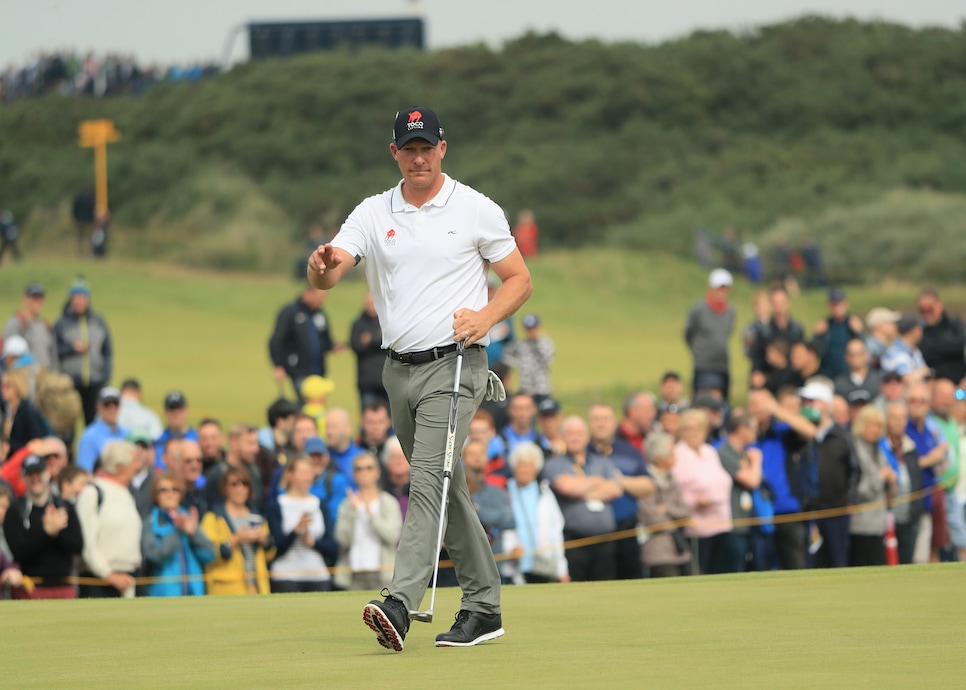 SOUTHPORT, England -- Shaun Norris shot the round of his life on Saturday to become an unlikely name on the leader board at the 146th British Open. He also became somewhat of a curiosity due to his putting stroke.
As the 35-year-old South African playing in his first major championship received the most TV coverage of his career, many watching him for the first time questioned if he was anchoring his long putter to his chest. After, Norris said he doesn't mind people talking because he knows he's doing nothing wrong.
"They can come and actually walk with me," Norris said after shooting a bogey-free 65 to tie for the low round of the tournament and move into the top 10 when he signed his scorecard. "I know I'm in my rights and I'm a long way from touching myself."
Bernhard Langer has been questioned a lot of late for the same thing by NBC/Golf Channel's Brandel Chamblee and others. Langer has maintained his stroke isn't anchored and Champions Tour rules officials agree.
Norris said he tried using a shorter putter after the anchor ban went into effect at the start of 2016, but he never felt comfortable. A buddy suggested he cut it down four or five inches and try locking his left arm, and Norris, who currently plays mainly on the Japan Golf Tour, has done that since.
"I've had officials walk with me in Asia and they can stand right next to me for all I care,'" Norris said. "That's just the way I was brought up, I'm never going to try to take advantage of anything."