News
British Open 2017: Rory McIlroy rallies thanks to some four-letter prodding from caddie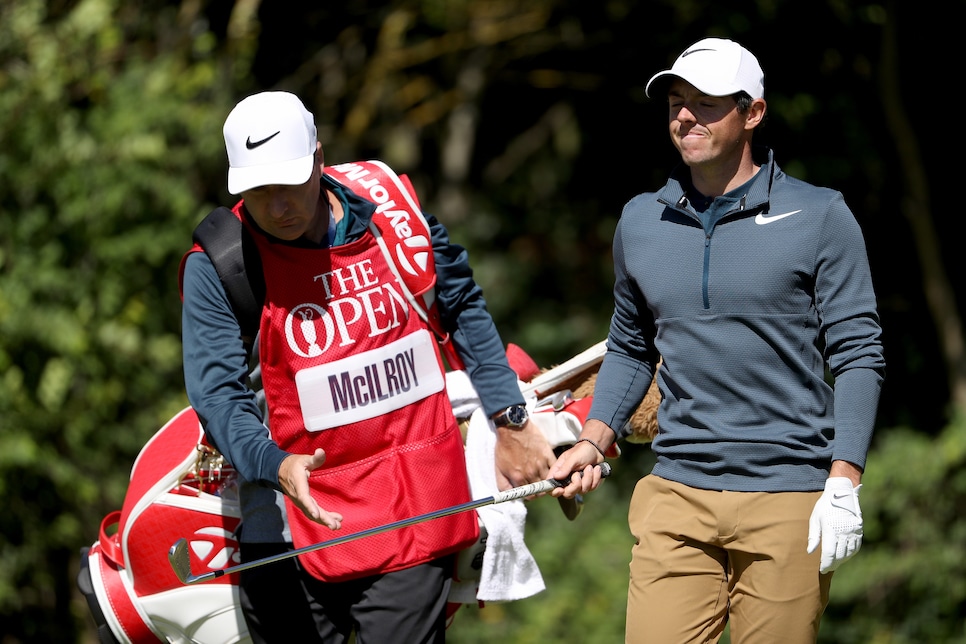 SOUTHPORT, England -- Did Rory McIlroy flip the switch? With a 20-foot birdie putt on the tough par-4 18th hole, McIlroy closed out a four-under-par 32 on Royal Birkdale's back nine, making up for a nightmarish start that him saw bogey five of his first six holes.
His one-over-par 71 was no great shakes in terms of where it put him in the field (T-58 and six strokes behind the leaders), but it felt so much better than that. When the final putt went in, the Northern Irishman gave a fist pump discernibly more emphatic than what is usually seen on a Thursday, even at a major.
Afterward, McIlroy was candid about his fragile state of mind, and how his caddie helped him go from negative to positive.
"Yeah, like I was nervous going out -- a little anxious, timid," McIlroy candidly admitted. "Just really, probably not as much belief in myself as I should have had."
McIlroy was referring to the affects of a so-far winless season that began with high hopes—coming off his dramatic victory at the Tour Championship last September that won him the FedEx Cup—but has been disappointing. His performances in the first two majors of the season, a T-7 at the Masters and a missed cut at the U.S. Open, where the wide fairways at Erin Hills seemed tailor-made for his dominating driver, were a letdown, and then missing consecutive cuts at the Irish and Scottish Opens made a mental shambles of his preparation for Birkdale .
"Just a bit of lack of confidence just over the last couple of weeks, and just letting that get in my head a little bit," McIlroy further confessed. "Yeah, it's a major championship. I'm always more nervous playing in these four tournaments than I am anything else. And I felt that out there today just because of the lack of self belief I had going out."
It manifested early, with McIlroy driving poorly off the first hole, only saving bogey with a 30-foot putt from off the green. He parred the second, but then got on a four-hole bogey train.
He was four over par on the sixth tee when his longtime caddie, J.P. Fitzgerald, decided to go to his emergency psychology kit – his 28-year-old charge's record of four major championships, two of them by eight shots and one of them the 2014 Open Championship. "You're Rory McIlroy," the caddie said. "What the ---- are you doing?"
Although decidedly subdued at the moment—he could only mumble "whatever" in response—McIlroy said Fitzgerald's prod "helped, it definitely helped. It kept me positive. I couldn't look within myself. I was trying to look within myself. But J.P. kept me positive out there, so that was very much appreciated."
The effect had a slight time delay, as McIlroy would also bogey the difficult sixth, and then pulled his tee shot on the 7th. But he made a good up and down for par and from that point showed the kind of superbly powerful ball striking that is his trademark.
"The up and down was big," McIlroy said. "There's a big difference between five over par and six over. It was a big momentum, if you can say you have momentum being five over after 7."
McIlroy, who in addition to a slow recovery from a rib injury has been fighting a two-way miss off the tee along with decidedly mediocre putting and wedge play, said that his rebound was also due to "trusting what I was working on on the range. I sort of felt I was caught in between (techniques) on the first six holes. Yeah, I found a little swing thought or a little trigger that I think is going to help."
Might McIlroy's turnaround become the start of a larger turning point? He didn't dispute the possibility, and even used a historical moment as a parallel. "Yeah, I could be standing here and have hit 18 greens and shot 1-over and missed every putt and feel terrible. But because of the way I started, I actually feel really positive.
"It's a bit like Ryder Cup at Medinah in '12. We're 10-6 down on Saturday night but we feel like we were right in with a chance, because we won the last two points. It's sort of like that. Even though there's a lot of golf left, in other circumstances it might have been a disappointing day. But just with the way I finished, I feel really good about it."
Who knows? Perhaps what J.P. Fitzgerald said on the sixth tee at Royal Birkdale in 2017 will also become a moment in golf history.