News
British Open 2017: Jordan Spieth relies on a lot of moxie and a little bit of luck to hold lead at Birkdale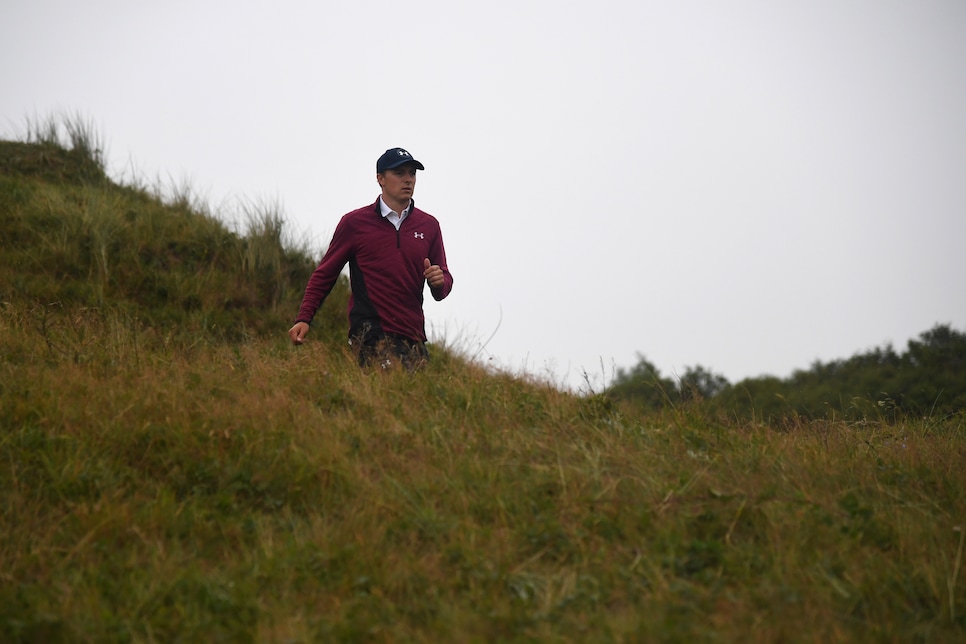 SOUTHPORT, England — How maddening it must be to play against Jordan Spieth. After being in trouble—twice—on the par-4 10th hole Friday at Royal Birkdale, his cushion atop the leader board gone and with a heavy enough rain coming down hard enough to stop play a few minutes later, he chipped in to save par anyway.
Once the delay was over, Spieth rolled in a 35-footer from across the green for birdie on the 11th.
On the par-3 12th, he stuck his tee shot to a few inches to set up another birdie.
"I definitely had reminiscences of my first two rounds at the [2015] Masters with him," said Henrik Stenson, who was paired with Spieth two years ago when he escaped all kinds of trouble at Augusta National on his way to setting a 36-hole scoring record with rounds of 64-66 and an eventual runaway victory.
Through the first two days of this year's Open Championship, Stenson had another front-row seat.
"He might not have played as well tee to green, but his flat stick has been working very much the same way," Stenson said. "He's made a lot of putts, momentum crucial putts for par and some beauties for birdies, long ones and mid-range ones. His putting has been on this week and that's why he's in the lead. He's the man to beat over the weekend if he keeps putting like that."
Spieth's success—or luck in some cases—hasn't been limited to the greens at Birkdale.
At the par-5 15th after a less-than-ideal drive, and stuck between a 3-iron and 3-wood on his second shot, he opted for the latter. The ball came out low, left and neck-y after being mis-hit but carved its way back toward the fairway and bounded to inside 20 feet of the flag.
Spieth made the putt for eagle and went on to shoot one-under 69 to take a two-stroke lead over Matt Kuchar heading into the weekend. It also marked the third time in Spieth's career that he has shot in the 60s each of the first two rounds of a major. He won the previous two.
"I lined up way left with the whipping wind off the left, just to open the face and have it get anywhere around or over the green," Spieth said of the shot. "I hit it low off the heel, which is easy to do when you're trying to carve a cut. And it just—one hop, scooted around the group of bunkers there, and then it was obviously fortunate to get all the way to the green and keep on going towards the green instead of over towards the left bunker. So really nice to capitalize on it."
Not everything went perfectly for the 23-year-old two-time major champion. After a birdie on the opening hole, he made bogey on the third and made another on the ninth, yanking his short par putt left.
There were also bogeys on Nos. 14 and 16 after some errant shots and another missed short putt. In the second round, he hit just 36 percent of his fairways.
Still, Spieth has done the only thing that matters better than anyone the first two days: Get the ball in the hole in fewer shots than everyone else, even when it might not be going where it's supposed to before that.
"That could've been three or four shots difference over those holes," Stenson said of Spieth's stretch from holes 10 through 12. "If it's your week, a lot of times you need one of those momentum keepers and he certainly got that."
Even Mother Nature was on Spieth's side with only a few short periods of heavy rain and wind, rather than the expected deluge in the afternoon wave.
"I feel great right now," Spieth said. "I wouldn't expect anything different. I don't think I even felt this way at the '15 Masters after Friday."
And we saw how that turned out.