News
British Open 2017: Jordan Spieth proves he can putt and chew gum at the same time after an opening 65 at Birkdale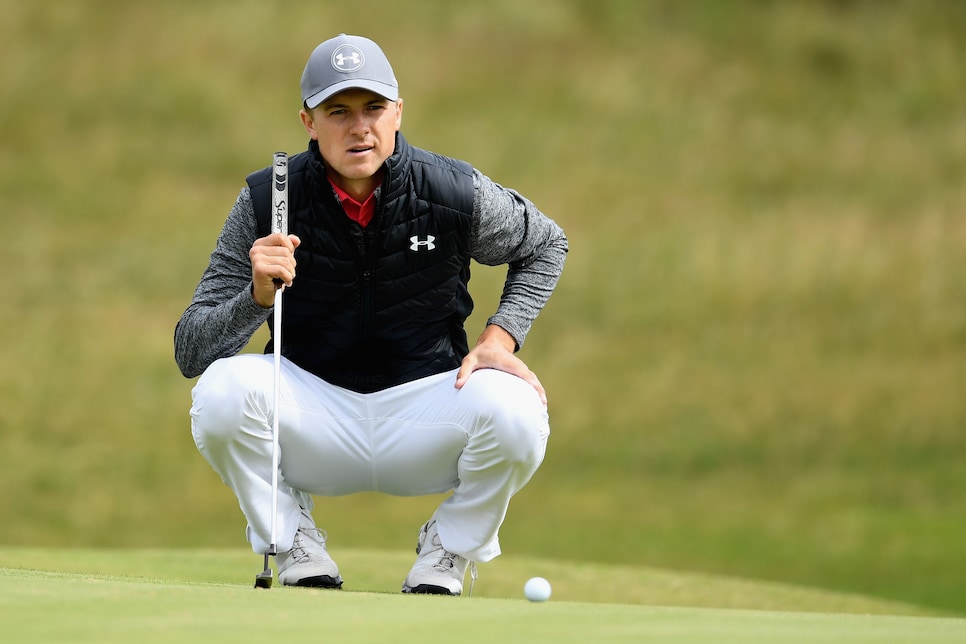 SOUTHPORT, England — Jordan Spieth made it look easy. Easier than it ought to have been, at any rate, given the cloudy, windy conditions that greeting him at Royal Birkdale when he teed off just past 9:45 a.m. for his first round of the 2017 Open Championship. Roughly 4½ hours later, a bogey-free 65 on his score card and a share of the top spot on the leader board, Spieth had capped a round that even impressed himself.
Unprompted, the 23-year-old two-time major champ said that he would give himself "9s across the board" in terms of grades for his tee balls, ball-striking, short game and, most importantly, putting. While the skies gradually cleared and the scores started to creep lower, Spieth still played in steady 15-mph winds, but missed just three greens, the third one still leaving him a putt for birdie from the fringe.
"I'd call it a top five probably, major round that I've played, maybe fifth or sixth, something like that," Spieth said. "I couldn't have done much better than that today."
The lone blemish: A missed birdie chance on the 18th hole that would have tied him with Craig Stadler in 1983 for the lowest first-round at Birkdale.
Still, it wasn't just the lowest opening round in an Open for Spieth (breaking his previous best of 67 at St. Andrews in 2015) but the lowest score he had even posted in 17 previous Open rounds.
The day began with a couple of firsts. During Spieth's warm-up before the round, his instructor, Cameron McCormack, brought out a TrackMan machine to try and gets a sense of how the wind was impacting his distance control. The device came in handy, specifically on the treacherous par-4 sixth, where just 10 birdies were made in the 2008 Open. When Spieth had 215 yards left, but into the wind, he pulled out a 4-iron. It's ordinarily too much club, but not under the circumstances.
"Because I knew how far balls were carrying from our session this morning, I was able to know how far that ball would carry and then I can trust that," Spieth said. "And that's the most important thing. Because you feel like you're hitting so much club. You feel like you're going to fly the world. And then it goes on the front green and I'm 60 feet away. I mis-hit it, it was a good club to get close to the hole."
Meanwhile, Spieth ordinarily isn't a gum-chewer, but on the range McCormick offered him a piece of mint gum. For some reason, he took it. "I was one under through two, and I thought I better keep it in and it's still in now," Spieth said. "It's probably about time for a new piece."
Suffice it to say, Spieth showed he could putt and chew gum at the same time. Unlike last month at Erin Hills, the two-time major champion has his putter working at Birkdale, holing three of his five birdie putts from outside 10 feet.
The putting caught the attention of one of his playing partner, Henrik Stenson, who was also paired with Spieth during the first two rounds of his 2015 Masters victory.
"He was rolling it superbly that week, and I don't think it was that far behind today," Stenson said. "He made a lot of good putts out there. He was putting beautifully."
That said, the shot of the day came from the sand. Hitting his approach on the 16th green into a bunker, Spieth found himself with an awkward, downhill lie that made the third shot particularly tricky. Needing to get the ball up quickly but not allow it to run, Spieth splashed a shot to 15 feet, then rolled in the putt for par to keep his momentum going.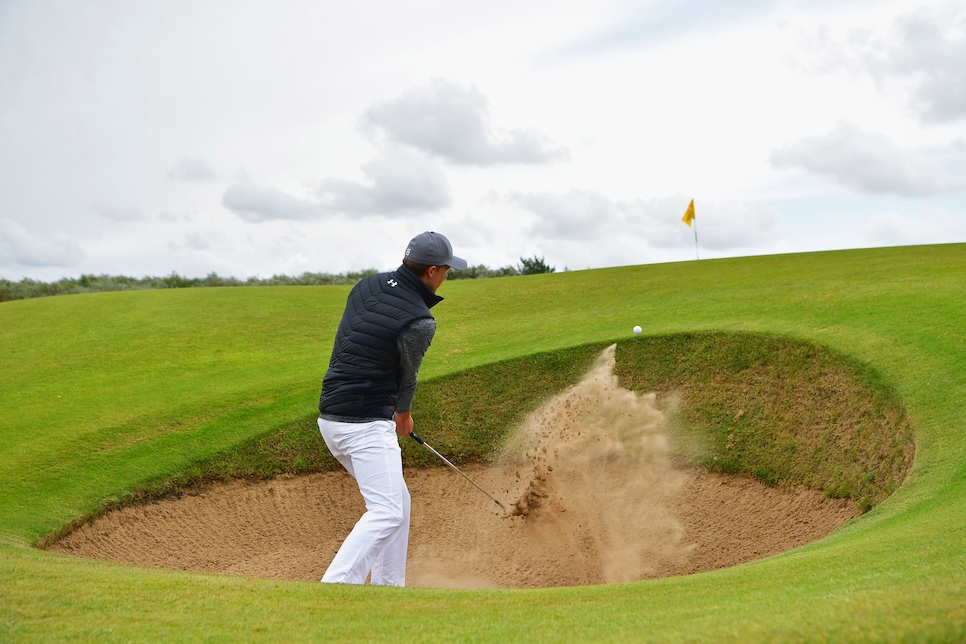 Stuart Franklin/Getty Images
"I'm fortunate we've been practicing that," Spieth said. "I've been practicing out of uneven lies this entire week in preparation for a shot like that. And that certainly won't be the last one I'll have either, but that up-and-down was harder than hitting a 7-iron to 15 feet and making it."
Throughout the round, Spieth seemed noticeably relaxed, a byproduct he says of coming into the Open off a victory at the Travelers Championship. The memorable hole-out birdie from the bunker to win his second PGA Tour title of 2017, helped wash out any discussion of the 2017 season being a mediocre one.
Additionally, he took two weeks off before the Open after playing six out of the seven previous weeks. The time off, some of it spent vacationing in Cabo, the rest tightening up his game at home in Dallas,
"I feel rested and confident, which is a good feeling," Spieth said. "It's tough to have that feeling this late in the season. I thought that was an important break for me."
So just how big is it to open with such a low number? The answer could depend on how accurate the weather folks are about what's coming for Friday at Birkdale. The predicted dreck includes all-day rainy and 25 mph winds. Don't think this wasn't something on the mind of Spieth.
"Given the forecast coming in, I thought you really needed to be in the red today," Spieth said. "You can certainly make up ground, in a round like tomorrow, and we'll see it happen, but being able to kind of play with shots or play a little more conservative, you make a bogey, because you don't try to do too much on a day like tomorrow, that's nice and very helpful."
In turn, Spieth reserved the right to reexamine how he'd rank his Thursday round come Sunday. Specifically, if he finds himself in the mix for a certain piece of silver.
"It could be a lot more significant in three days' time than I would consider it right now."