News
British Open 2017: Jordan Spieth comes up huge at just the right time
For his psyche and for his future, Jordan Spieth needed something special to close on Sunday, and he delivered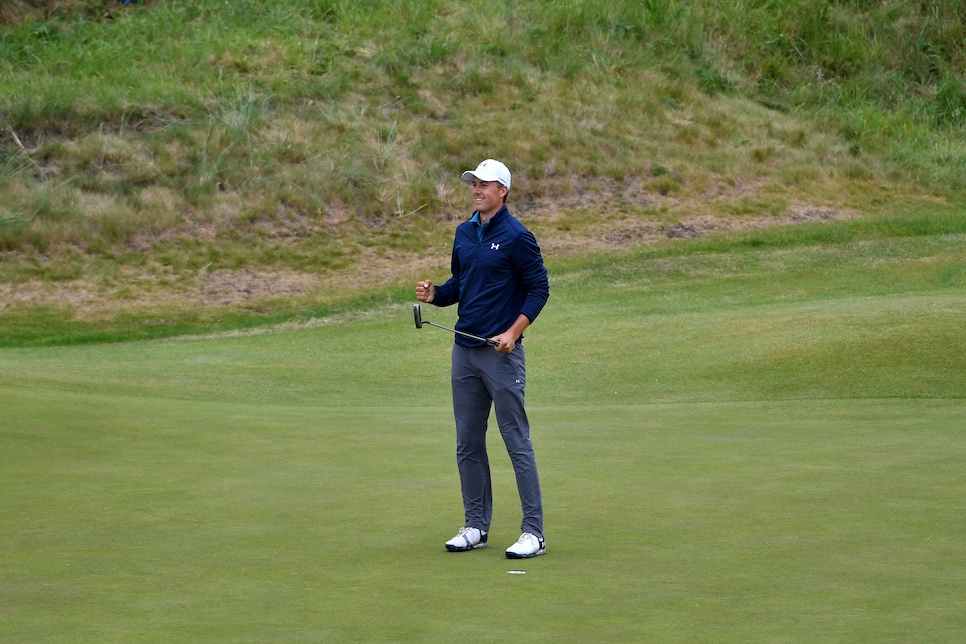 Photo By: Paul Lakatos/Asian Tour
SOUTHPORT, England – Now THAT was clutch.
What Jordan Spieth did on the final nine of the 146th Open Championship goes far beyond the customary, time-honored standard of golfing winners simply "getting it done."
What happened at Royal Birkdale on Sunday wasn't clinical. It was a passion play. Spieth–a fascinating and complicated 23-year-old mix of ambition, ego, expectation, vulnerability, anxiety and talent, who expects extraordinary success but whose commensurate failures promise extraordinary hurt–in a vital career moment that may have produced the greatest pressure he will ever face, conquered himself. His spectacularly triumphant final six holes over classic linksland for the game's oldest trophy exemplified the axiom, "It's not what a man achieves in life. It's what he overcomes."
Spieth's final nine ranks with the most compelling golf theater I have ever witnessed. After losing his three-stroke overnight lead over Matt Kuchar after only four holes, Spieth was clearly shaken by the fluttery sensations that were suddenly producing loose shots and short misses. After three-putting from 20 feet on the ninth to drop two shots to Kuchar, he staggered to the 10th tee tied.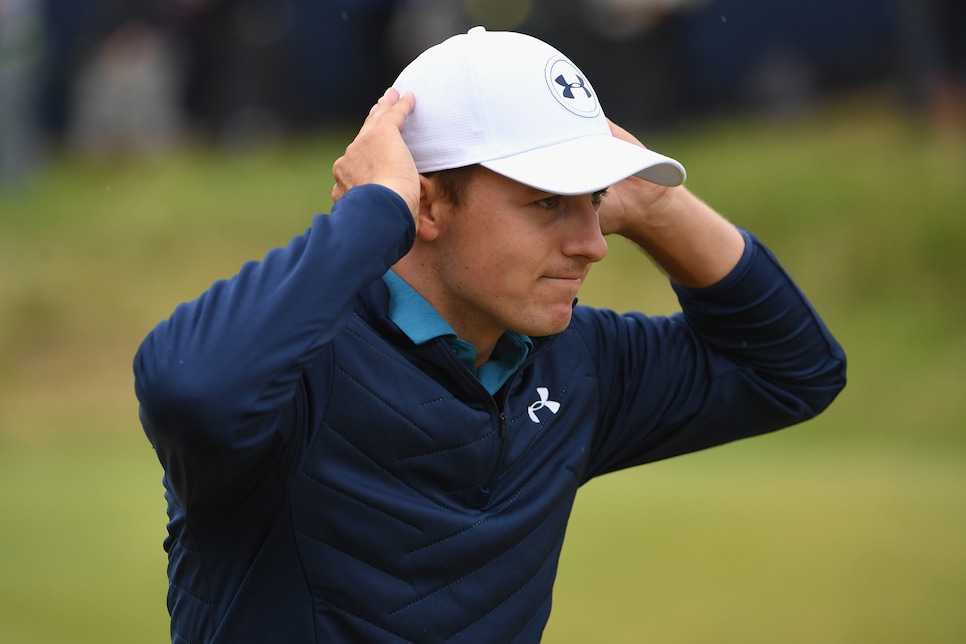 It seemed inevitable that Spieth–who has carried the memory of blowing a five-stroke lead on the final nine of the 2016 Masters–would crack, and he did on the 13th tee, badly blocking his drive into a left-to-right crosswind that carried his ball a good 70 yards off line, where it struck a spectator who was standing atop a 50-foot high sand hill and bounced even further to the right down a steep and overgrown slope. Over the next 15 minutes, Spieth was lucky to find his ball, lucky that the driving range was not out of bounds, lucky to get relief from equipment trucks. After he and caddie Michael Greller ran up and down the dune to get the right direction and yardage, Spieth was lucky after his penalty drop from an unplayable lie to a clean one that his chunk-pushed 3-iron did not roll into a greenside bunker.
Spieth's final nine ranks with the most compelling golf theater I have ever witnessed
But from there Spieth made the kind of artistic up and down that is his biggest advantage over his rivals for morale-boosting bogey. "That putt on 13 [an eight footer] was just massive," Spieth would say. Though he was now a stroke behind Kuchar, Greller made a point of telling his charge "That's a momentum shift right there."
What followed was the most improbably explosive burst of under-par golf I've ever seen in the deciding moments of a major. When Spieth nearly aced the 14th with a laser 6-iron that led to birdie, "all of a sudden I felt and believed that I could win that golf tournament, when 30 minutes prior and really the entire day after the 4th hole I didn't feel that way." He then eagled the par-5 15th with a 48-foot putt, cruised home a 30-footer for birdie on the 16th, and made a crucial eight-footer for another birdie on the 17th that allowed him the comfort of a two-stroke lead while facing a left-to-right wind on the tight tee shot on 18 that could have caused a 13th hole flashback. As an admiring Kuchar would later say, "And he just…he really turned it up."
It was all Tiger-like in its resiliency, drama, stagecraft and ultimately, magic.
That was the external story. The internal one was even better. Upon realizing that the mental and physical command he had shown for three rounds was gone, Spieth was suddenly subject to the doubt, anger, inability to focus and even panic that often hits 54-hole leaders–even major championship winners–on Sunday afternoons, with time rushing by too quickly to stop the damage until the round is abruptly over.
It's more than likely Spieth was in such a state, with the chances of reversing it slim. But somehow, he regrouped. It was arguably a more impressive achievement than, as a much less battle-scarred warrior, he won the Masters and the U.S. Open in 2015. And, more significantly, it was what he had been unable to do last year at the Masters, where after bogeys on the 10th and 11th holes he made a watery quadruple-bogey 7 on the short 12th.
And what made Spieth's achievement at Birkdale all the more admirable was that, unlike the psychological self-protection that most pros understandably practice, the now three-time major winner shared his Sunday experience with the clarity and honesty. Such candor might be Spieth's way of frankly confronting a psychological challenge he wants to vanquish, but it is also one of his gifts to the game.
With only minimal prompting from reporters, in a post-victory press center soliloquy, Spieth acknowledged that he has been more haunted than he has let on by what happened at Augusta. He knew that blowing this Open at Birkdale would have reinforced the perception–both from the public and possibly within himself–that he'd gotten derailed from the historical path to greatness. For Spieth, the special pressure of Sunday was that it was a fork in the road.
"Before the round," Spieth said, "I thought I have a reputation as being able to close, but I was hesitant in saying 'majors' to myself, because there was a lot of–I put a lot of pressure on myself unfortunately, and not on purpose, before the round today, just thinking this is the best opportunity that I've had since the '16 Masters. And if it weren't to go my way today, then all I'm going to be questioned about and thought about and murmured about is in comparison to that, and that adds a lot of pressure to me.
'Do you remember that group you were with?' Greller asked Spieth. 'You're that caliber of an athlete.'
"After four holes it was even more so. And I wasn't questioning myself as a closer, but I was questioning why I couldn't just perform the shots that I was before. I was just as nervous yesterday during the round, and I knew the conditions were harder, but I just wasn't executing. And sometimes you just can't really figure it out, put your finger on it. Am I pulling it? Pushing it? Am I doing both? What's going on with the stroke? It's just searching. And during the round today I definitely thought while any kind of fear or advantage that you can have in this moment over other individuals, not just Matt Kuchar today, but other people that are watching, that's being taken away by the way that I'm playing right now. And that was really tough to swallow. And that kind of stuff goes into your head. I mean, we walked for two minutes, three minutes in between shots. And you can't just go blank. You wish you could, but thoughts creep in."
Spieth has come to accept that such a mental burden is what unavoidably comes with the all-encompassing commitment to being the best player of his time. "Things have happened very quickly, good and bad, because a lot comes with it," he continued. "And a lot more attention, a lot more–versus just being able to kind of go about your own thing. And I never realized how underrated that was. I wanted to be in this position but then, you know, here and there, it becomes harder when it doesn't go your way. And you're harder on yourself because you expect so much.'
In the end, the foundation for how Spieth rebounded on Sunday was a reminder he received from Greller as they were walking off the seventh tee. Alluding to photo recently taken in Cabo San Lucas in which Spieth posed with among others, Michael Jordan, Michael Phelps and Russell Wilson, Greller called Spieth and quietly but firmly exhorted his man.
"He said, 'I've got something to say to you,'" Spieth said. "He said 'Do you remember that group you were with? You're that caliber of an athlete. But I need you to believe that right now because you're in a great position in this tournament. This is a new tournament. We're starting over here.' I'll never forget what Michael–how he told me that, when he told me that and the significance that it had."
Asked to elaborate on that significance, and what allowed him to "summon his burst," Spieth paused. For a moment, his modesty and his sure sense of self were at war. But only for a moment. Spieth, after all, dearly wants to be and in fact, is, a great golfer.
"I'm not sure," he began. "I think just a little bit of belief that you are, you know. Michael Jordan and Michael Phelps are the greatest to ever do what they did, and I'm not. But if you believe that you are, then you're almost as good as being that. And it's so hard in that situation to believe that, but just having just the slightest bit of belief in it makes you so confident. And I thought that that was so well said. It was just such the right time."
More specifically, turning point time. Which is what made what Spieth did at Royal Birkdale so incredibly clutch.