News
British Open 2017: Is Jordan Spieth a lock to win? Not so fast, say computers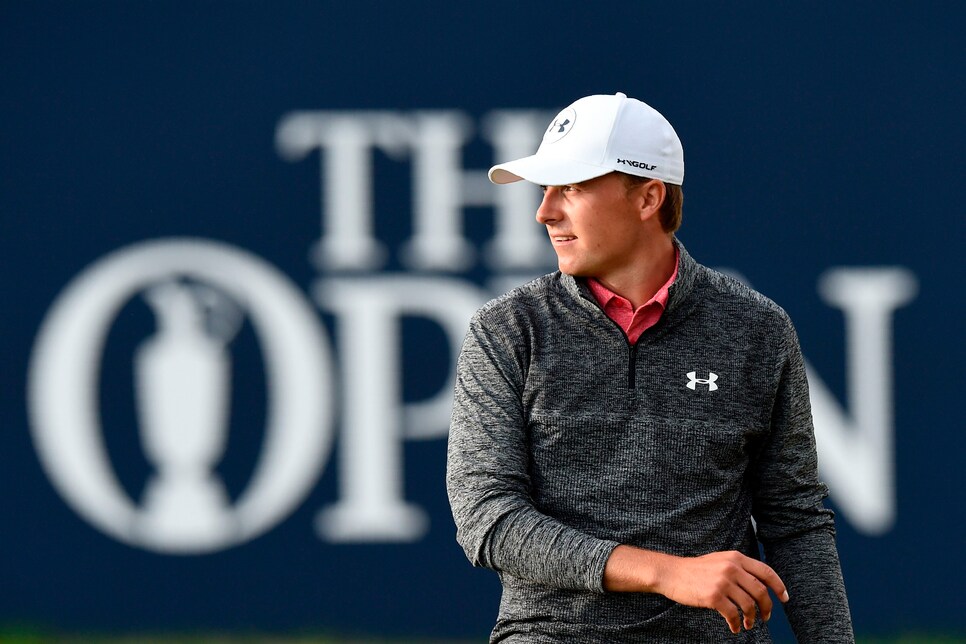 SOUTHPORT, England -- With the way people are talking, one might assume that Jordan Spieth's name has already been engraved on the claret jug. The two-time major champ holds a three-shot lead over Matt Kuchar entering the final round of the 146th British Open, and he's six shots clear of Brooks Koepka and Austin Connelly in third place. Spieth will likely claim the claret jug, but he's far from a lock.
At least, according to The Economist's EAGLE, a statistical prediction system for golf. As Spieth's final-round tee time approaches, EAGLE gives the 23-year-old Texan a 77-percent chance of winning. Think of it like a pretty good free-throw shooter. He's probably going to make it, but he could have one spin out at an inopportune time.
Working in Spieth's favor is that there's only one player within five shots, likely making it a two-man race on Sunday. EAGLE gives Kuchar a 15-percent chance of pulling off a comeback and claiming a first major.
Things get much dire for the rest of Spieth's chasers. Koepka is listed at two percent, followed by Connelly, Hideki Matsuyama, Branden Grace, Henrik Stenson and Dustin Johnson at one percent. Everyone else? Well, according to EAGLE, they have no chance. Here's a look at EAGLE's chart: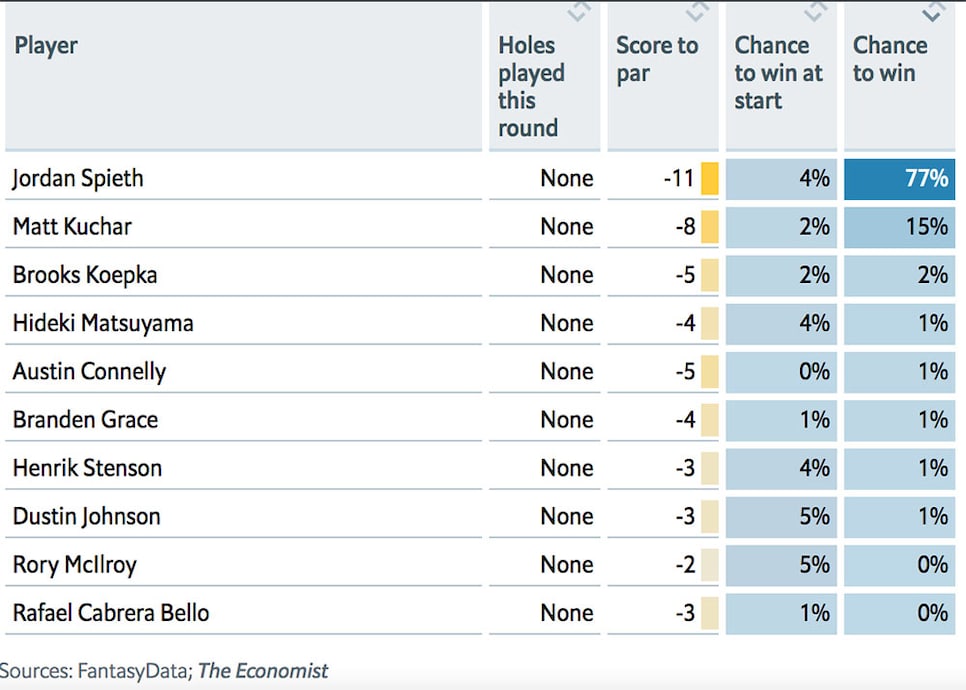 That's obviously not to say such a larger comeback is impossible. At the 1999 Open at Carnoustie, Paul Lawrie won from 10 back after 54 holes. But according to Golf Channel's stat guru Justin Ray, only two of the past 71 major champs since then were six or more shots behind entering the final round.
EAGLE's numbers are in line with betting odds entering the final day. Sportsbook Bovada lists Spieth as a 1-to-4 favorite, meaning you'd have to wager $400 to win $100. Or £400 to win £100. We are in England, after all.
But before Spieth backers start counting their money, there's a couple EAGLE-related things they probably don't want to hear. EAGLE has tracked every major since 2001 and it was a British Open, the 2012 edition at Royal Lytham, where the biggest comeback/collapse occurred when Ernie Els topped Adam Scott, who bogeyed the final four holes, by a stroke. The second-biggest final-round turnaround in all those years? Jordan Spieth at the Masters last year.