News
British Open 2017: Michael Greller helped Jordan Spieth more than you know on Sunday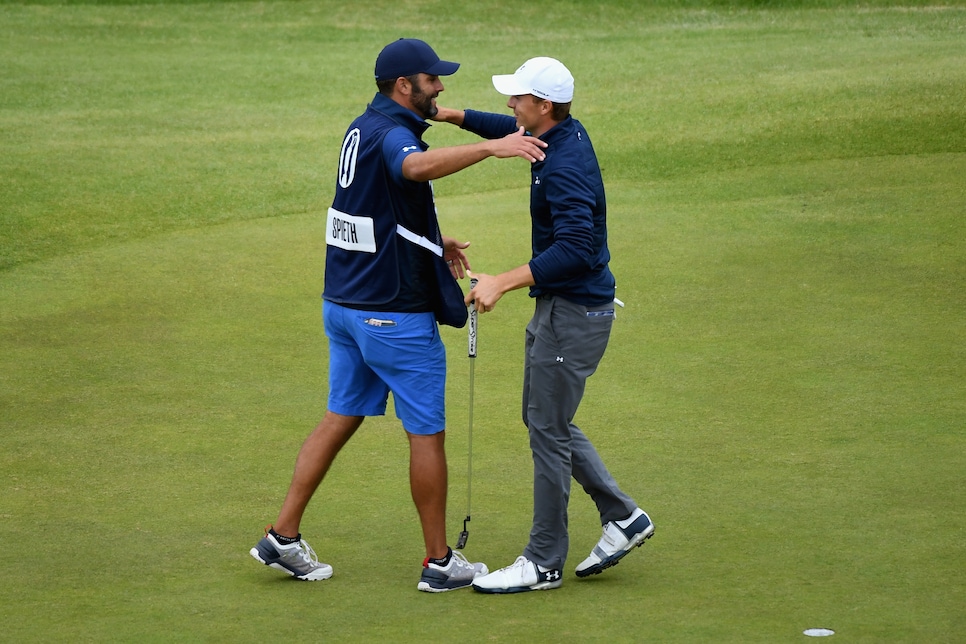 SOUTHPORT, England -- Jordan Spieth was in big, big trouble on the 13th hole on Sunday. Well, somewhere near the 13th hole. After hitting the worst tee shot of his life, taking a tour of some equipment trucks, and finally -- and we don't say "finally" lightly -- taking a drop on Royal Birkdale's driving range, Spieth faced a long, blind recovery shot. But there was another problem: he had no clue how far he was from the hole.
"We took our time getting the line, getting the number," Spieth's caddie said of the odd situation that took 21 minutes to unfold. "He thought it was about 270, I thought it was 230, so that was alarming."
Of course, you know the rest. Spieth put his third shot (he took a one-shot unplayable lie penalty) up near the green and then got up and down for an unlikely five. He then went five under over the final five holes to claim the claret jug. So how did Greller grade the bogey?
"That's the greatest by a mile," Greller said. "I hope I never see one that great again, because that was stressful."
Long after the madness had subsided, Spieth gave his thoughts on that crucial calculation that kept him in alive in the tournament.
"Typically I would -- if you asked me who has the better yardage, myself or Michael in a lot of situations, when we're on a crazy angle, I'd pick myself. And on that one he seemed very confident," Spieth said. "He was very adamant about what club to hit, and it gave me the confidence to hit it, because sometimes when that happens I'll still go with what I think. But he was right on."
It wasn't the only time Greller helped his boss out during his rollercoaster round as he was constantly there to instill confidence. He demanded Spieth "Get over it" after an opening bogey, he refused to take Spieth's club back on No. 5 until the player gave him a fist bump, and on No. 7, he reminded Spieth of a recent trip on which he hung out with a crew of sports legends that included Michael Jordan and Michael Phelps.
"Michael did a great thing today, he said, 'Do you remember that group you were with in Cabo last week,' in a picture that I posted. He goes, 'You belong in that group.'"
And Spieth, who famously refers to rounds of golf as how "we" played, reminded everyone of Greller's greatness as a caddie, both in his post-round interviews and during his victory speech when he said, "This is as much his as it is mine." Minutes after that wrapped up, he saw his caddie and said, "Hey, Mike, here you go." Then Spieth handed over golf's oldest trophy to a grinning Greller.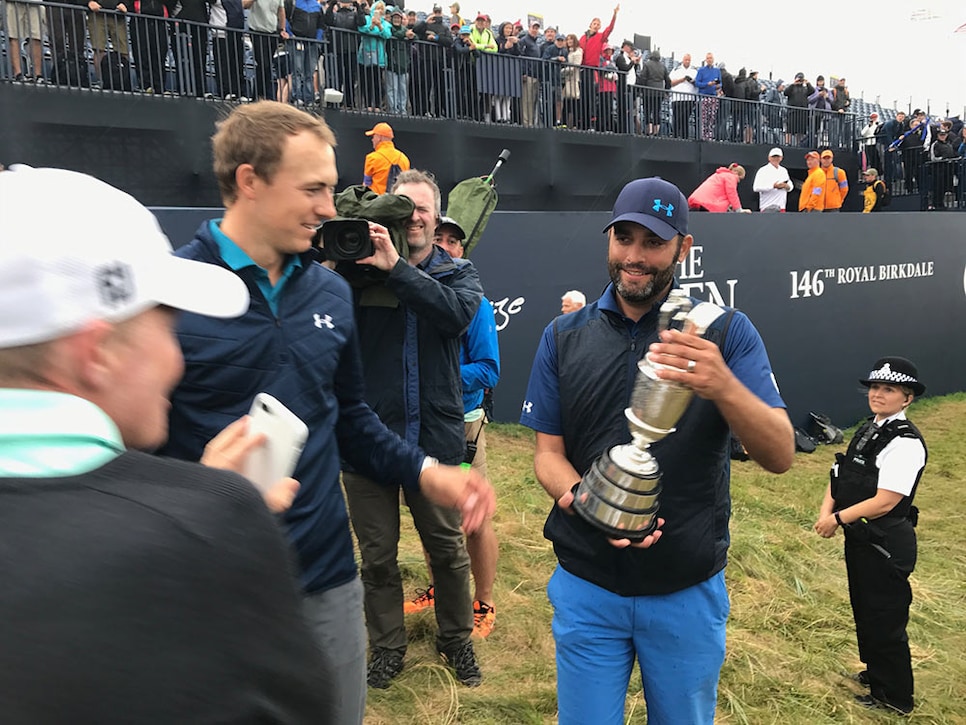 They had won it together.