News
British Open 2017: Grace's major 62 comes on a day when history was there for the taking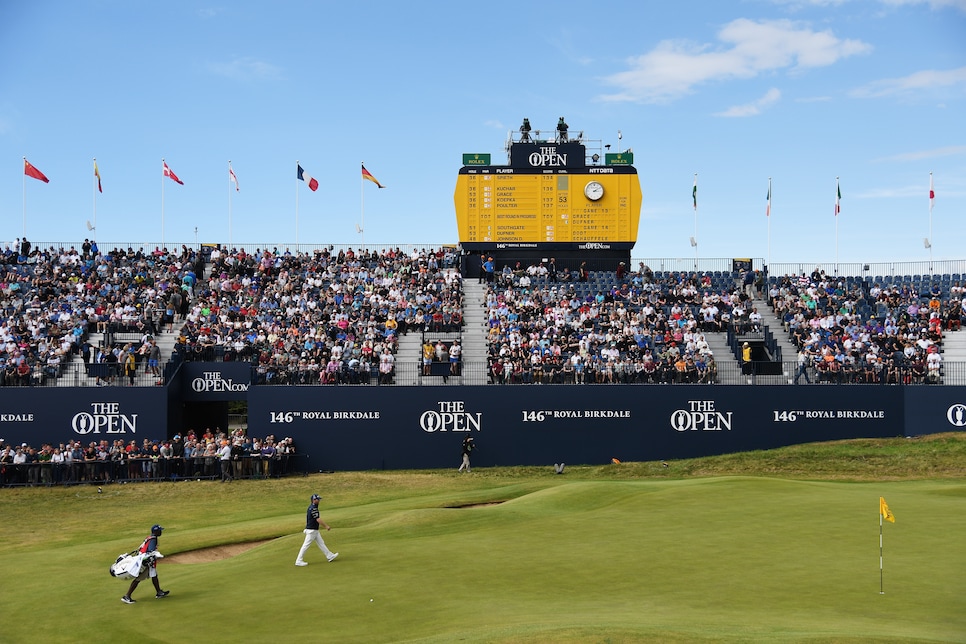 SOUTHPORT, England -- Move over, Johnny Miller.
Branden Grace became the first player to shoot 62 in a men's major championship, eclipsing the mark first set by Miller by a stroke in windless, soft conditions on Saturday at Royal Birkdale.
The 29-year-old South African, meanwhile, had no clue.
"I didn't know what was going on on 18," he said. "I promise you.
"I was just so in the zone of playing, hole after hole. I knew I was obviously playing really well, and making the turn in five-under was pretty special. And I thought if I could make a couple more on the back nine, then it's going to be a great score."
Grace, playing in the 13th group out on a day littered with low scores, began his day with a birdie on the opening hole and added four more on the front nine to make the turn in 29 on the 7,156-yard, par-70 layout.
Following four straight pars to open the back Grace made a long birdie putt on the par-3 14th, then added two more birdies over his next three holes, leaving him needing just par on the last to put his name in the record book. After a drive that split the fairway, his wedge rolled just off the back of the green, but he easily lagged in from 50 feet to set up a tap-in for the record.
After the putt fell, his caddie, Zack Rasego, informed Grace of what he'd just done.
"You're in the history books," Rasego said, according to Grace. "I was like, 'What are you talking about?'
"So obviously now it makes the day even sweeter."
Even Miller, watching from the broadcast booth for NBC when his mark fell, conceded, saying, "Look at that number. That is sweet," before adding, "It was set up really, really easy today, folks, but still a heck of a round."
Indeed. When Grace finished, the course was playing to an average of just 68, and Grace said par felt like it was around 67.
Still, Grace, who has four career top-fives in majors, was in a groove all day, hitting 10 of 14 fairways and, by virtue of having 9-iron or less into 10 greens, hit 16 greens in regulation. He finished with 28 putts.
"I was just enjoying what he was doing," said Jason Dufner, who played with Grace in the third round. "He made a lot of good putts today and that's what helped him do it."
Dufner could relate to what he was going through, too.
Four years ago, Dufner had a putt for 62 in the second round of the 2013 PGA Championship at Oak Hill but left it short. He went on to win anyway.
Grace, who is eight under through 54 holes, is suddenly in contention near the top of the leader board with a day to go.
Dufner, meanwhile, wasn't aware of Grace's score until his birdie on the 17th. He didn't say a word.
"I'm competing against him so I'm not rooting for him 100 percent like his family and friends are, but as a guy out here who plays the tour quite regularly with him in the states I feel like we root for each other here and there when we're trying to do something like that, for a piece of history," Dufner said, adding he wouldn't be surprised if one or two more players made a run at the mark given the benign conditions. "It's kind of neat to be part of history at the Open."
As for the previous mark of 63, it had been achieved 31 times in majors, including most recently by Justin Thomas in the third round of this year's U.S. Open at Erin Hills. Miller was the first to do it, in the final round of the 1973 U.S. Open on his way to winning at Oakmont. Before that, Llyod Mangrum became the first player to shoot 64 in a major, doing so in the opening round of the 1940 Masters.
"It's special," Grace said. "And to do it at the Open Championship is pretty special. … It's something I really enjoyed and something I'll remember forever, definitely."