News
Brian Harman, the other lefty (lowercase L), leads U.S. Open with a chip on his shoulder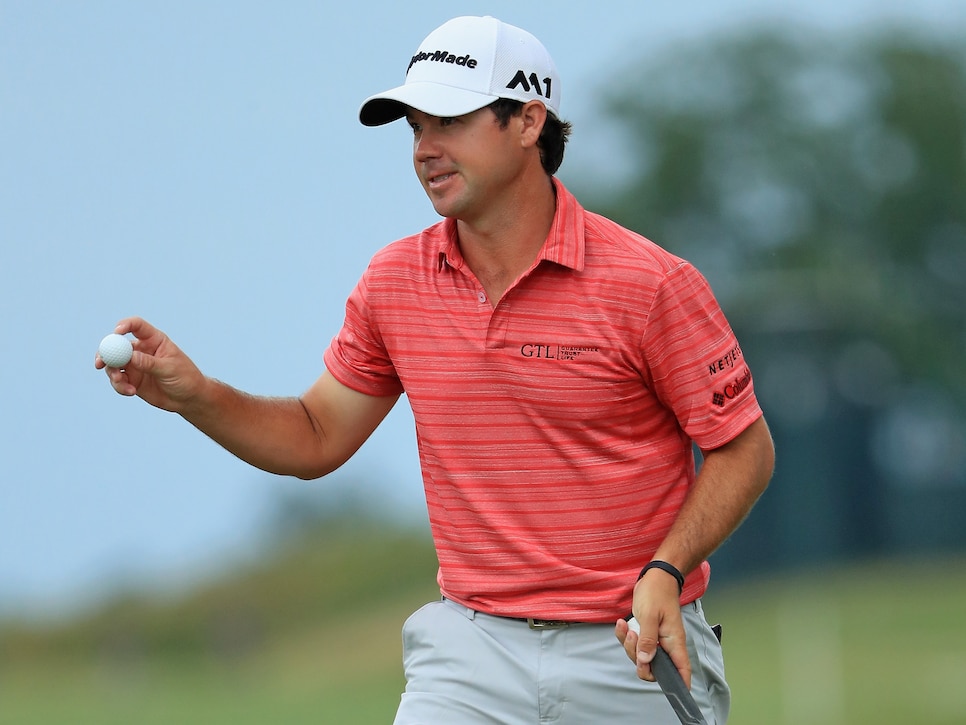 ERIN, Wis. -- A left-hander leads going into the final round at Erin Hills and is looking to win his first U.S. Open on Sunday.
No, not THAT Lefty. The other lefty, the little one, lowercase "L," all 5-foot-7 and 150 pounds of him.
The golf gods work in mysterious ways, and what a cruel twist it would be if Brian Harman were to become the first southpaw to win the U.S. Open the year Phil Mickelson skipped the event because his eldest daughter Amanda was graduating from high school during the opening round. This, inicidentally, is the same daughter whom Mickelson was equipped with a pager for during the 1999 U.S. Open at Pinehurst when wife Amy was pregnant with her (Mickelson famously finished second to Payne Stewart, the first of six runner-up finishes for Lefty).
First, things first. Harman will have to hold off a small army of challengers, with 13 players within five shots of him and three just one back, including Justin Thomas and Brooks Koepka, with Rickie Fowler another stroke back.
"Someone could get out early and shoot a low score," Harman said. "Justin did it today. It's out there, for sure."
Unlike loveable loser Mickelson when it comes to America's national championship, Harman is playing in just his third U.S. Open (he missed the cut in the other two) and the first he was exempt into. So far, he has proved he more than belongs.
Harman made six birdies and just one bogey en route to a five-under 67 on Saturday to get to 12 under for the week, the second lowest total in relation to par, trailing only Rory McIlroy's 14 under through the first 54 holes at Congressional in 2011.
Yes, the conditions are soft, the same way they were six years ago in suburban Washington D.C., but Harman isn't. Don't let the diminutive size fool you. He can play, and he has moxie twice his size.
It was a big victory but still smaller than the chip he brought with him to Erin Hills this week.
"Uh yeah, I do," Harman said when asked if he still carries that chip on his shoulder this week. "I'm not going to delve into the things that I derive my motivations from, but I'm certainly motivated."
It has played out the way he has dissected the biggest U.S. Open in history. While players like Justin Thomas and Brooks Koepka have often simply overpowered Erin Hills, Harman has picked it apart with his overactive brain.
For the week, Harman is averaging 295 yards off the tee -- compared to more than 315 yards apiece for Thomas and Koepka -- and has hit 88 percent of his fairways. He has also hit at least 12 of 14 greens every day and ranks seventh in the field in putting.
"I'm more motivated by the fact that I've made a plan and I've stuck to the plan so far," Harman said. "Obviously I have no idea what [Sunday] holds, but I'm more motivated by the way that I'm striking the ball. It's the best I've struck the ball in a long time. And my short game is pretty good. I've been putting it pretty good."
It upsets Harman little, meanwhile, that he's probably the biggest underdog on the packed leaderboard. He has been told he's too small his whole life, and it fuels him.
In 2003, Harman won the U.S. Junior Amateur with a 5-and-4 rout in the championship match a year after blowing a one-shot lead with one hole to go against Charlie Beljan in the quarterfinals when he hit his tee shot into the water. "The choke has been avenged," Harman said at the time.
Two years later, he was the youngest member of the Walker Cup team at age 18. He went 2-0-1 for the Americans that week.
Then, in 2009 while playing for the University of Georgia, he slayed Fowler in the quarterfinals of the 2009 NCAA Championship, making three straight birdies over the final three holes to finish him off.
When Harman turned pro later that year, it admittedly took him longer to adjust to the big stage than it did junior or college golf. Still, there was plenty of bulldog – and talent – in him.
Five years in, he got his first career victory, overcoming a nervous start from playing in the final group for the first time with three straight birdies to close to beat Zach Johnson at the 2014 John Deere Classic.
And, just to make a point for good measure, at the 2015 Barclays, he made a pair of holes-in-one. On the same day. Afterward, he sent over 300 beers and a bottle of Crown Royal to the media.
But the chip on Harman's shoulder dates back to long before any of those accomplishments.
"I think since my dad dropped me off at football practice and told me to not be disappointed if I didn't get to play at all," he said Saturday night. "I played a lot."