Brendan Steele ties for Memorial lead with recent assist from Phil Mickelson
DUBLIN, Ohio – An often expressed notion in golf circles is that more can be learned from defeat than from any victory. Brendan Steele went to school after an ignominious two, um, casual rounds last week with Phil Mickelson, and the evidence is his share of the early 36-hole lead in the Memorial Tournament presented by Nationwide.   With a second-round five-under 67 at Muirfield Village Golf Club, Steele found himself tied atop the leaderboard midway through round two with Matt Kuchar, the 2013 Memorial winner, who posted a second consecutive 66 when conditions again presented an embarrassment of scoring opportunities.   "The course is in fantastic shape, and conditions are as good as we'll ever see," said Kuchar, who has broken 70 in 10 of his last 11 rounds. "Five miles an hour is the most we're feeling of any wind. The temperature is up. The ball is going a good distance. The course is definitely gettable."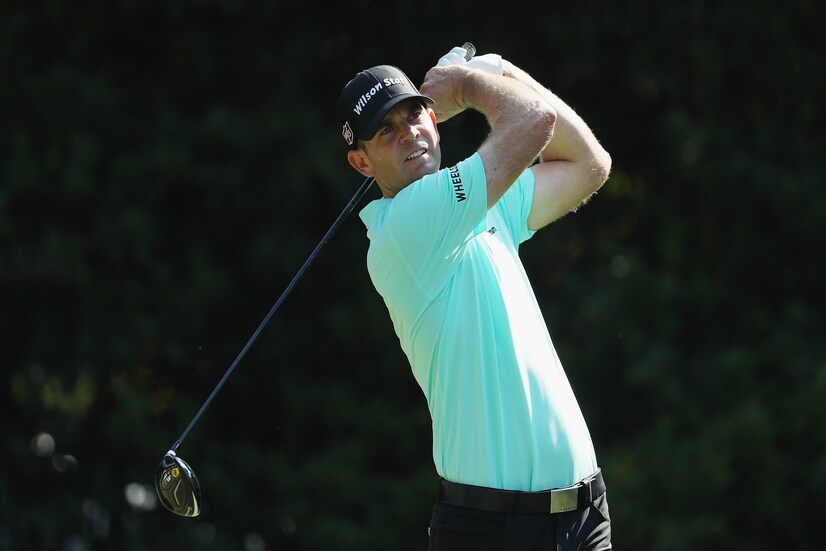 Brendan-Steele-Memorial.jpg
PONTE VEDRA BEACH, FL - MAY 12: Brendan Steele of the United States hits his tee shot on the 11th hole during the first round of THE PLAYERS Championship at the Stadium course at TPC Sawgrass on May 12, 2016 in Ponte Vedra Beach, Florida. (Photo by Scott Halleran/Getty Images)
Steele, 33, of Irvine, Calif., is an unlikely candidate for appropriating the tournament narrative. Ranked 82nd in the world, an owner of a lone PGA Tour title, the 2011 Valero Texas Open, Steele hadn't posted consecutive rounds in the 60s since the Northern Trust Open in February. His only top 10 this season came in November.   Then there was his friendly matches last week in San Diego with the aforementioned left-hander, whose match-play chops are as sharp as his barbs. Steele lost, 2 and 1, the first day at The Bridges and came back for more abuse the following day at Rancho Santa Fe Country Club, where Mickelson shot 10 under and excused his young friend, 5 and 4.   "He drummed me around a couple of days," Steele said.   "I use a little bit more flamboyant term, but that's fine," Mickelson said with a grin.   But the beating proved useful. "I felt like my game was very inferior to his. I felt like I needed to work really hard."   And where his weaknesses might be.   "I think it's hard in an off week to find out where your game is at unless you play against good competition," said Mickelson, who added a 69 to his opening 68 to trail Steele and Kuchar by five. "He identified the area he needed to work on. The guy is one of the longest, straightest drivers out here. So when his iron play is on, he will score like he's scoring this week."   Steele called in his teacher, Rick Smith, no stranger to central Ohio. A one-time instructor to Mickelson, Smith was formerly an assistant pro at Muirfield Village and at nearby Scioto Country Club. Steele had gotten narrow and steep with his irons, particularly his wedges, and Smith quickly diagnosed and corrected the problem.   "He fixed me in like five seconds," Steele said sheepishly. "He went, 'Oh, yeah, you need a little bit more width on the way back and on the way through.' I said, 'Oh, is that it?' He goes, 'Yeah, that's it.'"   Yep, that was it.   Steele ranks sixth in strokes gained—off the tee and 11th in strokes gained—approach to the green thus far, and the result is 14 birdies and a hole-out eagle Thursday at the tough par-4 18th with an 8-iron from 154 yards.   That works.   Can it keep working? Fresh off those instructional sessions with Smith, Steele is inclined to think so.   "Normally, what happens with this game, for me at least, is you get a good feel, you get a good key, and it lasts for a few days, hopefully a couple weeks, and then it kind of goes away," he explained. "You either overdo it or you think you're still doing it and you're not or you made some mistake with your alignment, or whatever the case may be, and you have to work on something else.
"But when you get something on a Tuesday or Wednesday before a tournament and it starts to feel really good, that usually ends up being a good week."   Sound the drums?
You are using an unsupported version of Internet Explorer. Please upgrade to Internet Explorer 11 or use a different web browser.