The Loop
Breaking down the amateurs chances at the Masters
AUGUSTA, GA. -- What were you doing during Masters week when you were in the eighth grade? Let us answer this for you: You were certainly not playing in the world's biggest golf tournament.
Given he's all of 14 years old, China's Tianlang Guan has looked surprisingly calm as he's made his way around Augusta National GC the past few days in preparation for becoming the youngest competitor ever to compete in the Masters. (Not so coincidentally, he's playing in a threesome with the individual whose record he's breaking, Matteo Manassero, who was 16 years old when he first played in the Masters in 2010. Ben Crenshaw is rounding out the trio.)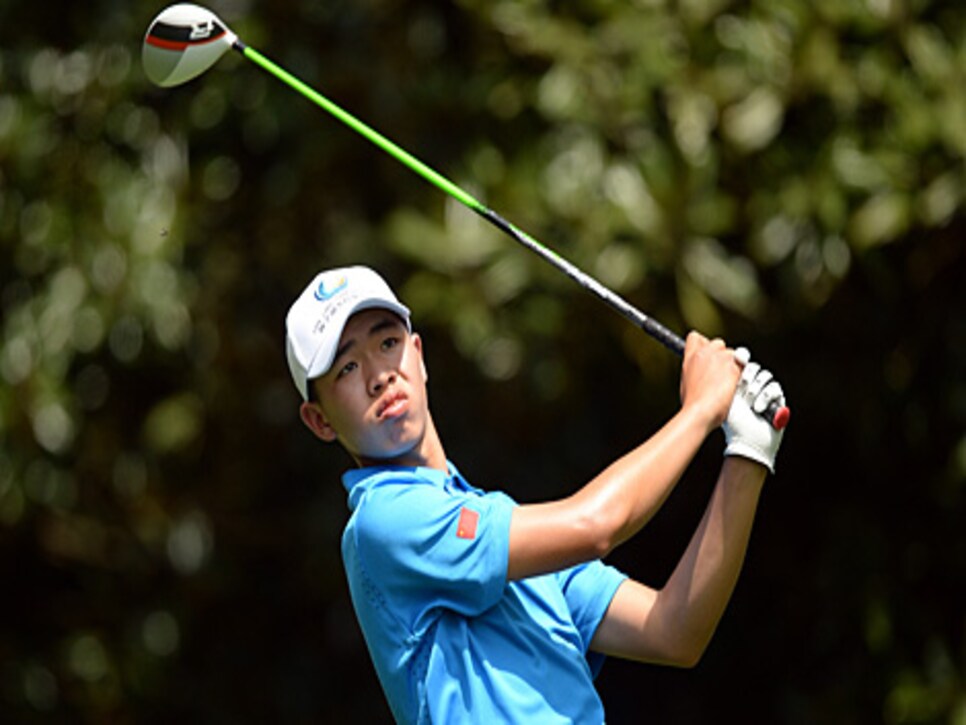 In hopes of not becoming too overwhelmed by the experience, Guan, who had played amateur events previously in the United States, is trying to make his time in Augusta as "normal" as possible. He's brought homework from school to distract him when he's off the course, although he's already warned his teachers not to expect him to complete all his assignments. He has also indulged in the traditional amateur traditions, including staying in the Crow's Nest Monday night.
"I'm not going to push myself too hard," said Guan, his English broken but more than understandable. "I'm trying to just enjoy my game, play my best and hopefully play some good [golf]."
That, however, is the most intriguing question: Can Guan play good enough golf to make his Masters debut last through the weekend? Moreover will any of the other five amateurs in the field this week make the cut and give chase to joining the eventual tournament champion at Sunday's green-jacket ceremony?
Here's a look at the contenders in order of who is the most likely to play four competition rounds at Augusta National this week.
Michael Weaver, 21, Fresno, Calif.
How he qualified: U.S. Amateur runner-up
Odds of making the cut: 4-1
Skinny: If there was solace for Weaver after losing his last three holes to let the U.S. Amateur title slip from his hands during the championship match at Denver's Cherry Hills CC last August, it was knowing that he was still going to be in the field this week at Augusta. Impressively, the redshirt junior at California didn't let the sting of the defeat get to him; during his college season he has had four top-five and seven top-15 finishes while posting a 71.6 average for the Golden Bears, helping them win eight team titles and claim the No. 1 ranking in the Golf World/Nike Golf coaches' poll. Weaver's consistency during the college season has been impressive. The only knock on him is that he has never played a pro event prior to this week. Having at least a round or two under his belt would help make sure the butterflies aren't too great as he tries to become the first American amateur to make the cut in the Masters since Luke List and Ryan Moore did it in 2005. He celebrates his 22nd birthday on Friday, and there's no doubt the present he's most hoping for is a score low enough to play two more rounds at Augusta National.
Steven Fox, 22, Hendersonville, Tenn.
How he qualified: U.S. Amateur champion
Odds of making the cut: 7-1
Skinny: Three years ago as a freshman at Chattanooga, Fox was a patron in the gallery during a practice round at the Masters, his squad getting tickets after playing in a college event hosted by Augusta State the previous weekend. With some amusement, Fox noted that during his Monday practice round he saw players from a handful of schools watching him. The U.S. Amateur champion says he's finally feeling good about his game again, having finished second in a college tournament last week, after admitting that in the wake of his U.S. Amateur triumph he tinkered a little too much with his swing in an effort to live up to his newfound title. Fox is a cool customer ... if he has a good opening round tomorrow there's a reasonable chance it will propel him into the weekend.
Nathan Smith, 34, Brookville, Pa.
How he qualified: U.S. Mid-Amateur champion
Odds of making the cut: 10-1
Skinny: Is the fourth time the charm for the reigning king of the career amateur set? While claiming a monopoly on the Mid-Amateur title, winning in 2003, 2009, 2010 and 2012, Smith hasn't been able to find the same magic at the Masters. His best score in six rounds is a 72 and his average is 75.17. While there's reason to think Smith might finally break through this year -- he's a better golfer than his stats at Augusta National suggest -- he also must contend with the Masters' Mid-Am curse: Since the club first invited the Mid-Am champ to compete in 1989, none have been able to make the cut.
Alan Dunbar, 22, Northern Ireland
How he qualified: British Amateur champion
Odds of making the cut: 15-1
Skinny: The plucky young man from Portrush already has a major under his belt after his victory last June at Royal Troon. His missed cut at Royal Lytham & St. Annes offered him the chance to acclimate to playing in a professional event, as have his three starts this year in European Tour events, all also ending in just two rounds played rather than four. Dunbar arrives at Augusta having defeated U.S. Amateur champion Steven Fox, 1 up, at last week's Georgia Cup, but whether that engenders the confidence needed to succeed this week remains to be seen. The likelihood that this is his last amateur event (he is expected to turn pro afterward, thus bypassing his invitation to this year's U.S. Open) might also be enough of a distraction to cause him to stumble.
T.J. Vogel, 22, Pembroke Pines, Fla.
How he qualified: U.S. Amateur Public Links champion
Odds of making the cut: 20-1
Skinny: The senior at Florida took advantage of his relatively close proximity to Augusta National by playing more than 15 practice rounds at the club since winning the PubLinks last July. Unfortunately though his preparations were waylaid when he needed hernia surgery in December. In four college events since the operation, Vogel's best finish has been a 12th-place showing compared to finishing seventh or better in all four fall starts for the Gators. Putting has been his specific issue this spring, which doesn't bode well on the slick greens at Augusta National. The intangible Vogel has going for him, however, is his smarts. "His golf IQ is probably in the top three or four guys I've ever had," said Florida coach Buddy Alexander, who played in the 1988 Masters after winning the U.S. Amateur the previous year. Whether that will be enough, however, remains to be seen.
How he qualified: Asia-Pacific Amateur champion
Odds of making the cut: 30-1
Skinny: When you admit in your pre-tournament press conference that you're "not long enough" off the tee at Augusta National, it doesn't inspire confidence. Yet the middle-schooler has been embraced not just by the club but by fellow competitors as he makes his historic Masters debut, sneaking in a practice round with Tiger Woods. In what has the potential to be an amazingly overwhelming experience for somebody so young, Guan's biggest issue isn't going to be his maturity. Rather it's going to be playing on the most challenging course he's ever seen in his life. Give him time and he'll be just fine here and in other major venues, but 2013 is going to be a learning experience.