The Loop
Breakfast At Turnberry, Thursday edition
TURNBERRY, Scotland -- While America just now begins to wipe the sleep out of its eyes, the 138th British Open has already been underway for hours. What have you missed? A brief rundown: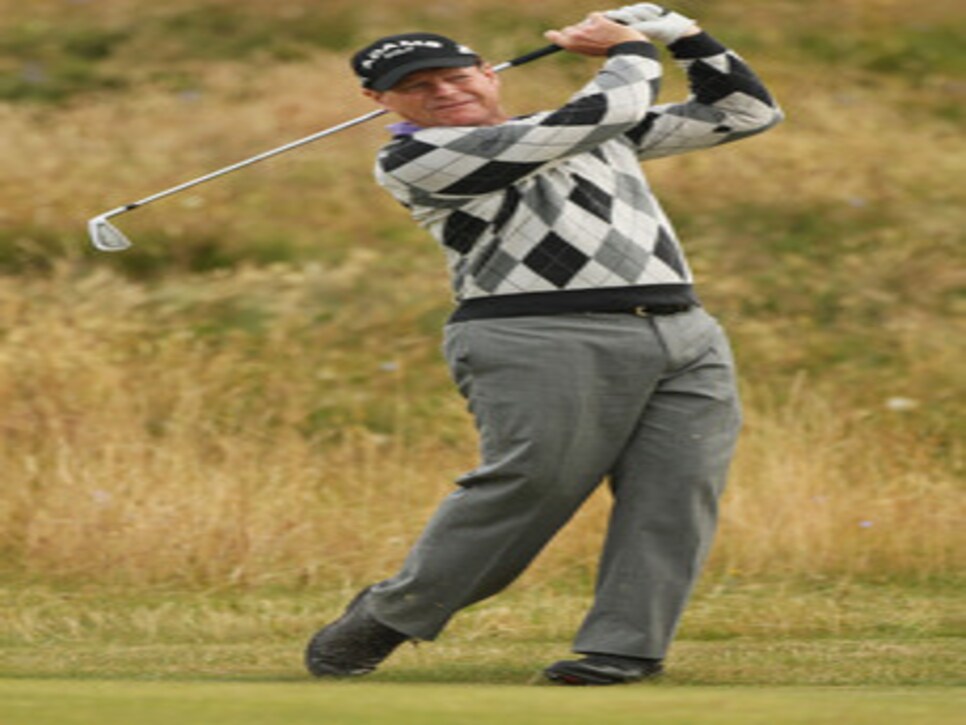 Is that the same Tom Watson?: Already a five-time Open champion, Tom Watson on the eve of the first round maintained a straight face when he said he could contend for a sixth title at age 59. He wasn't kidding. Decked out in an argyle sweater straight out of the Carter Administration, Watson captivated Turnberry from the start of his round, and went on to take the lead with a five-under 65.
Approaching his 60th birthday in September, Watson by R & A rules is supposed to play his final Open next year at St. Andrews. "Unless I played well here and maybe have a sixth championship under my belt after Sunday," he said Wednesday. "Now that would be a story, wouldn't it?"
A spot atop of the leader board on Thursday isn't bad in itself. Watson had already felt he could be competitive on links courses, and added that he got a boost when he received a text of encouragement from Barbara Nicklaus, whose husband, of course, was the other half of the famed "Duel In The Sun" in 1977.
"I don't live in the past," Watson said. "But certainly that has been at the forefront of a lot of conversations for me this week. A lot of people have been congratulating me for '77, and they remember it, too. It's also amazing there's a lot of kids in the tournament who were not even born in 1977.
Incidentally, Watson is not the only past senior champion in contention. Mark O'Meara is another at three under. And that's not even counting 49-year-old Mark Calcavecchia, who is also in with a 67.
Alas, not all of the former champions were so successful. A year after he had his own flirtation with an unlikely Open title, Greg Norman again had wife Chris Evert monitoring his every move, but this time struggled to an opening 77.
Worthwhile trip: An irony of Calcavecchia's fast start is he almost took a pass on this year's Open. Forced to play 36 holes on Sunday to finish the John Deere Classic, the 1989 Open champion said his back was in spasms over his final 18 and at least contemplated pulling out of his favorite tournament. "If it had been the Scottish Open or some other tournament other than this one, I may not have come. But you know, once I got done I took a few more Aleve and a couple of beers and several more beers went flowing down on the plane. The next thing you know we were landing." Calcavecchia's decision to come was justified in the first round. In the first group of the day, he fired a three under 67 in just over four hours to take a brief clubhouse lead before being Australian John Senden carded a 66.
Taking advantage of a light practice schedule earlier this week, Calcavecchia's play this morning had Paul Azinger and Tom Weiskopf (both here to work for ABC television) offering congratulations as he came off the 18th green. Despite the fast start, however, Calcavecchia is not expecting to be celebrating come Sunday night. "My thoughts of winning have pretty much gone out the window," he said. "I don't think of winning Monday through Friday. Now if I have the lead two and a half days from now, that will change." A couple more scores like the one he posted this morning would be enough to change anyone's mindset.
As an aside, Calcavecchia's wife, Brenda, was back on her husband's bag this morning. When the veteran drew a similar tee time in wretched conditions last year at Royal Birkdale, Brenda, who was under the weather at the time, was instructed by Mark to stay home. Some news reports framed it as if she had refused to caddie in the rain.
"There were articles written and some of them bothered her," the player said. "And no matter if it's like last year, she'll get out there. You can count on that. She'd go 36 a day if she had to."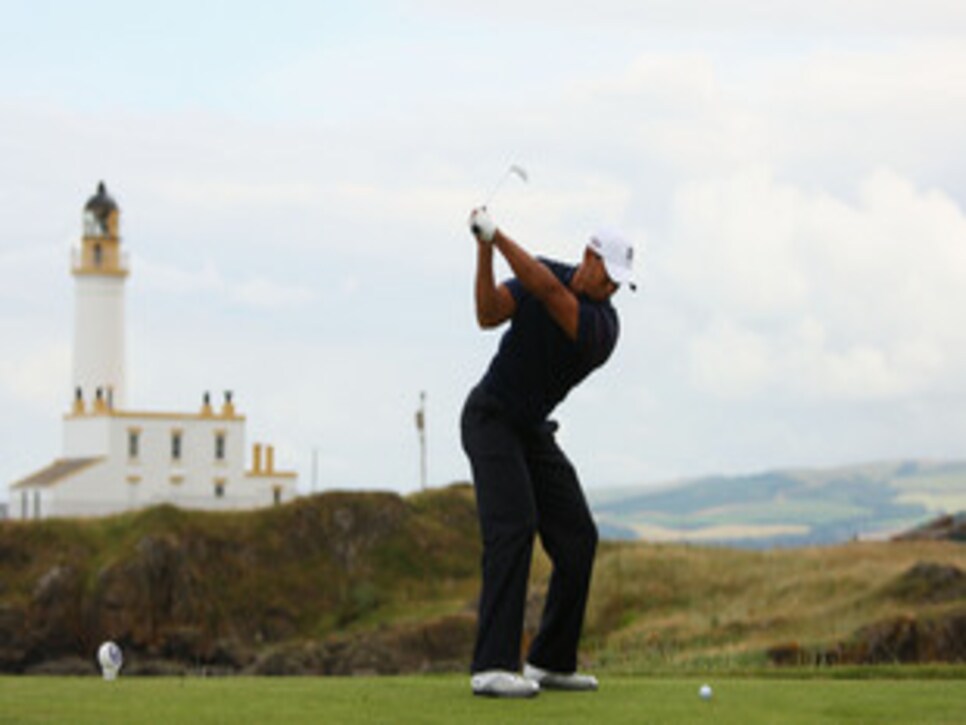 On his way: It didn't take long for Tiger Woods to hint at his strategy for the week. The three-time Open champion hit irons off the tee on the first two holes, and even birdied the second when he rolled in a 12-footer. Just as he did at Hoylake in 2006, when he hit just one driver in 72 holes, Woods appears content to sacrifice distance if it enables him to steer clear of Turnberry's fairway bunkers and high fescue rough. And if his first swing with the driver is any indication -- Woods pulled his tee shot into the fescue en route to a bogey on the par-4 third -- he may opt for even more irons that originally planned. With two birdies and a bogey, Woods made the turn at one under.
__There for the taking?:__The three previous Opens at Turnberry have featured the golf course at its most vulnerable (the 1977 and 1994 Opens when Tom Watson and Nick Price, respectively, won at 12-under par ) and its most confounding (the 1986 Open when Greg Norman survived wicked rough and biting winds to win at even par). Only a few hours in, it appears that Golf Digest's Jaime Diaz was right when he said he expected to see birdies in abundance this week. The morning began with little wind to speak of and greens softened by cloud cover, and the forecast doesn't call for anything drastic the rest of the way. Hence, you already have a healthy showing of red numbers on the board.
"She was defenseless today," Watson said. "It was an easy test if you can have an easy test in an Open Championship."