The Loop
Breakfast At Turnberry, Friday edition
TURNBERRY, Scotland -- One day after Turnberry turned in its best Scottsdale imitation, the British Open has unmistakably returned: Wind. Rain. The timeless golf ski cap. About the only similarity between the first and second rounds is that John Daly's pants are still best viewed on an empty stomach (or to quote one of Dan Jenkins' priceless Twitter offerings, "John Daly, the trailer park called after seeing your pants. They want their shower curtains back.")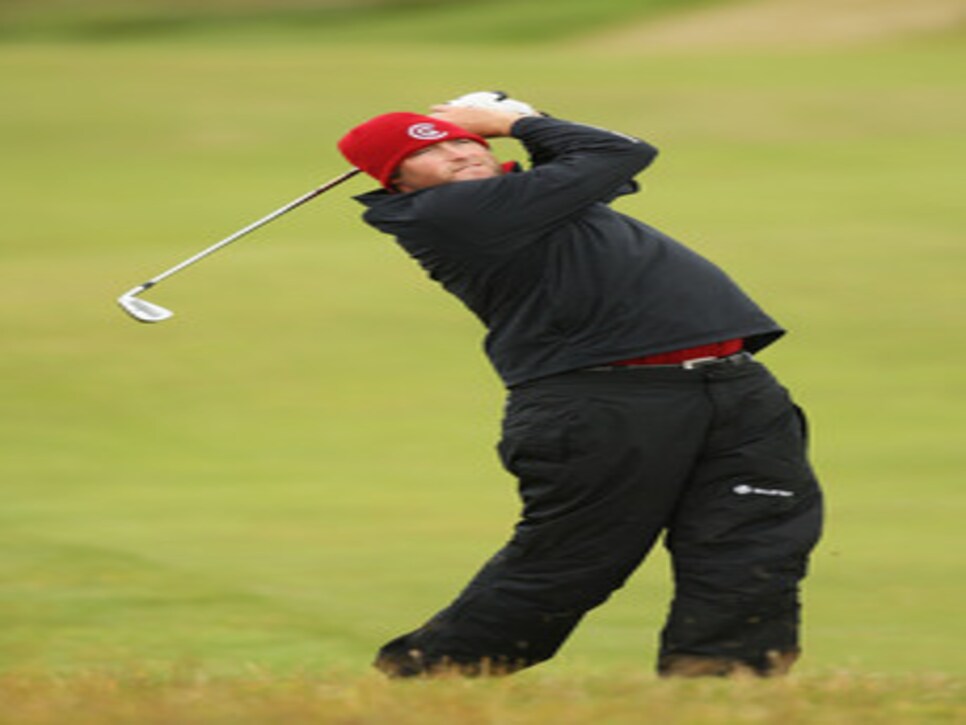 As one might deduct, the wind has taken its toll on scores. Just ask Miguel Angel Jimenez, who followed up his 64 on Thursday by bogeying four of his first six holes. Or Ben Curtis, who was just a shot back heading into today and summarily played his front nine in 42 ... with a birdie on the first hole. Other than a few exceptions -- most notably Japan's Kenichi Kuboya and  American Steve Marino -- the players faring the best are the ones still snuggled in their beds in the Turnberry Hotel. That includes Tom Watson, who remains at five under and doesn't tee off until 1:09 local time; and John Senden, Steve Striker, Camilo Villegas, and Stewart Cink, all of whom are at four under.
Of course, the conditions are not expected to get any easier as the day goes on, so it's not like they're catching a break in that regard.
Meanwhile, a quick survey of the landscape:
__If you had Kenichi Kuboya in your office pool, raise your hand:__Regardless of how he finishes the week, the 37-year-old Kuboya  has left an indelible mark on this Open, not only for his birdie-birdie-eagle-birdie finish Thursday evening, but by managing to sabotage the entire Open press corp's evening in the process. By the time Kuboya holed out for his 65 at 9:04 p.m., the Turnberry media center was close to empty, with even the most dilligent journalists assuming all the day's worthwhile action was complete. Four remarkable holes later, it's safe to say a collective lesson has been learned. Meanwhile, Kuboya doesn't appear to be in a rush to exit the stage. He birdied two of his first four holes, and is now at six under. "I can't honestly say I like links golf as it can be so difficult," Kuboya said. "But the result came out good today, so I have to say I like it now."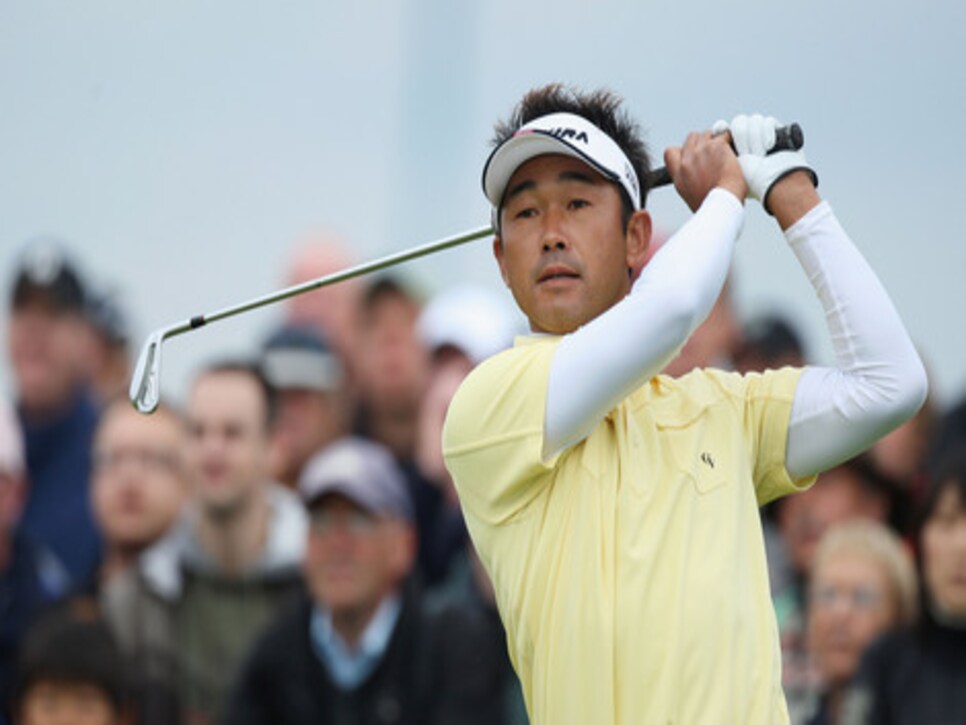 Haven't we heard this story before?: In the Brian Watts-Ben Curtis-Todd Hamilton mold of obscure American players who make a name for themselves at the British Open, we now might be able to add the name Steve Marino. The world's 77th-ranked player whose best finish on the PGA Tour was a playoff loss to Steve Stricker at Colonial, Marino only got into the field this week when Shingo Katayama withdrew. But even then, it took some scrambling to get here. When he received word that he was in on Sunday, Marino was playing the John Deere Classic, and didn't have his passport with him. So he flew his father from Virginia to Florida to dig it out of his house, then had his father FedEx it to him in Illinois. The 11th hour scramble was rewarded yesterday, when Marino rolled in a curling 15-foot eagle putt on the par-5 17th to move to five under.
__Should Tiger Woods be kicking himself or licking his chops?__Perhaps a little bit of both. A day after his mediocre 71 marked the fifth straight major in which he failed to break par in an opening round, Woods appeared to lose some important ground when he should have taken advantage of Turnberry at its most vulnerable. By one theory, the blustery conditions today will make it that much tougher for Woods to work his way back into the mix. More likely, though, Day 2 is playing right into his hands. One-over suddenly isn't so bad, and the tougher it is for field on whole, the more he should feel at home.
Sandy and Monty, the saga continues: Take a stroll past the practice green and then the clubhouse here, and you'll happen across the Colin Montgomerie Links Academy. Why do we get the feeling Sandy Lyle will not be invited to be a guest lecturer there anytime soon? Honestly, the British press should send a gift of some sort to the two Scottish golfers for the delicious fodder that has been provided the last few days. As if it wasn't enough for Lyle to call Monty a cheater, then apologize, then hear Monty say his apology didn't suffice, Lyle added another chapter on Thursday when he called Lyle "a drama queen" on BBC Radio 5 Live. Sadly, neither player is likely to be around beyond today. Lyle is at eight over after a second-round 73, and Montgomerie has stumbled out of the gate early in his second round.
Perhaps we can pool our money together to convince them to stay...