The Loop
Braves pitcher Sean Newcomb just had an incredibly rough day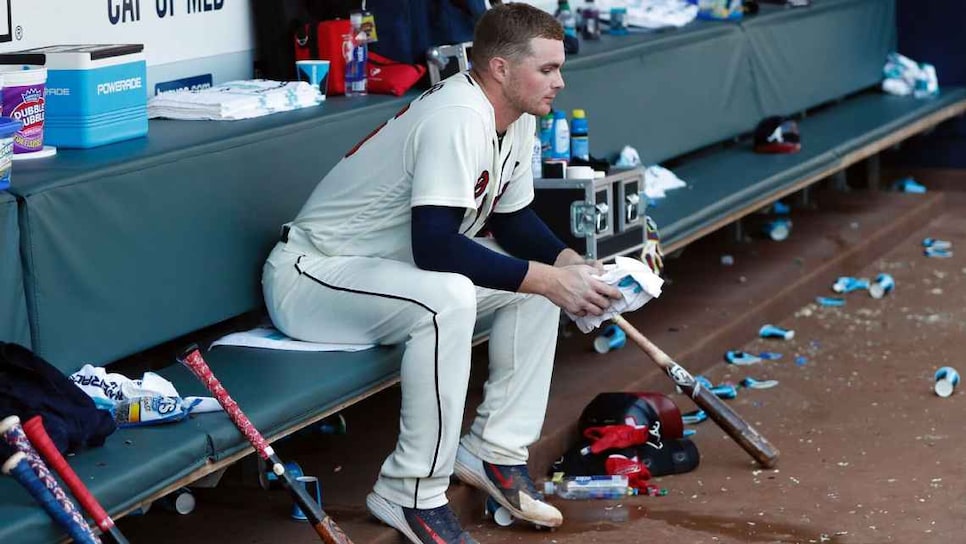 I was going to title this post "Sean Newcomb had the worst day possible," but then I remembered that we live on a planet where tragedies and poverty and suffering happen, and things could be considerably worse. But in the realm of people who aren't experiencing true misery, Braves pitcher Sean Newcomb had a really tough day. And the whole thing was made worse by the fact that it started out as an awesome day.
Through eight innings, two outs, and two strikes, Newcomb was having the game of his life. He's only in his second year as a pro, but in that time his longest start was seven innings. Now, he was on the verge of a complete game no-hitter, which would put him in baseball's history books. Quite an opportunity! Facing the Dodgers' Chris Taylor with two outs in the ninth, he worked the count to 2-2. And then, on his 134th pitch of the night, this happened:
Newcomb joins a fairly extensive list of pitchers who have had no-hitters or perfect games broken up with two outs in the ninth, perhaps none more brutal than the Armanda Galarraga perfect game broken up by a terrible umpire. But I'm sure the fact that Newcomb has some company in his heartbreak didn't make things any better in the brutal aftermath.
But then his day got worse. Turns out, Newcomb had some offensive tweets in his past, and a few fans managed to dig them up in the aftermath of his stellar-turned-heartbreaking outing. It was basically what you'd expect, and almost exactly what we got from Josh Hader last week—a racial epithet from a rap lyric, some anti-gay slurs—and Newcomb was forced to apologize.
Regardless of how you feel about Newcomb being taken to task for old tweets, it's pretty brutal to combine that reckoning with the near-miss on the no-hitter. (My opinion: It's necessary for the player to apologize, even though the whole thing feels ritualized at this point, but at the same time I have sympathy for teenage stupidity, am thrilled there was no social media in my high school days, and don't think Newcomb's tweets rise to the level of "ban him for life!") The worst part of all of this is the weird, reactionary cheering that will now apparently happen in the aftermath. We saw Brewers fans give Hader a standing ovation on his next outing after the "controversy," and it was a bizarre scene. Forgive him? Sure. Standing O for having bad tweets as a teenager? That feels aggressive, somehow, and puzzling in a bad way—almost like they're doing that thing we see so often in politics where you cheer on some really questionable behavior just because the other "team" doesn't like it.
But back to Newcomb. Imagine this scenario: "Sean, please tell us about the screw-up that just happened, and when you're done exorcising those demons, can you go into this potentially career-damaging stuff we just found out about your past?"
And a few minutes earlier it seemed like he was about to throw a no-hitter! Rough stuff. Which leads nicely to the next section...
Advice of the Week for Agents, Team PR Flacks, etc...
Just spitballing here, but maybe, just maybe, tell your clients and players to search for old tweets that may not play well if they became public, and then delete those tweets. Crazy strategy, I know, but it might save some headache down the line. And the rest of us won't have to act out this staged apology/reactionary cheering/media tsk-tsk'ing charade.
It would be pretty sweet to have a dad who could do this in your team's layup line:
Although, for the son? Tough act to follow. Is LeBron a bad sports dad? Could be the controversy of our times! Speaking of which...
The Dumbest Controversy of the Week: T-Shirts in Batting Practice!
If you're wearing pearls, get ready to clutch them: While playing the Braves on the road, Chase Utley and a few other Dodgers had the audacity to wear t-shirts during batting practice. Now, if you're like me, you didn't realize that not wearing a normal uniform was a huge faux pas, but apparently that's true! Lucky for us, Braves announcers Joe Simpson and Chip Caray were not about to take this lying down:
The hilarious post-script to this story is that Utley was actually wearing a "strike out cancer" shirt, sales of which go to pediatric cancer research. But even without that irony kicker, this is a stellar example of how sports scolds can drum up controversy over absolutely nothing. Can you imagine getting upset about this? In 2018? Joe Simpson really needs to open a newspaper and find some bigger problems. There are nobler causes in the world, Joe.
The "I'll Watch Any Sport Played Well" Video of the Week: Darts
I don't know anything about darts, except that I'm a very average cricket player after three beers, but this two-minute video is absolutely riveting. All I can tell you is that the guy in the video is going for the equivalent of a perfect game, and that it involves throwing nine darts into very small sections of the board. And because it's in England, it's absolutely bananas and completely awesome:
In a different life, I can see becoming a darts super-fan. I can really see it.
The "Don't Watch This" Fight Video of the Week: Aldo vs. Stephens
Do not watch this, unless you enjoy the vicarious experience of what it must feel like to get hit really hard in the liver. In my book, this is worse than watching some dude get hit in the groin. Like, way worse. Blame Jose Aldo for this knockout shot in his UFC bout against Jeremy Stephens.