Brandt Snedeker wins Farmers Insurance Open without hitting a shot on Monday
LA JOLLA, Calif. — The beauty of sports is that it isn't scripted, but it also is its bane at times. The Farmers Insurance Open over the past five days was not how anyone would have drawn it up.
It began with so much promise, too: Nice weather on a scenic seaside course and a field that included Jason Day, Rickie Fowler and Justin Rose, ranked second, fourth and seventh in the world, as well as local favorite Phil Mickelson.
But the vagaries prevailed. The marquee foursome wasn't around on a weekend in which the weather turned violently foul and ultimately made a winner of a man who never hit a shot on the final day.
Brandt Snedeker was crowned champion on the putting green at Torrey Pines on Monday afternoon.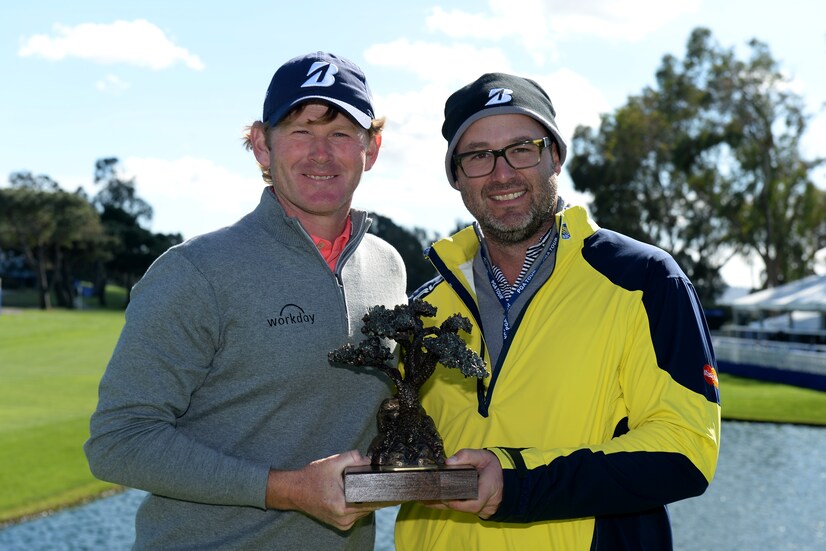 Brandt-Snedekere-Scott-Vail.jpg
SAN DIEGO, CA - FEBRUARY 01: (L-R) Brandt Snedeker and caddie Scott Vail pose with the winner's trophy after winning the Farmers Insurance Open at Torrey Pines South on February 1, 2016 in San Diego, California. Play was suspended due to inclement weather on Sunday. (Photo by Donald Miralle/Getty Images)
"This has probably been the most nerve-wracking 24 hours I've had on tour," he said, "just because of the lack of control I had over anything that was going to happen today. I had no idea what to expect.
"I went from thinking I had no chance of winning, to feeling pretty good about it, to thinking that I had no control, and it probably made me the worst armchair Monday morning quarterback. It was a long night. A long morning."
Snedeker had posted a three-under 69 in wind and rain on the South Course at Torrey Pines on Sunday, before play was suspended because of weather. He stood at six-under par 282, the leader in the clubhouse. Jimmy Walker was at seven-under par with eight holes left when play was scheduled to resume at 8 a.m. on Monday.
The forecast was for more strong winds, which tipped the edge in Snedeker's favor, notwithstanding Walker's lead. But at 8 a.m., "I looked outside my hotel window and there was no wind. I was not liking my chances then," Snedeker said.
But play did not resume at 8:00. Strong overnight winds had toppled several trees at Torrey Pines, requiring a cleanup effort that delayed the start by two hours.
"At 10 o'clock, I think [the wind] almost hit on the nose and started blowing about 15 to 20 miles an hour," Snedeker said. "And it blew a complete different direction than yesterday and made those last five holes play absolutely brutal."
Walker bogeyed four of his final eight holes to drop out and K.J. Choi missed a long birdie effort at 18 to tie. The final-round scoring average was 77.9, nearly eight strokes worse than Snedeker's score. Twenty-three of 71 players failed to break 80.
"I feel bad for them," he said. "They got the raw end of the stick this morning. But that's just the way golf goes."
You are using an unsupported version of Internet Explorer. Please upgrade to Internet Explorer 11 or use a different web browser.