The Loop
Despite meager Open record, Snedeker surges into lead
LYTHAM ST ANNES, England - Until quite recently, Royal Lytham & St Annes hadn't been the most welcoming of sites in the Open Championship rota for American players, with 70 years separating the conquest by Bobby Jones in the 1926 Open, Royal Lytham's debut, and Tom Lehman's '96 epiphany.
David Duval followed with his 2001 triumph, and now here comes another Yank, Brandt Snedeker, getting cheeky with the Lancashire locals.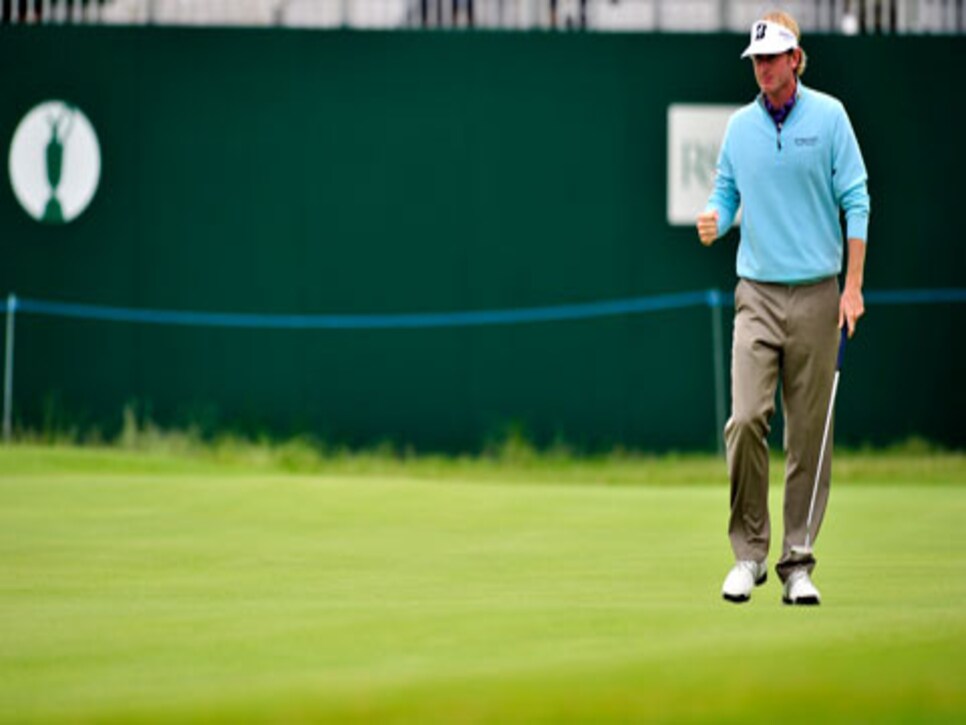 Photo: Glyn Kirk/Getty Images
Snedeker, a fast-twitching talent from Nashville, Tenn., accomplished an unimaginable feat Friday at the 141st Open, throttling Royal Lytham with a stellar 64, which tied the course record, and daring to put his placard next to dearly beloved native son Nick Faldo. At 10-under 130, Snedeker equaled Faldo's 36-hole Open record set in 1992 at Muirfield, Scotland.
This from a guy whose three previous starts in the Open resulted in missed cuts. Snedeker hadn't even broke par in the UK before showing up at Royal Lytham.
"I'm sure everybody in this room is in about as much shock as I am right now," said Snedeker, 31, who beat his previous best round in a major by four strokes. "But I feel good. I played, honestly, pretty well the first two days."
A three-time winner on the PGA Tour, including the Farmers Insurance Open in January, Snedeker has performed exceedingly well, and his round Friday was fueled by cool, calculating iron play and unconscious putting. He hit 15 rain-softened greens in regulation, mostly aiming at the fat parts, and then buried a series of ridiculous putts, including a 45-footer at the sixth, a hole where bogey looked probable until he found that his pull-hooked tee shot into Lytham's jungle-like rough could be advanced to the green.
"I've gotten very fortunate when hitting bad shots," Snedeker conceded.
Of course, what really chaps the blokes around here is that Royal Lytham is playing more like your neighborhood TPC. Steve Stricker mentioned the "American-like conditions" in Round 1. Rain has sawed off its teeth, and with no wind to flummox the field someone with a hot blade had the potential to slice up Lytham.
Fifth on the PGA Tour in putting, Snedeker was just the guy to do it.
"When it comes to, you can call the 'American-ization' of this golf course, I guess, the softness of it, yeah, that's played a factor in it, for sure," Snedeker allowed. "It would be stupid to say it hasn't. I've never seen balls spin at a British Open before, and it's spinning this week. Having said that, it's still a links golf course. You've still got to get your ball around it.
"I'm making every 25footer I look at, so that makes it a lot easier," he added. "I feel like the reason why I knew I was going to play well this week, because ... from the first day I stepped on these greens I had a great feel for the pace."
Here's something else. There are 205 rather nasty bunkers at Royal Lytham. They have not been christened with fancy names like those at the Old Course at St. Andrews, but they are fierce, deep, sod-faced pocks of sand. Snedeker, known for his crisp ball-striking and spurts of birdies, hasn't been in one yet this week. Thus, through 36 holes, he has suffered no bogeys, a first for anyone in a major since Tiger Woods at St. Andrews in 2000.
"When he gets going, Brandt can go crazy low," said fellow American Hunter Mahan. "It is not surprising at all that he can get on a roll like this as well as he can putt."
Snedeker withdrew from the U.S. Open and sat out five weeks recently because of a bad cough. OK, so it was a cough that became so violent that he cracked a rib and had to withdraw from the Memorial Tournament after 36 holes. He didn't return until two weeks ago at The Greenbrier.
The next two days will reveal whether he has the fortitude and talent to not cough up his meager one-shot lead over Adam Scott, who added 67 to his opening 64.
He might be on foreign soil here, but Snedeker is not venturing into uncharted territory. Prior to his Open debut in 2008 at Royal Birkdale, Snedeker played a practice round with Tom Watson, winner of five Open championships. As a youngster, Snedeker fashioned his game, somewhat, after Watson's, mostly his fast play and fluid swing tempo.
The lessons didn't take right away, but he can draw on them now. Further motivation comes from his disappointing 2008 Masters, when, playing in the final pairing with eventual winner Trevor Immelman, he crashed to a closing 77 and left teary-eyed and T-3.
"This weekend I feel prepared," Snedeker said. "I've been in some pretty tight spots in the States and I've been playing in playoffs and playing against the best players in the world. So I kind of know what pressure feels like. Obviously it's going to be a lot more over the weekend, but I've got something to fall back on.
"I'm going to go out there and try to do the exact same things I did the first two days and hit a bunch of greens and make a bunch of putts and try to extend my lead as far as possible."